Bumble-ing Through Online Dating
Three Women Share Their Stories, While Match and Bumble Disappoint Wall Street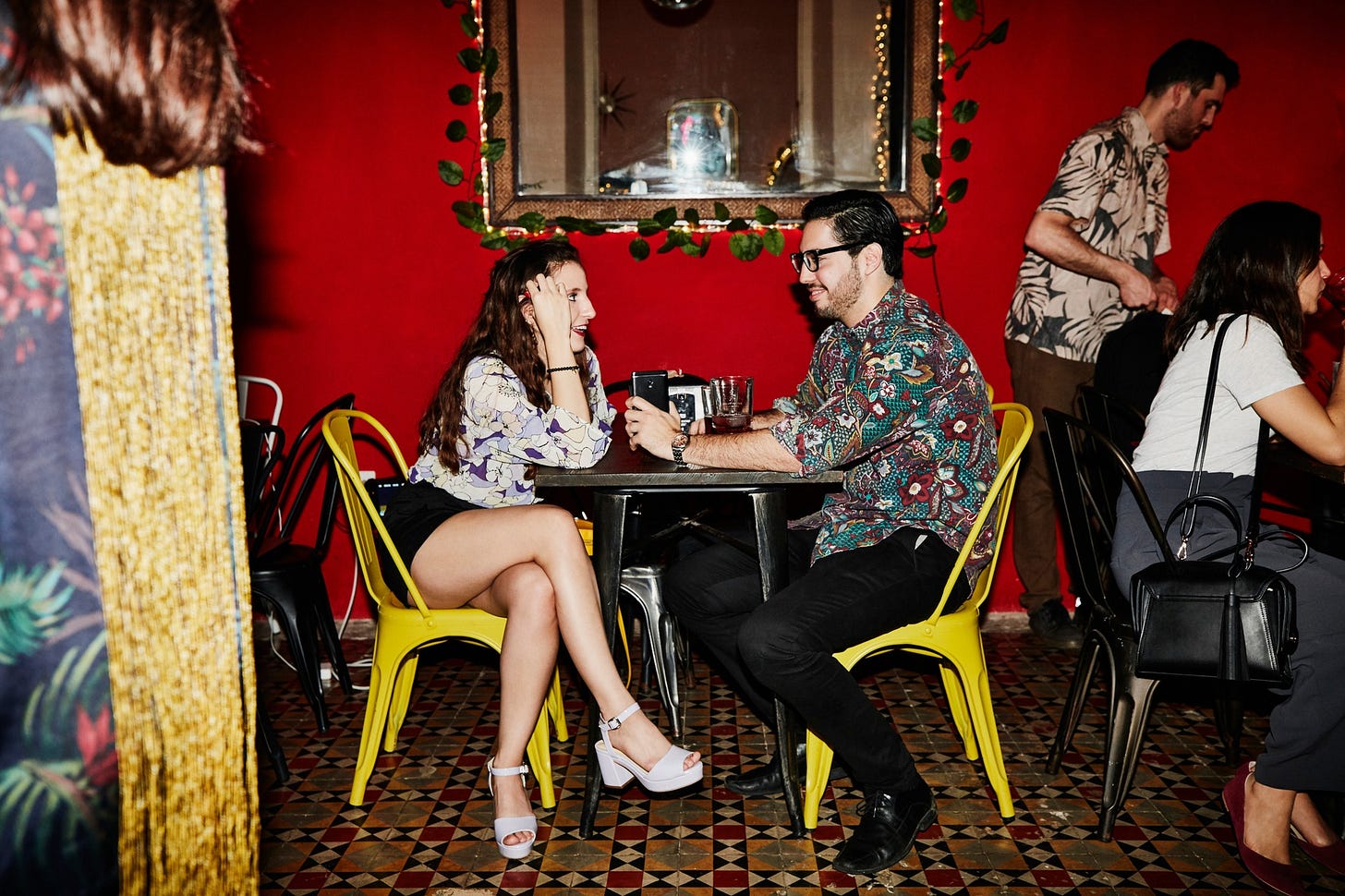 Welcome to Wells $treet, where I tell business stories that aren't boring. How can money be BORING? Find previous stories here and subscribe, so that Wells $treet pops into your email once or twice a week, for free. No money necessary. Crazy, but true.

💰💰💰💰💰
Warning: The following contains sexual content... which probably means you'll keep reading. But I feel compelled to tell you nonetheless.
💕💕💕💕💕
The question I posed was a little awkward. "Has a man ever sent you photos of his private parts?"
The three women I asked are from different parts of the country, different professions, different ages. All three laughed. I was specifically asking about men they'd met while dating online.
"One of the first guys I met wanted to send me a picture of his penis, and he did," says Cathy Hulse, a 65-year-old retired nurse from Columbus, Ohio. "I'm a nurse. I've seen, like, a zillion penises, and that's really not a way to impress me."
She's not alone. "I did get a private parts picture once, but we'd had a couple of dates, so it was kind of okay," says Jackie Sharbrough, a 53-year-old professional in Houston. "Then he got really interested in sending pictures of his private parts, so I had to say, 'We need to stop that.'"
Meg Goodner, a 34-year-old travel advisor in Atlanta, is surprised she's never received one. "I don't know what that says about me… not that I want them, please."
Yes, this is what I went to journalism school for. But the truth is, your intrepid reporter has been married for a very long time — since before Al Gore invented the internet — and I have no experience with Tinder or Match or Bumble (hand to God). To me, the idea of any kind of dating sounds terrifying and exhausting, so hats off to the men and women who put on an armor of thick skin and search online for love, companionship, or sex. A lot of times they find success, but they also face rejection, ghosting 👻, and scammers.
As a business reporter, it caught my eye this earnings season when both Match Group and Bumble stumbled in their performance. Match owns several apps, including Match.com, Tinder, OKCupid, and Hinge, and the company brought in nearly $3 billion in revenue last year. But last quarter, it reported weak sales and projected no growth for the current quarter. Shares have lost half their value this year as investors have broken up with the dating company.
Bumble's outlook nearly matched Match's. The rival website, where women make the first move, blames part of its poorer-than-expected performance on the war in Ukraine (?!). Bumble shares have tumbled nearly 30% since the news broke.
So Is Online Dating Over? No.
"The trends in online dating have been consistent," says Nat Schindler, who covers Match Group as an analyst for Bank of America Securities.
Last month Nat revealed results of the bank's first survey of unmarried Americans who've used online dating. Most of the 1,000+ respondents said the apps are their favored means of meeting people. Nearly 4 in 10 have met a long-term partner or spouse this way.
But if everybody's using the apps, why the poor Wall Street performance? Nat says it's been an execution problem, rather than a problem with the business — at least at Tinder, Match's biggest profit center.
Yes, Covid hit the industry hard, he tells me. People swiped right and left on the free version of Tinder during the pandemic, often out of boredom ("It became the Tetris of a generation"), but few paid for upgrades like unlimited swipes. The company's second largest market — Japan — still hasn't rebounded because of the country's slow re-opening. The strong dollar also hurt global revenues.
But that wasn't management's fault. Instead, Nat says Tinder executives focused too many resources on signing people up for the free version of the app instead of converting more of them into paying customers. "There doesn't seem to be anything wrong with Tinder," he says. "There just was a disagreement on how to move forward this year." The CEO has since been replaced.
Nat continues to have a Buy rating on Match and believes there's still a lot of people on this planet who have yet to discover online dating. (Disclosure: Bank of America Securities also does business with Match.)
But I wanted to know what it's like for those in the trenches of online dating.
Three Women Spill the Tea
I reached out on social media and asked people to tell me their experiences. I received some replies from men via email — "I find it striking how few women have ever received compliments from the men in their lives," one wrote.
Only women were willing to talk on camera.
So I fired up the ol' Zoom and chatted with three of them. They are the same three who answered my awkward question about pictures of private parts. I thank them for being vulnerable, honest and hilarious.
The Estate Saleswoman in Houston
Jackie Sharbrough is a divorcée with two grown children, and she began online-dating shortly before Covid. "I pretty much use only Bumble," she tells me. She pays about $10 a month for an upgrade that allows her to see which men are already interested in her. "It has saved me a lot of time."
The 53-year-old professional who specializes in estate sales says she's had several nice dates with men she's met on the site — in fact, she'd just gone out with one the evening before our interview. But I asked her if she could share any horror stories, because, come on, we wanna hear the horror stories, amirite?
She told me about one not-so-great date that involved a man who said he was interested in a woman who's fit. Before meeting in person, they discussed what he meant by "fit." "I'm slim," Jackie tells me, "but I'm not, like, a bodybuilder."
Once they met for lunch, the date seemed to be going well. Then the man pulled out his cellphone and showed Jackie a photo of his daughter. "She's beautiful," she told him. "Yeah, not anymore," he replied. "She's fat."
Jackie was floored. They'd just met and he's trashing his own daughter. Later the man complained about his 90-year-old neighbor. "He wants me to come over and be his friend."
After the date ended, Jackie sent the man a note to explain why she didn't think they were a good match. "I don't like ghosting. I think that's not cool." She thanked him for lunch and then told him, "You should always cherish your daughter, no matter what, and you're going to be that 90-year-old man someday."
The Travel Advisor in Atlanta
Meg Goodner is a 34-year-old travel entrepreneur who's never been married, and her last long-term relationship ended six years ago. "I used Tinder at the time as a way to just meet a ton of new people from all walks of life, all backgrounds." She also joined Bumble, Match and Hinge, and she even tried The League, "which is really just everyone on Bumble." Eventually she spent hundreds of dollars subscribing to some of the sites.
But it became too much work. Meg cites three reasons for quitting online dating: It took too much time, took too much effort, and too many men were not what they appeared to be.
I also asked her about any negative experiences. Her horror stories include the guy she went dancing with who started "actively biting me," as well as the man who didn't reveal until their first date that he has two kids — not that it bothered her, but he kept it off his profile. "And if that wasn't a big enough red flag, when we decided to go to Mexico together on a trip, he started buying steroids."
Meg is now paying a matchmaker $5,400 to arrange at least 10 dates with men. So far she's gone on three of those dates, and one man she met has become a very good friend. Meg is optimistic that she will have more success paying someone to do the legwork for her. "I'm looking for someone who is a funny human, is successful in their own way, someone who wants to grow and evolve," she says, "and someone who grew up with some sort of spiritual or religious background."
The Retired Nurse from Columbus Who Caught a Scammer
Cathy Hulse just turned 65 and is an avid hiker who recently retired from a career in nursing. She discovered me on Facebook as I chronicled my adventure across northern Spain on the Camino de Santiago, a trek she's also taken.
Cathy is twice divorced, and she met her second husband over 20 years ago through a personals ad in the newspaper. (OMG, remember those? "SWF looking for someone who likes long romantic walks…").
After that marriage broke up, she tried eHarmony. She met one man through the site who, when they met for coffee at a local Wendy's, told her, "You're too heavy." She remembers thinking, "Well, he isn't a box of chocolates."
She eventually signed up for a six-month subscription on Match, but it hasn't been great.
For example, she met a guy who told her he was very active, just like her. "So we meet up, and he's got a cane, and then he's telling me he has back trouble." The guy later showed up at her doorstep after she told him they weren't a good match — which confirmed they weren't a good match. Cathy's not sure how he found her address. "He looked like this Angry Bird with the eyebrows," she tells me. She refused to open the door.
Cathy finally quit online dating. She says part of the reason is because she was targeted by scammers.
How the Scams Work
Potential scammers always say they live in your area, Cathy tells me, and they are almost always an engineer or someone in the armed forces stationed overseas.
She decided one day to play along with someone she suspected was lying to her. "He was an engineer from nearby here," she tells me. "Right after I started talking to him, he had to go to Dubai to help build the big place for the World Cup next year [in Qatar]." This meant he was never available to FaceTime or have a video chat, allegedly "because of the time change."
But he kept messaging her, and she kept replying. Cathy waited patiently for him to ask her for money.
It finally happened on a Sunday. "He texted me, 'I'm in a bit of a jam.'" The guy told her he was trying to use his credit card to buy apps he needed for his engineering work, "and it won't go through, and I wondered if possibly you could do me a favor and help me out."
There was a long pause, as Cathy furiously texted a friend who knew about her "investigation." The guy finally asked her, "Are you going to answer me?"
"Well, I knew this day would come when you would ask me for money," she told him, "because I'm pretty sure that, all along, you've not been who you said you were."
The man (was he even really a man?) insisted this was not a scam. "You seemed like such a cool person," he told Cathy, who replied, "I am the coolest person you will never meet." And then she blocked him.
Scams are so prevalent and annoying that an online video speed-dating app called Filteroff created a bot-filter to fight back. Potential scammers are red-flagged on the app, and bots start engaging them. Here's a link to some of Filteroff's best scammer stings. My favorite is "Bot Anger." Two actors re-enact the conversation here — he reads the scammer's texts, she reads the bot's replies.
I wish they had this for telemarketers.
What's Next, Dating in the Metaverse?
Despite the occasional drawbacks and Wall Street selloffs, online dating isn't dying. But where does it go from here? Nat Schindler thinks dating in the metaverse is a long way off, though he believes it will happen someday, "and that'll pretty much be the end of the human race." Shorter term, no one has figured out how to revolutionize the industry the way mobile apps did. "Tinder is 10 years old," Nat says. "Its experience has basically been copied."
It's also not clear how a recession might impact the business. In Nat's survey, 58% of people said they would still spend money dating online even if the economy sours. Nat says dating isn't like Netflix or Starbucks. "This is Maslow's Hierarchy of Needs right there at the base," he tells me, as I madly Google Maslow's Hierarchy of Needs. "One of the most important things about being human is relationships," he continues. "Tinder is, what, $15 a month? That's a cocktail."
So Here's Some Advice for First-Timers
While Meg has moved on to a personal matchmaker, Jackie is still on Bumble. She acknowledges the environment "can be harsh." She advises women to use current photos of themselves (many don't) and include one full-body shot — "Be honest about yourself." Also, do a Zoom call or FaceTime ahead of an in-person date "to make sure [the men] are who they say they are."
She remains a fan. "You're gonna meet someone you never would have met otherwise." For example, she'd recently been talking to a man from Montana. "He's gorgeous," she says, laughing. "My kids are grown, and I can jump on a plane and go somewhere."
Cathy, the retired nurse, may give online dating another shot, but she wonders how much her age is working against her. "A lot of [men] that keep sending me emails have no teeth." (This makes me laugh out loud.) "I do have standards," she tells me. "They have to have teeth, be able to walk, have a sense of humor."
She's not asking for a lot.
💕💕💕💕💕
Want to share your experiences? I wonder how similar or different online dating is for people from other countries, other ethnic backgrounds, and/or other sexual preferences. Leave a comment or 📧 jane@janewells.com and SPILL THE TEA.
👍 Like this Bulletin and share it with friends who haven't been married for 400 years like yours truly.
➡️ You can always find me babbling about something offbeat on Twitter, Facebook, Instagram, and LinkedIn.
Cover image by Thomas Barwick/Getty Images