DISRUPTING DEATH: WAIT, YOU DO WHAT?
I discover a new way to cremate, thanks to a guy who makes fake dog testicles.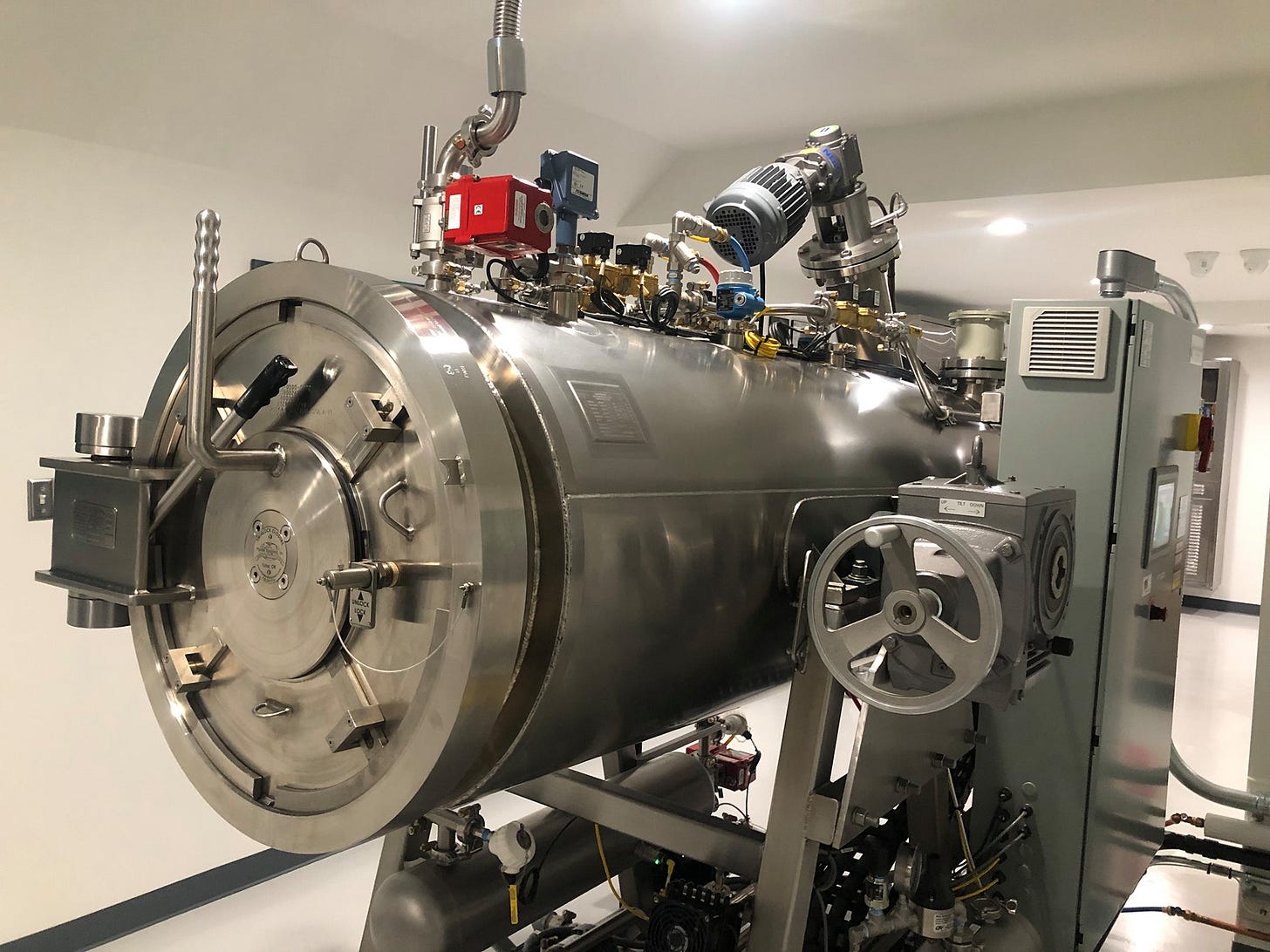 I'm standing in an immaculate room in Escondido, California, north of San Diego. Abstract blue paintings on white walls evoke gentle thoughts of water and the sea.
In the middle of the room is a large and shiny metal tube lying on its side about four feet off the ground. It looks very industrial and very expensive.
David Perfito unlocks a door similar to a submarine hatch to open the tube. "In this basket," he says as he pulls out a tube within the tube, "is where the deceased goes."
Deceased, as in a dead human being.
A body goes into the tube for a new type of cremation which uses water instead of fire. It takes at least four hours for the body to gently dissolve, leaving behind only bones and foreign objects like implants, which do not need to be removed beforehand.
The process is called "aquamation" or "alkaline hydrolysis," and it's disrupting an industry slow to change — the business of death, more politely known as "aftercare."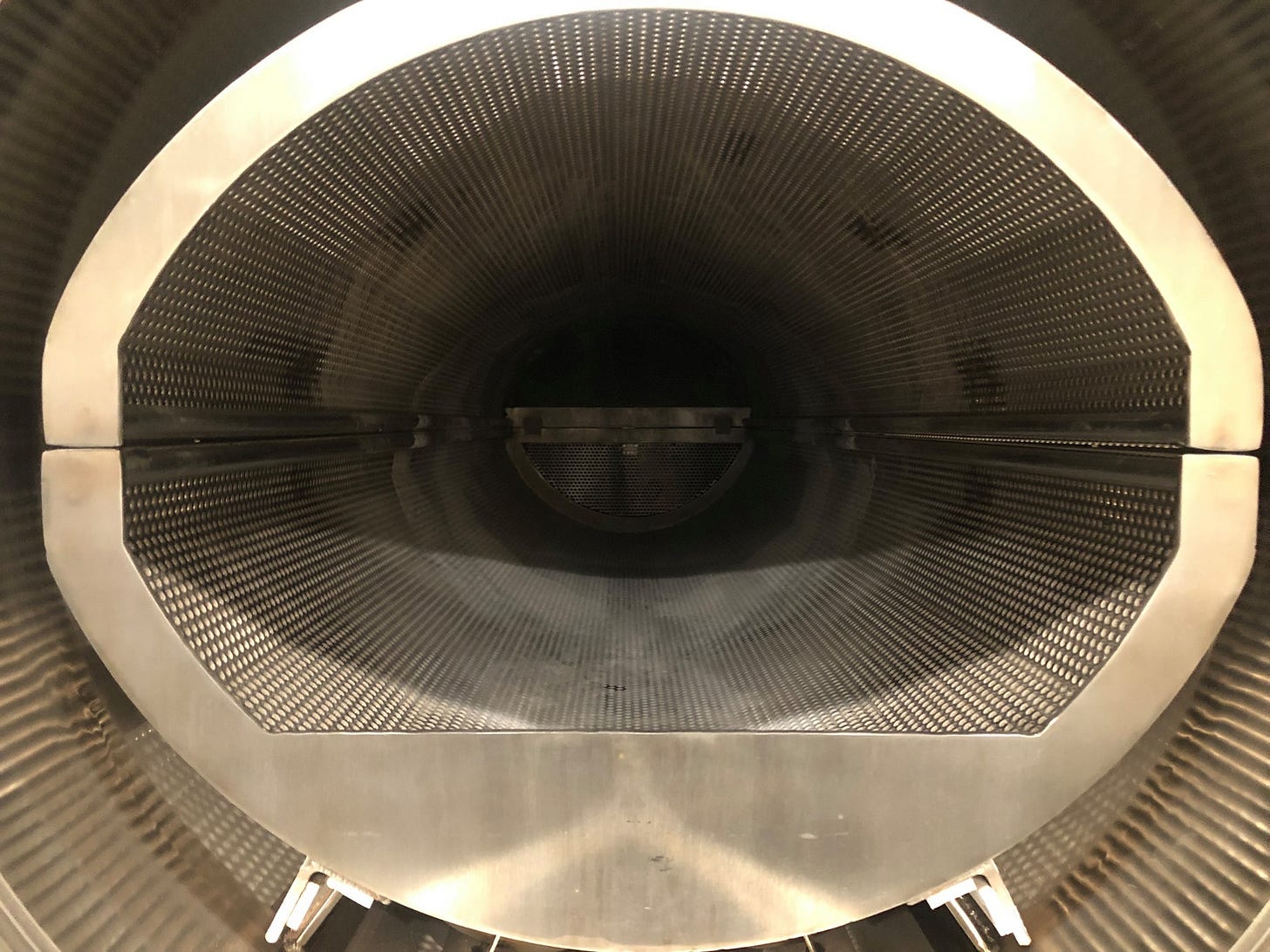 Inside an Aquamation machine
Nobody likes to think about death, but you can't escape it. Funeral homes in the U.S. brought in an estimated $16 billion in revenues last year, according to market research from IBISWorld, which reports the outlook remain bullish! "The number of adults aged 65 and older is expected to increase in 2021, representing a potential opportunity for the industry."
Nice.
Anyhow, the profit margins can be great in funerals and cremations, and the customers don't complain (thank you, I'm here all week, try the fish).
But this is also a very traditional industry averse to change. For example, Covid forced funeral homes to finally get online, a huge leap forward.
These days, every industry is looking to be eco-friendly, from fast food to funerals. Aquamation is considered "greener" than flame cremation. There are no air quality issues, and the water used in the process is sterilized before flowing back into the local groundwater.
This kind of green death disposal seems perfect for California. I mean, California leads on this stuff, right? The legislature passed a law legalizing aquamation for human disposal in 2017.
So David Perfito spent $250,000 on an aquamation machine, and poured a total of $1 million into creating his business, White Rose Aqua Cremation, located between an auto shop and an air conditioning repair company. It's where Perfito used to have his wiring business.
He and his business partner, Phil Barrick, opened their doors a year ago as the new law was set to take effect.
They're still waiting for the machine's first customer.
California's public health officials have so far failed to allow them to move forward, despite the state law, and despite approval from local agencies.
Perfito tells me the delay has cost him at least $2 million in lost business. "Very frustrating!"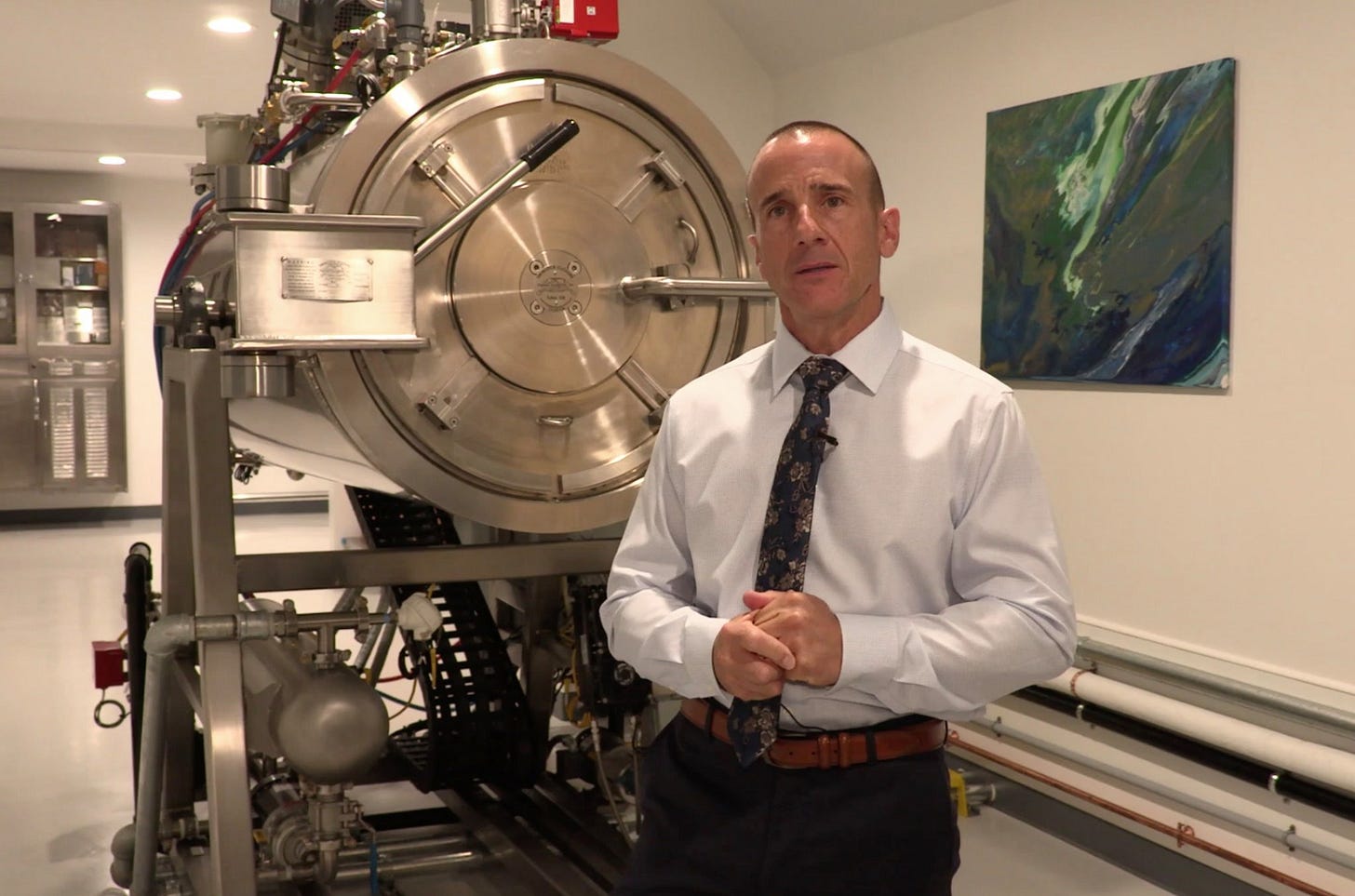 David Perfito of White Rose Aqua Cremation
Twenty minutes south on Interstate 15, it's a completely different story.
Tucked inside an office park, Dr. Madison Rose's aquamation machine is humming quietly. Fighter jets from Marine Corps Air Station Miramar scream overhead. Dr. Rose is a veterinarian who owns Peaceful Waters Aquamation.
Using the technology on pets is widely accepted with far fewer regulations, and unlike David Perfito, Dr. Rose is busy. "We run the machine every single day."
Rose's $100,000 machine is smaller than the one used for humans. It can dissolve up to eight animals at a time, each in its own separate container.
Pet owners are always asking her where they can find the same technology for humans. "What about me?"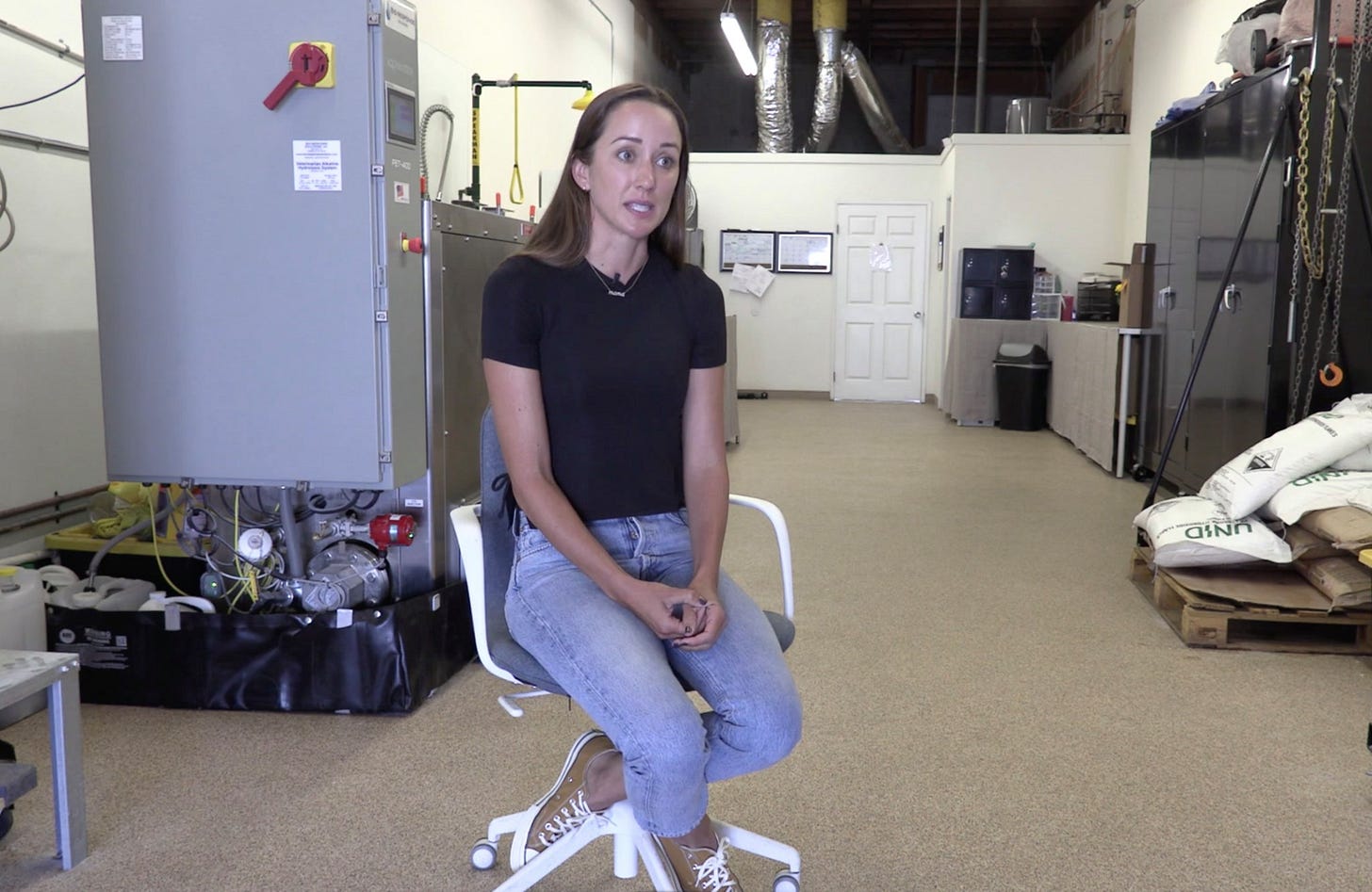 Dr. Madison Rose of Peaceful Waters Aquamation
Neither one of these business owners started in the funeral industry. Perfito and Barrick had their wiring company (still do — it's paying the bills right now), and they were working at a crematorium when they noticed how quiet the office was. The two researched getting into the crematorium business and created a business plan. Then Perfito's mother died, and the idea of providing a death service "changed into something much more personal."
Dr. Rose became interested in aftercare when she transitioned to a mobile vet clinic and found herself taking home euthanized pets, waiting for crematory workers to pick them up. She began to feel responsible for the disposal of the animals, and she learned about aquamation from a veterinary publication.
The machines they bought are made by Bio-Response Solutions, a family owned business in Danville, Indiana, which is intent on shaking up the death biz.
"This is the biggest change there's been in that profession in many years," says Sam Sieber, daughter of the company's founder. Even her family didn't start out dealing with dead bodies. More on that in a minute.
But first…
HOW IT WORKS
Here's how aquamation dissolves a human body.
Remains are put in a tube which is sealed before about 100 gallons of water flow in. The water is mixed with potassium hydroxide flakes until 5% of the solution is made up of the alkaline organic compound.
Then the tube is pressurized and the temperature raised to between 200 and 300 degrees. Because of the seal and pressure, the water never actually boils.
The water begins moving through the system at the speed of a meandering stream. The heated, moving alkaline solution dissolves human fats, proteins and carbohydrates into salt, amino acids and sugar. The apparatus is tilted at an angle to let gravity help drain the effluent.
Once the process ends, you're left with skeletal remains which are then dried and ground into a fine powder. Fun fact: you end up with more "ash" than a traditional flame cremation.
Dr. Rose has found other things besides bones when she reopens the machine. "You can tell that the dog has eaten a tennis ball, or that it had a pacemaker," she says. The items are returned to the owner. "It really shows proof that it's the pet they gave us."
Nearly all of water used in the system goes back into the groundwater. "It's sterilized, it's neutralized chemically," says Laura Sussman of Kraft-Sussman Funeral & Cremation Services in Las Vegas. Sussman has the only machine permitted for humans in southern Nevada. She offered to let Clark County use the wastewater as fertilizer for landscaping companies. "They said, 'No, no. We want it back in the system. We need the water.'"
Dr. Rose says she tests the pH of the water after every cycle and logs it. She's never found too much alkali, "and if you ever did, you treat it with carbon dioxide and then pass it through."
Even drugs in the body or embalming fluids will be destroyed and neutralized in the process.
Prices for this sort of water cremation are often higher than flame cremation, though not always. Sussman charges the same for both — $2,500. For pets, Dr. Rose charges between $100 and $400, depending on the size of the animal.
The biggest difference is time. It takes a lot longer to dissolve than burn, at least four hours for humans and up to 20 hours for pets. Sussman says this isn't for every funeral home. "If it's just a bottom line thing, and they're trying to get as many bodies through a machine as they can, this is not what they need."
THE STRANGE STORY BEHIND THE AQUAMATION MACHINE
The man who made aquamation a successful alternative to flame cremation started out battling fire.
"My dad is a forester by degree," says Sam Sieber of her father, Joe Wilson. Wilson started his career as a firefighter, but he was an entrepreneur at heart. "He ended up working for his uncle in medical waste technology, and he invented some machines," she says. "He basically really fell in love with non-burn technologies."
Understandable. Forester. Firefighter.
Wilson created a syringe grinder which he sold to Steris, and the company brought him on as a vice president. Then at a trade show in the late 1990s, he met two professors who invented alkaline hydrolysis. Sam says he thought, "That's amazing. I want to do something with it."
Wilson tried to sell the concept to Steris, but when he was turned down, he left and started a company with the two professors. "He raised a couple million bucks in 11 days from people who had success in his previous company," says his daughter.
Their first customers were large institutions — medical research facilities, universities, that sort of thing. Pfizer bought one, so did the USDA. "Some of these alkaline hydrolysis systems had 10,000 pounds capacity," Sam says. "They looked like aircraft carriers to me." They sold for well over $1 million apiece.
Then, as in many entrepreneurial sagas, the founders had a rift.
Sam says her father complained to the company board that they were spending too much on salaries. According to her, they fired him.
The company soon went under.
Welllll…
Wilson still had the technology and was listed on the patent as one of the inventors, so he put his family's entire financial future on the line to start over. "We nearly lost the house," Sam says. "He floated the family on his 401k, completely cashed it out."
The new company was called Bio-Response Solutions, and two universities agreed to buy machines from the startup. A couple of friends pitched in some seed money, a team was hired, the machines were built, and they worked. That was 2006. Sam says, "We've been profitable since day one."
Then came the big pivot.
Sam's dad decided to expand the market and make a much less expensive machine for $100,000 to sell to farming operations needing a way to dispose of dead livestock. Sam was tasked with selling this new machine. "I went to state fairs, and I went to county fairs, and I went to farm shows."
She managed to get the new machine profiled in Farm Show Magazine. This was a big deal. "You can't pay to be in it, they have to want you in it." That led to a demo of the product in Ohio. Sam brought the machine, the prospective customers brought the dead farm animals, some pigs and a horse. "They couldn't believe it," she says. "It really is pretty amazing to see what's left at the end, it's just the bones."
One of the people at the demo, a veterinarian, suggested buying one for pets.
The lightbulb went off. "I thought, 'Well, pets,'" says Sam. "I started looking into it."
She and her father sketched out a machine for pets on a napkin at Applebee's — you can't make this stuff up — and then they started exploring machines for humans. Sam says, "Before I knew it, I was talking to funeral homes, talking to regulators, legislators, finding out what we needed to do to make this available to families who wanted it."
The first human machine in the U.S. was installed in 2011. It made news on The Discovery Channel.
Growth was slow. At first.
"WHY BE NORMAL?"
I found out about the company from Gregg Miller, one of the most unusual and colorful entrepreneurs I've ever met.
Miller created Neuticles, which are testicular implants for your pets. Fake dog balls.
It's a crazy product which I profiled for CNBC's Strange Success in 2018.
Miller reached out to me a few months ago to say he decided that after he dies he wants to be aquamated (have I just created a verb?). He thought it was important to tell me about the technology.
"I was on the internet, and I just came across it," he told me. "I was preparing my will."
Miller abhors the idea of being embalmed — "They fill you up with this horrible chemical." Flame cremation also bothers him. "Do I want to be put into an oven at 2,000 degrees and burned?"
As for aquamation, "The whole process seems gentler and more natural and less extreme," he said. He also plans is to have his beloved bulldog, Humphrey, aquamated, and their ashes will be buried together next to his parents outside Kansas City.
The fact that a guy who's made a fortune selling testicular implants for pets researched a new way to dispose of his body (and his dog's) and then made sure I knew about it… people, this doesn't surprise me. "Why be normal?" Miller asked me. "Why be like everyone else?"
Why, indeed?
A DIFFERENT CALLING
Being different also appealed to Laura Sussman in Las Vegas. She had a background in non-profits, and she was also involved in supervising traditional burial services for the local Jewish community with another woman named Wendy Kraft. "The first time we did (the ritual), it was different, obviously, because I'd never seen a dead body," she says, "but after you do it, the ritual itself is beautiful."
Sussman and Kraft decided to start their own funeral home. "It's been wonderful."
Aquamation immediately appealed to their desire to be environmentally friendly. Kraft-Sussman already provided so-called "green burials." That's when an unembalmed body is basically put in a biodegradable bag or box and buried. Alkaline hydrolysis also seemed green to them, especially compared to traditional cremation.
Ironically, Orthodox and Conservative Judaism frown on cremation, yet Sussman says about 40% of the Jewish community in Las Vegas chooses to be cremated. When offered the option of aquamation, she says, "We're finding that about 70% of our families are choosing this over flame cremation."
They've used their Aquamation machine about 400 times.
"IT'S A MIRACLE"
One thing in particular has surprised Sussman and the families she serves.
"Because it's so gentle, we can do infants, fetuses, which we've had to do," she says. With flame cremation, there is often nothing left of a fetus, no bones, no ash. It's all gone. With aquamation, Sussman says there is always something left over, "tiny bones," which can mean the world to a grieving family. "For that family, it's a miracle, really."
She's also helping out David Perfito, whose aquamation machine in California sits unused.
Sussman is allowing Perfito to drive bodies from California to use her facility as he waits for state authorities to let him use his own. This turns a four-hour process into an all day affair has he treks 300 miles each way on I-15 from Escondido to Las Vegas.
Perfito keeps asking California public health officials when it will sign off on technology the state already legalized for humans. "There's no deadline," he says. "It doesn't seem like they really care."
Meantime, UCLA has been allowed to use alkaline hydrolysis to dispose of donor bodies for years.
I reached out to the health department and also the legislator who drafted the law back in 2017, Todd Gloria, now the mayor of San Diego. The health department told me that Bio-Response applied to have the technology reviewed in November 2019, and the department "had to spend considerable time researching the various features and capabilities that are germane to this system." There has been back and forth between the state and Bio-Response, but Sam Sieber has no idea when approval might happen. "We have been told 'two weeks' for many months," she says.
I never heard back from Mayor Gloria.
Meantime, Bio-Response reports annual revenues are approaching $10 million, even as a competitor out of the UK called Resomation is promoting a similar machine in the U.S.
Sales are growing 30% a year. In 2020, Bio-Response sold 60 machines, mostly for pets. Twenty-two states now allow the service for humans, but it's available in all 50 states for animals. "Our pet systems are about four years ahead of the human, because they don't have the regulations," Sam says. She also continues to sell very big machines to the scientific community, a segment which boosted sales during COVID.
And she has stories.
At one point, the technology for humans was set to be sold to a foreign buyer. "I thought I was rich for a day," Sam remembers with a laugh. "We were told the wire was sent." The money never arrived.
Sieber also jokes about the copycats who call her and pretend to be people she's met. "They'll have a conversation with you and throw in, 'Now, those heaters on the machine, they're this type of heater, right?'" That sets off alarm bells in her head. "You realize they're just trying to build their own."
Finally, she ignores the naysayers in the funeral industry who've been telling her family for over 20 years that the aquamation technology is five years too soon. "If we waited until 2040, it was going to be five years too soon."
David Perfito hopes he doesn't have to wait five years to get started. "I think this is the definite wave of the future," he says. However, if he had the chance to start over, "I would most likely do it in a different state."
Is aquamation for you? Feel free to share your thoughts in the comments. If you know of other products or services which are strangely successful and might make for a fun profile in "Wait, You Do What?," email me at jane@janewells.com.
Please subscribe to receive more of my stories. It's free!
Correction: Sam Sieber says after her father complained about salaries going to company founders, he was demoted, not fired, and stayed on with the company as President for five years until it filed for bankruptcy.