Do You Miss the Office?
Not the TV Show — the Actual Office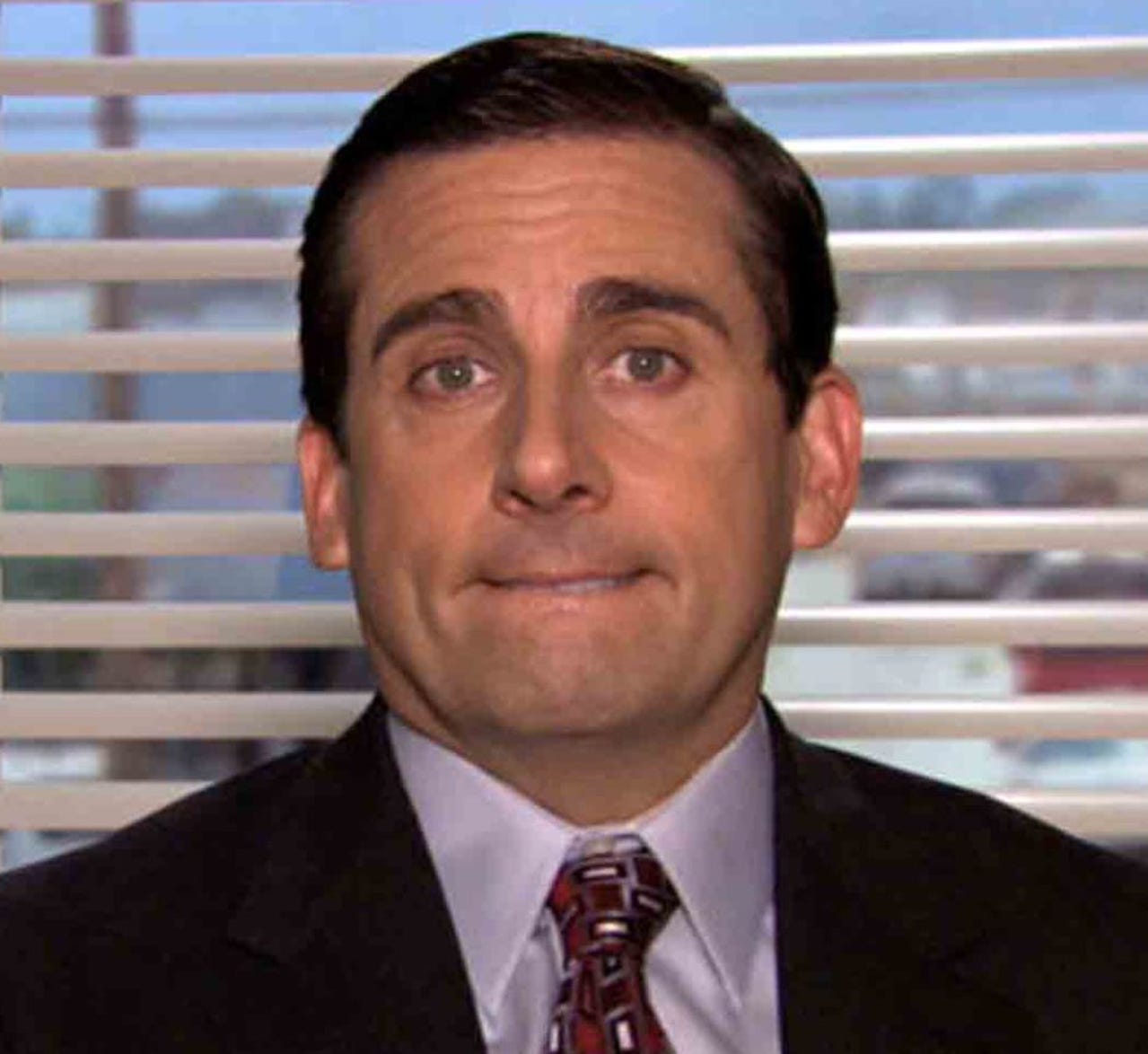 Welcome to Wells $treet, where there are no cubicles. Instead, I provide a virtual space for pithy financial musings. These stories about money and business can be written anywhere that has a power outlet and free WiFi (#Starbucks, #WholeFoods, #TacoBell).
Ain't life grand?
🖨️ 🖨️ 🖨️ 🖨️ 🖨️
I last saw my desk inside the CNBC Los Angeles Bureau on Friday, March 13, 2020. Friday the 13th. How appropriate.
I will probably never see that desk again. I won't have Monday morning walk-and-talks with co-workers to the local Coffee Bean to discuss football or "Indian Matchmaker." No more shouting ideas to the videotape editor across the room — now we communicate long-distance via Teams.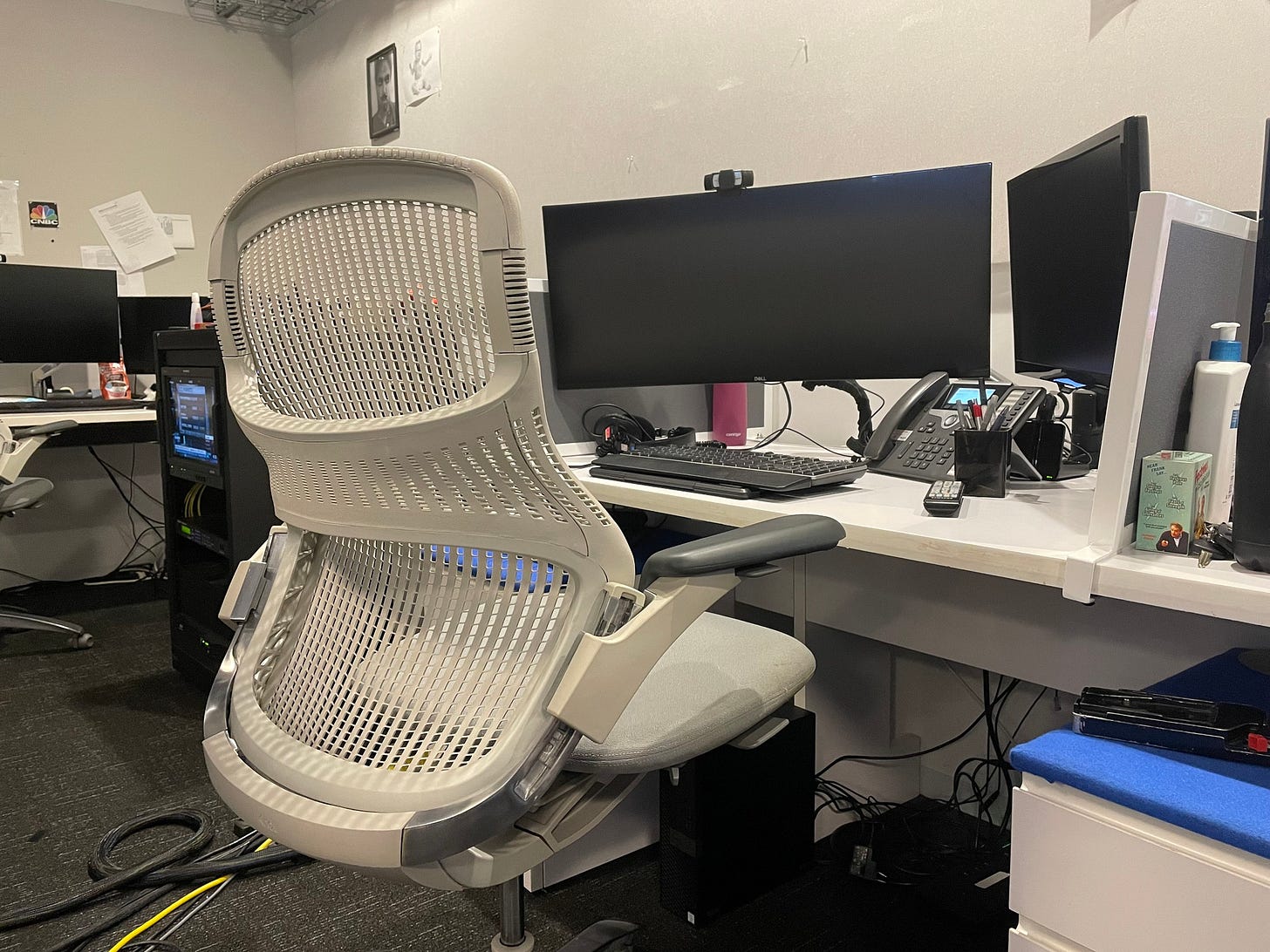 My sad little desk. Do you miss me?
I miss my work family, I miss the energy of our small newsroom, but I can do my job remotely now — I can even broadcast from my house — and I don't have to spend over an hour each day, each way, commuting in L.A. traffic.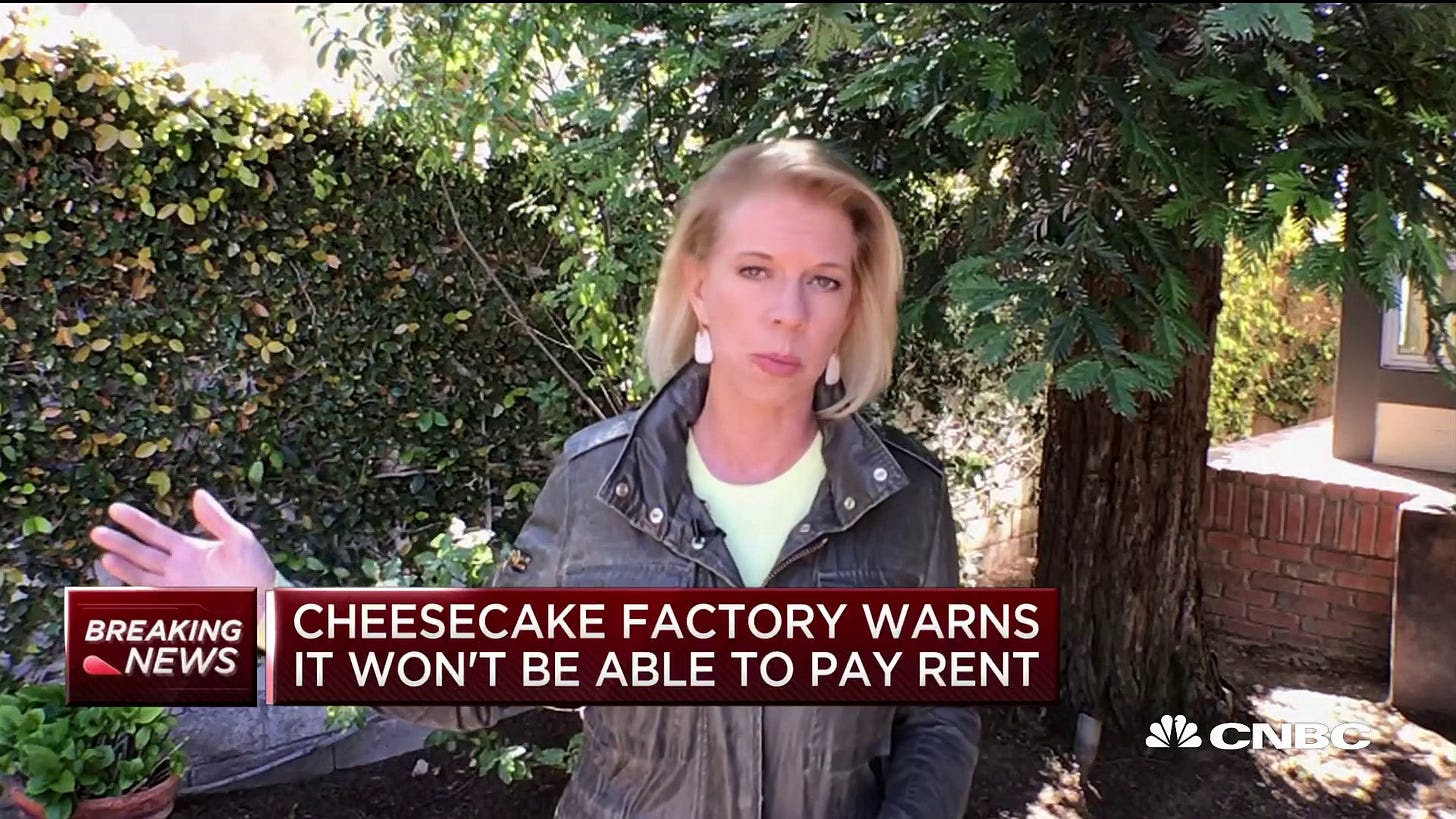 Reporting from my front yard in March, 2020.
I added up all the time I've spent driving to work over the decades, and it's pretty shocking. Over two years of my life have been lived in a car going to or from the office. I wouldn't call it a complete waste of time, though. Often my commute was the only part of the day when I was alone with my thoughts. It cleared my head. I especially loved watching the sky glow before dawn as I headed east to Universal City.
But I don't miss it that much. I mean, it's still the office.
Do you miss the office?
As Covid becomes less serious, more companies are requesting — or demanding — that workers make an appearance onsite. Kastle Systems, which provides building security swipe cards, recently analyzed data from companies using their products in the 10 largest cities. They determined that office occupancy in late September was over 47% of what it was in early 2020 — the highest level since the beginning of the pandemic. On Tuesdays and Wednesdays, occupancy was close to 55%.
Forbes says a survey of supervisors found that 70% believe remote workers are "more easily replaceable than onsite workers," and 72% wish everyone was back in the office. But most employees want to continue working remotely, at least some of the time.
Not everyone feels that way, though. Some people want to be back in the office. All of the time. They miss it.
Like these folks.
The Comms Guy
I met Doug Madey several months ago, and he said something that stuck with me. He's the head of communications at Briq, a software company for the construction industry based in Santa Barbara. Doug told me he was starting to hear from job applicants who wanted to come to an office, who didn't want to work from home anymore.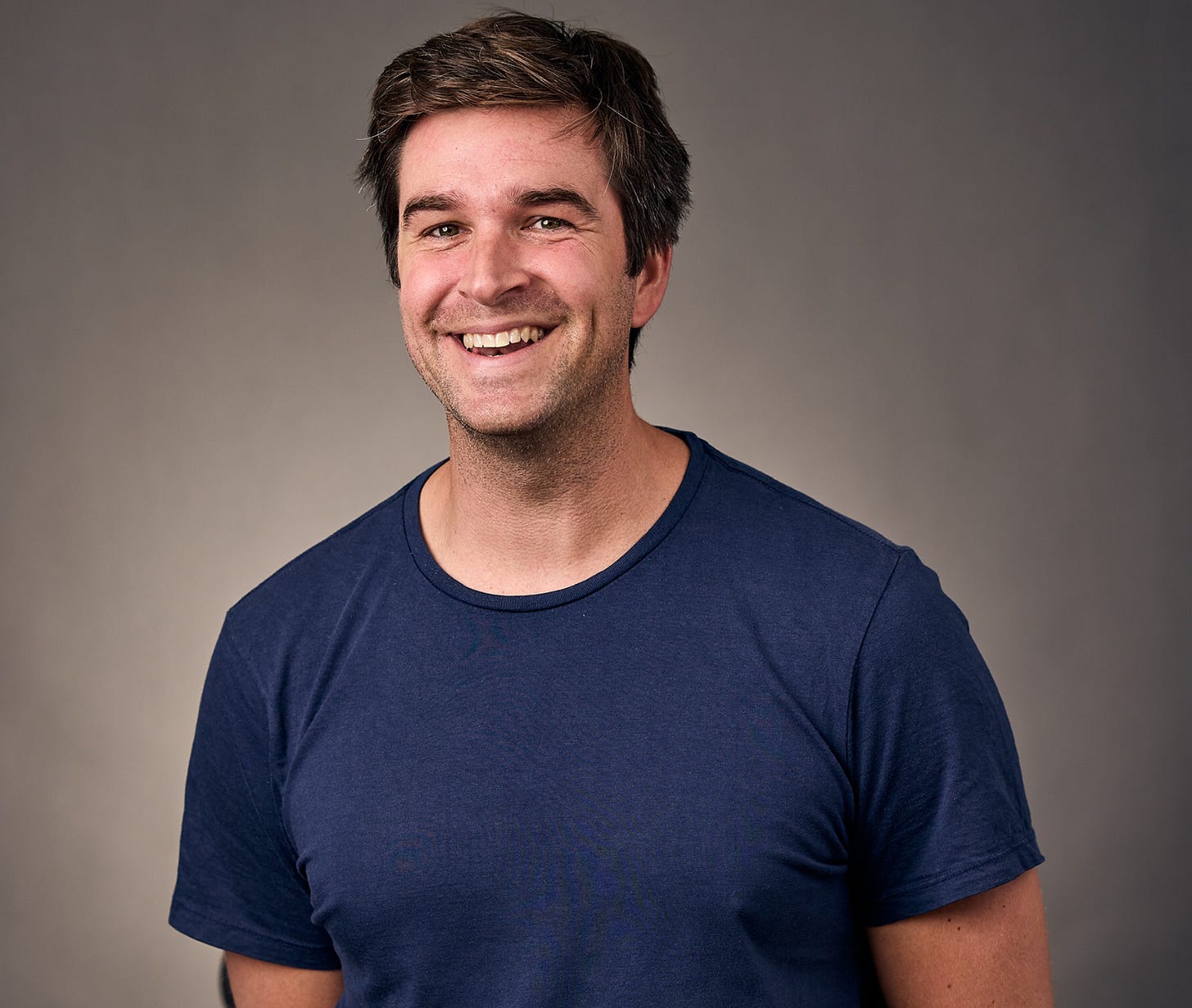 Doug Madey, VP of Marketing & Communications at Briq
Doug himself is a big fan of the office, but he also has a short commute. At his last job, the firm tried to institute Zoom "happy hours" when the pandemic forced everyone to work from home. He says the virtual gatherings seemed fun at first, "but it quickly became, 'I can't believe this is what we're doing.'" When Doug left to join Briq last year, there was no going-away party at his old company. He just quietly logged off.
Only a handful of people are now showing up in person at Briq's headquarters — Doug being one of them — so he's trying to make "back to the office" more enticing. He pulls weeds in the parking lot to give the place a little curb appeal, he promotes the office's fast WiFi (no small thing in parts of Santa Barbara), and he points out extras like the ping pong table. Perks have gotten a bad rap, Doug thinks, as employees want to focus on career growth and mentorship. "I'm like, 'Well, a ping pong table is still kinda fun.'"
The Road Warrior
Mike Huckman is a good friend of mine. We used to work together at CNBC, and he loved the "beehive of crazy activity" in a TV newsroom. He left a dozen years ago to move into PR; he's now Global Practice Leader at Real Chemistry, a communications company focusing on the biotech industry.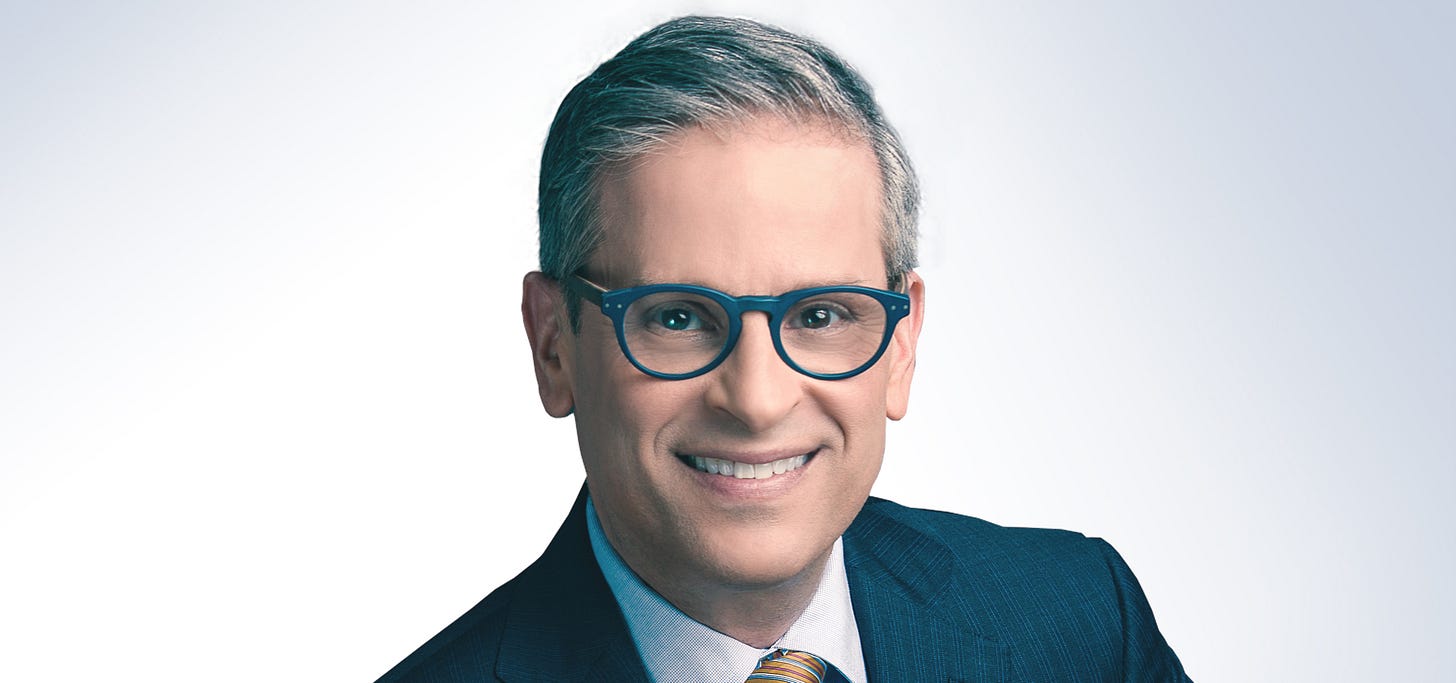 Mike Huckman, Global Practice Leader at Real Chemistry (#FightOn!)
Before the pandemic, Mike spent most of his time living out of a suitcase, flying from city to city to meet clients. His office in Wilmington, North Carolina, had about 20 employees. "We really socialized together a lot."
Mike misses all of those in-person encounters. It's one reason he participated in the Pfizer Covid vaccine study in late 2020. He hoped his small contribution to science could help speed up the process of getting everyone back to work, "so that I could be back on the road and be face-to-face with people."
He's now flying again to meet clients, and it's the wind beneath his wings in more ways than one. "There is nothing that can replace the value, the connectivity, the dynamism that occurs when you are literally in a room with a colleague," he says. "It's fulfilling to walk into a conference room and then look at somebody in the flesh, and see their entire person, and say, 'Wow, it's wonderful to meet you in person for the very first time.'"
The Fixer
Bob is a veteran executive who's often the guy you bring in to fix things. (He's asked me not to identify him or his firm.) He most recently joined an data software company in the Bay Area with the understanding that he'd never go into the office. In fact, his CEO was moving out of California.
He's kinda bummed about it. "When you're around the action, it's a different ballgame," he says. "You get to hear what things are happening."
Bob is a natural people person. He's also a visual, whiteboard kinda guy, and the Zoom whiteboard isn't the same. "It's harder to do it [on Zoom] with a mouse." He also thinks a leadership team is more in sync when it's physically together. Still, "There's no way you're going to get the talent and the people to come back to the office," he admits… from his home office.
The Cubicle Queen
Erin L. (she's also asked me not to identify her or her employer) used to work in a room with hundreds of other people as part of a telecomm company in the southwest. "We had probably 350 seats," she says.
They all started working from home in March, 2020. As the months went by, "I started to think it wasn't good for my mental health to be at home away from people for that long." She'd check in with co-workers on Teams, but it bothered her when someone left the company and she didn't know it.
Erin also missed the break room. "I had a lot of amazing conversations with people that were not work-related." Now her worksite has shut down for good, and all work is remote. "I was thinking of picking up a part-time job in the evening to offset the social aspect that I'm missing."
The Market Maven
Ed Wagner could probably do his job from anywhere as long as he has Bloomberg terminals. He's a portfolio manager at ClariVest Asset Management in San Diego. "I think of myself as an introvert, but I actually missed seeing people at the office [during the pandemic]," he tells me. Ed especially missed the routine of going to lunch at Souplantation with his colleagues, but the restaurant chain went bankrupt in May, 2020. "We're sad to see that go."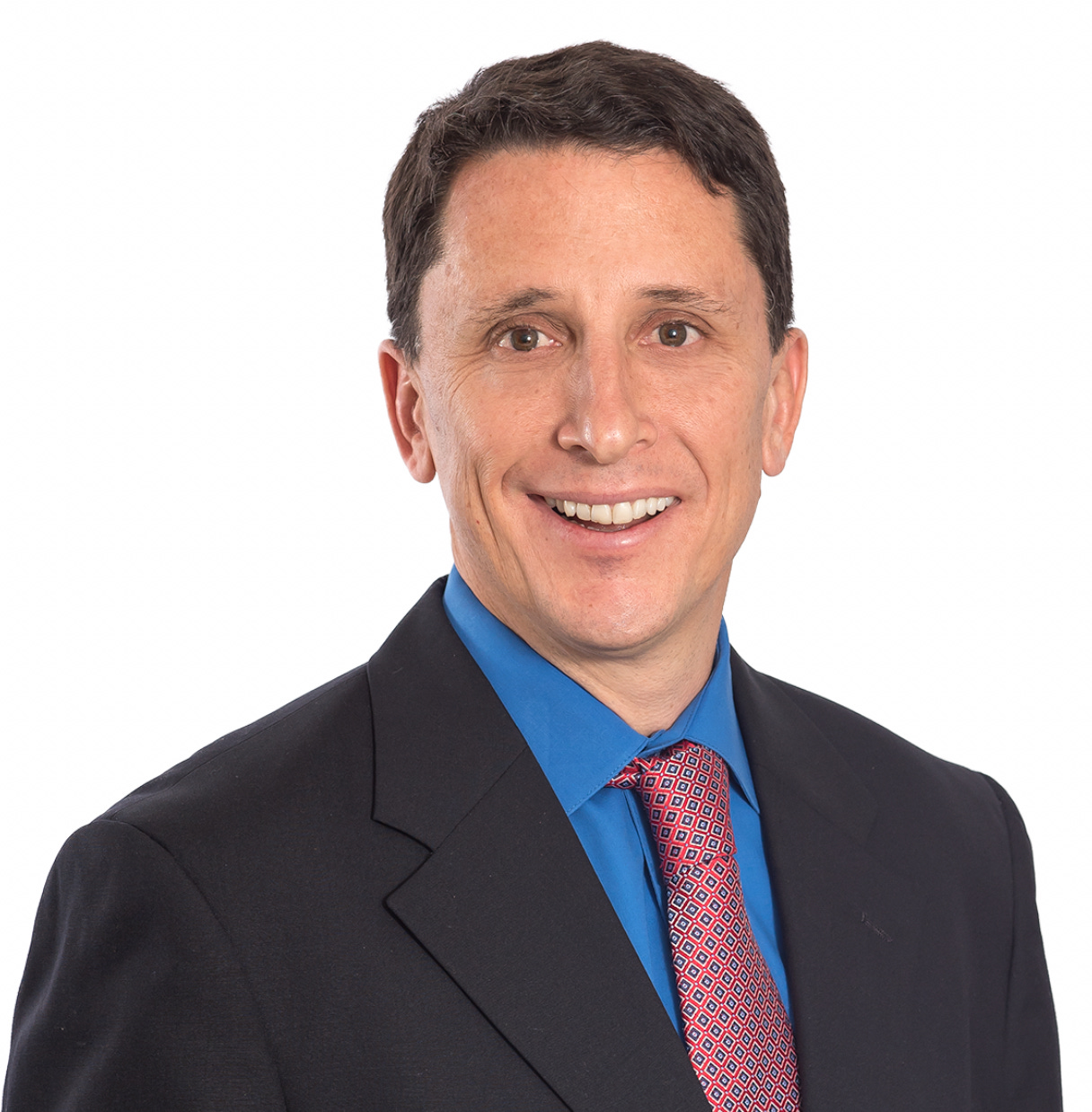 Ed Wagner, Portfolio Manager at ClariVest Asset Management
The first day he walked back into the office six months ago, it was empty. "I felt like I was in some kind of future dystopian movie," he jokes. "We'd been abandoned." But others have since returned to join him. "It's really good to get a feeling that we are taking our first steps back to normality," Ed says.
They all go to Chipotle for lunch now, and they just found a new place for Taco Tuesdays...
Being Remote Can be Better
Mike — the PR guy — admits that as much as he loves meeting clients in person, he brought in more money for his company working remotely. Rather than hopping from plane to plane, he clicked from Zoom to Zoom. "The workflow increased," he says. "It was up exponentially."
Ed, the portfolio manager, says Zoom has improved relationships with clients he used to talk to via phone call, something that wouldn't have happened if the pandemic hadn't forced everyone to embrace the new technology.
But What's *Better* About the Office?
Like many of the others I spoke with, Ed misses the "30-second conversations" you can only have in person. Working remotely, you have to send an email if you have a question, then wait for an answer. "It slows down the interaction," he says. It takes longer to solve problems, and he suspects that's happening across industries. "I wonder if not being in the office is kind of slowing our economy down."
"When you're in an office, you can go find someone and have a discussion," says Bob, the fixer. Working remotely, "I don't know where anybody's at." He schedules online meetings, but when the meetings end, there's no walking down the hall to finish a conversation and resolve an issue. "Now, people are like, 'I gotta go,' and, boom, they're gone. They're vapor. They've gone to their next Zoom."
Being in the office may also be better for newer employees who need more face time with management or mentors to get promoted. Mike feels that goes both ways. "I learn from them," he says. He also doesn't think mentoring is nearly as effective on Zoom. "There's a level of contrivance when you say, 'Okay, now is the time that we set aside that I'm going to mentor you.'"
Bob agrees, saying that younger employees are not developing as quickly as they should be. "I can't go grab different people and say, 'Come to this meeting with me, I want you to hear this.'"
Hybrid Forever?
"I don't think we're ever going to go back to five days a week," says Ed.
Doug — the ping-pong promoting, weed-pulling executive at Briq — thinks that forcing employees back to the office will backfire. "I wouldn't want to be told to go to an office, even if it was for a couple of days," he says, "even though I want to go to an office."
Mike agrees. "Being in the office isn't for everybody. We're not all social beings."
But for Erin — the "cubicle queen" – remote work and Zoom calls have had one upside. She's forced herself to reach out to co-workers who might feel isolated. "I realize a lot of these other people are having these same issues, and there are solutions, and some of those solutions involve me taking action."
🖨️ 🖨️ 🖨️ 🖨️ 🖨️
How do you feel about being in the office? Miss it? Would mandatory back-to-work onsite be a dealbreaker, or is it okay in small doses? Join the discussion below.
📧 Email jane@janewells.com!
📤 Subscribe and share this Bulletin with working friends and family!
➡️ Follow me on Twitter, Facebook, Instagram, and LinkedIn!
Cover image of Steve Carell as Michael Scott from "The Office"/NBC