Dumb & Dumber: Billionaires — Real, Fake & Former
Plus, the best corporate response to a sit-in.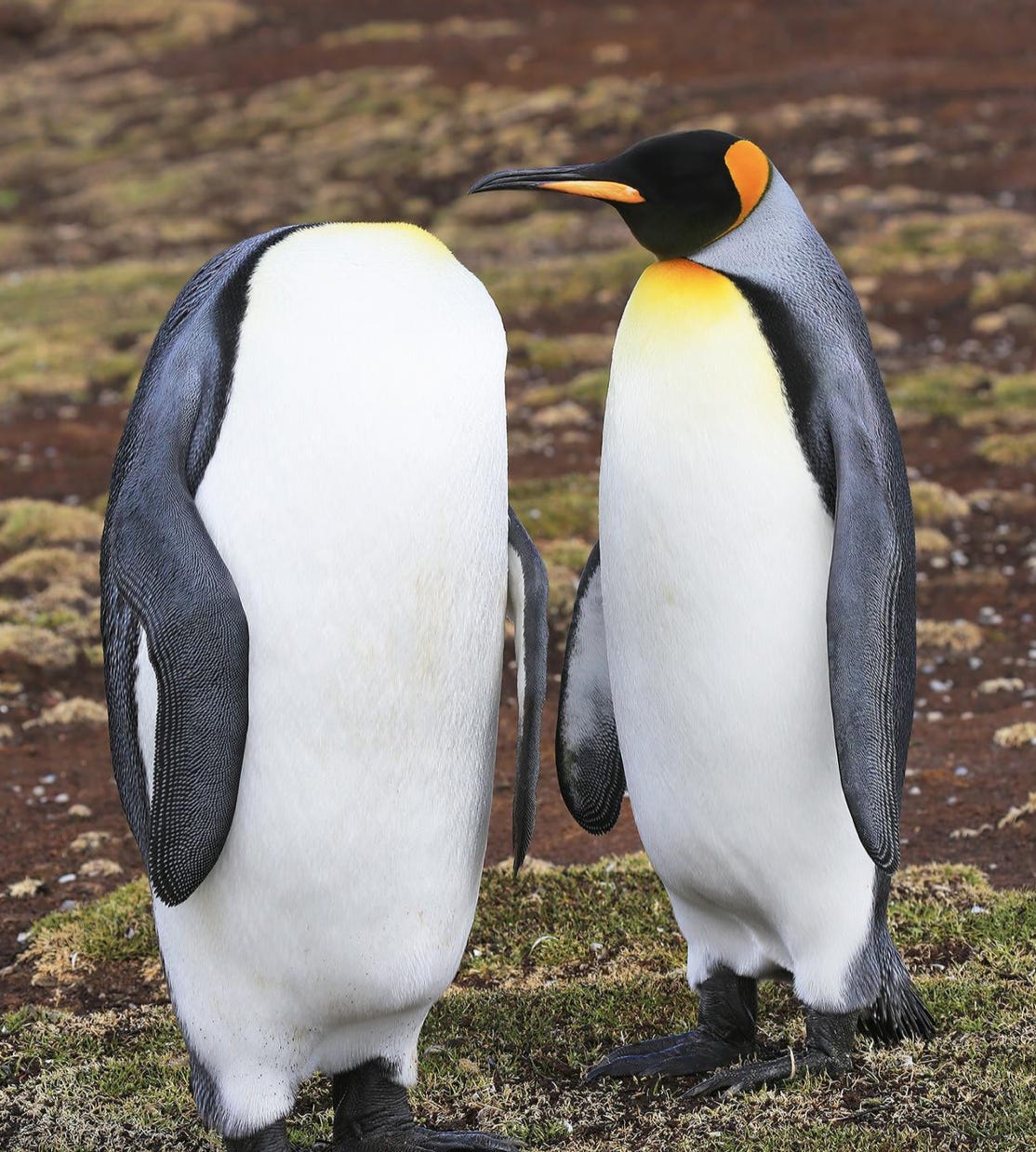 Welcome to the latest Dumb & Dumber on Wells $treet, my regular review of boneheaded business moves and behavior that leads to bad financial outcomes. Your humble reporter wishes she was rich enough to be so stupid, especially since she's nailed the stupid part.
We start with the world of billionaires: one who truly holds all the cash, one who's losing it, and one who never had it in the first place.
Warning: Salty language.

DUMB — The Current Billionaire
Elon finally bought Twitter. And now OJ wants his blue check mark.
And it begins.
Things got off to an interesting start at Twitter HQ: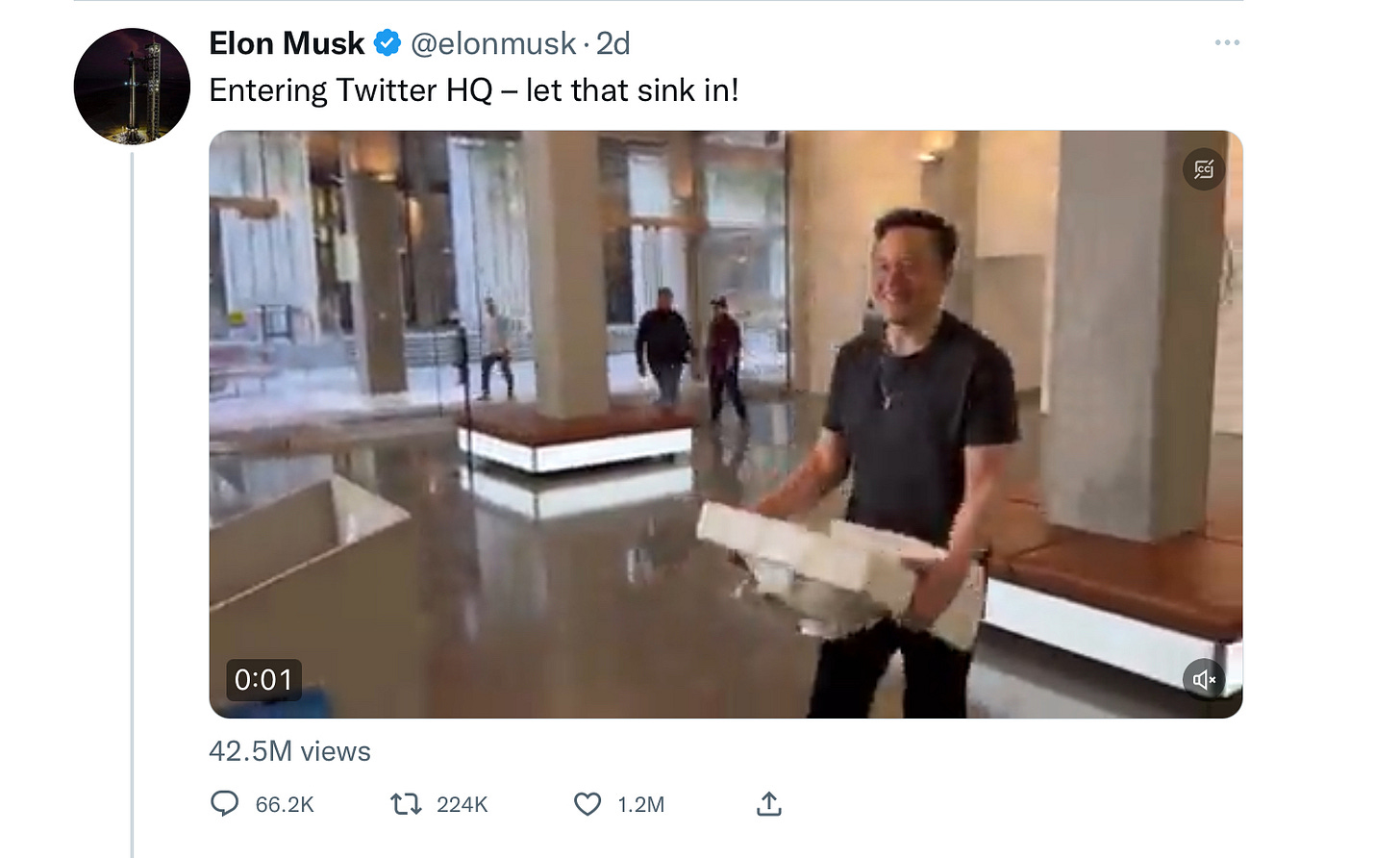 But that's not what I'm writing about today. I'm not here to point out that the world's richest man may be worth $100 billion less than he was a year ago, or that Tesla is reportedly under criminal investigation for claiming its cars can drive themselves.
I'm not calling Elon out for suggesting that Ukraine ought to cede Crimea to Russia and stay out of NATO — ideas which led to a very undiplomatic response from the Ukrainian ambassador to Germany (here's the salty language part).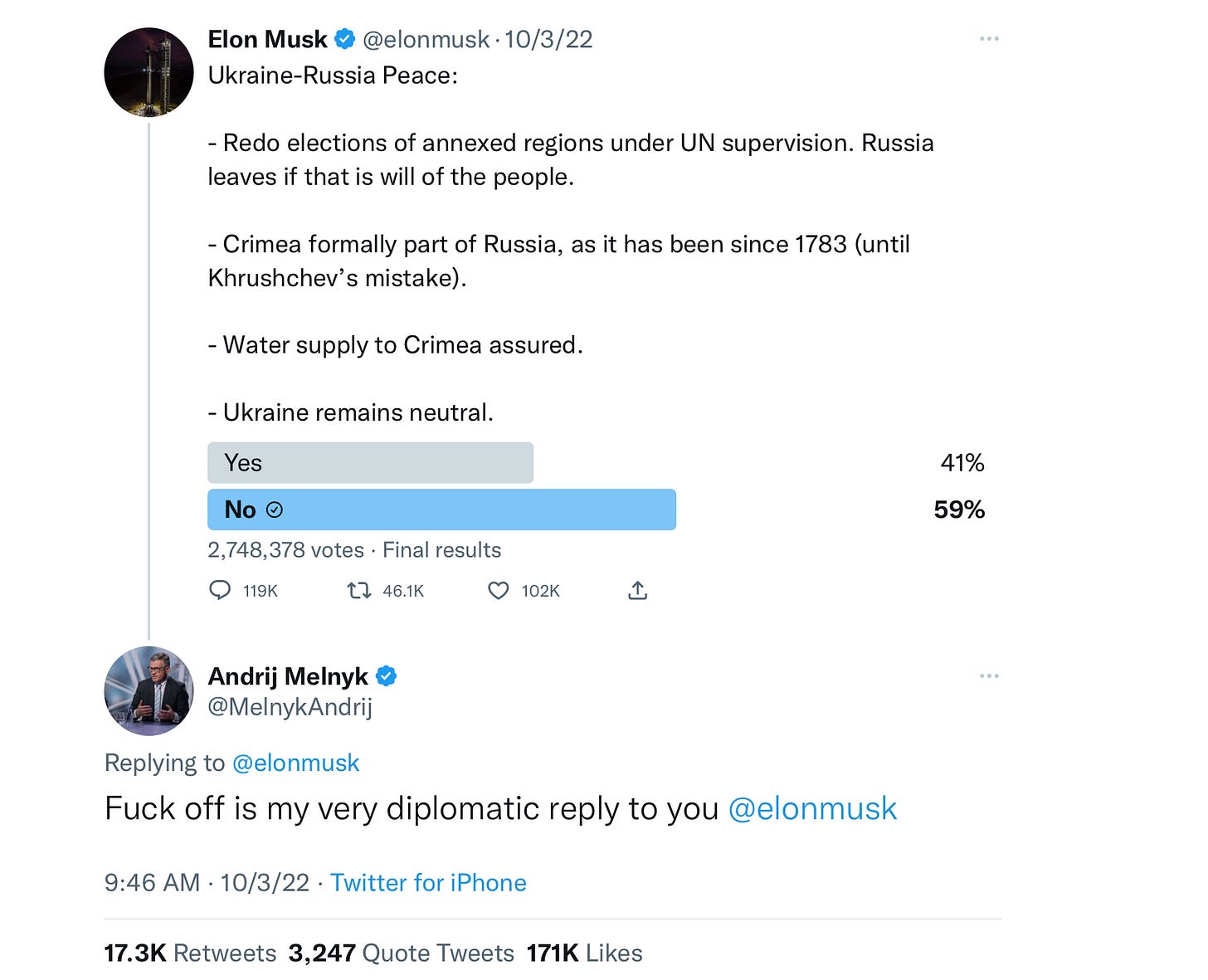 And I'm not even going to highlight Elon's suggestion to the Financial Times that Taiwan be turned into a special administrative zone of mainland China, similar to Hong Kong.
These dumb moves speak for themselves, especially considering that they earned high praise from Vladimir Putin and Xi Jinping. Who's next, Kim Jong-un?
All of this is the same ol' same ol' with Elon, and it surprises no one.
Instead — this one time — the "Dumb" label goes to the 20,000 people who scrambled to buy Elon's Burnt Hair Perfume at $100 a bottle. It's sold out! What's more, it's being resold on Ebay for over $4,000!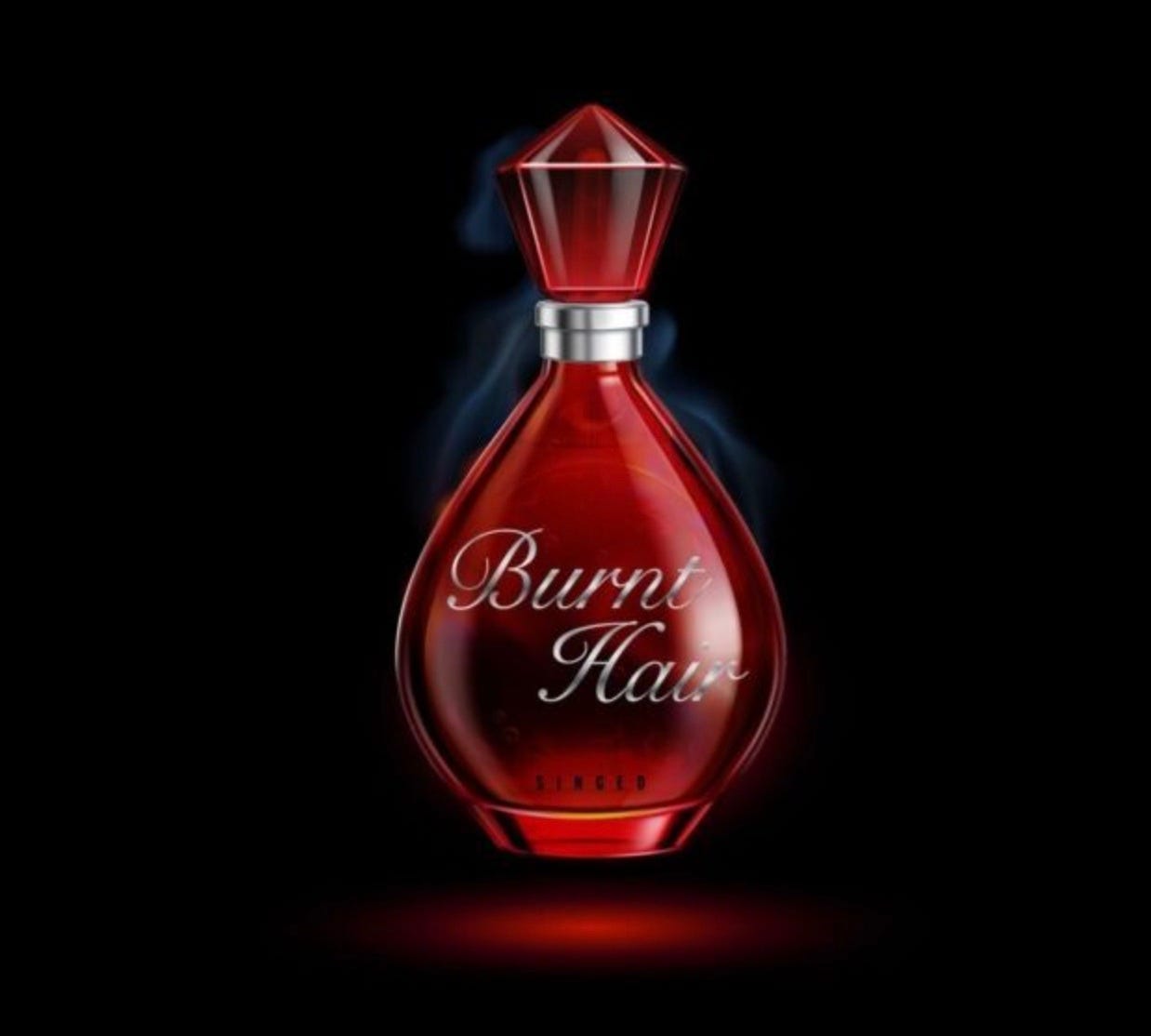 BoringCompany.com
Who would buy a fragrance described as "The Essence of Repugnant Desire"? You'd think it's the same people who piled into Shiba Inu crypto after Elon hyped it, except those people don't have any money left.
DUMBER — Doing Business with a Now-
Former
Billionaire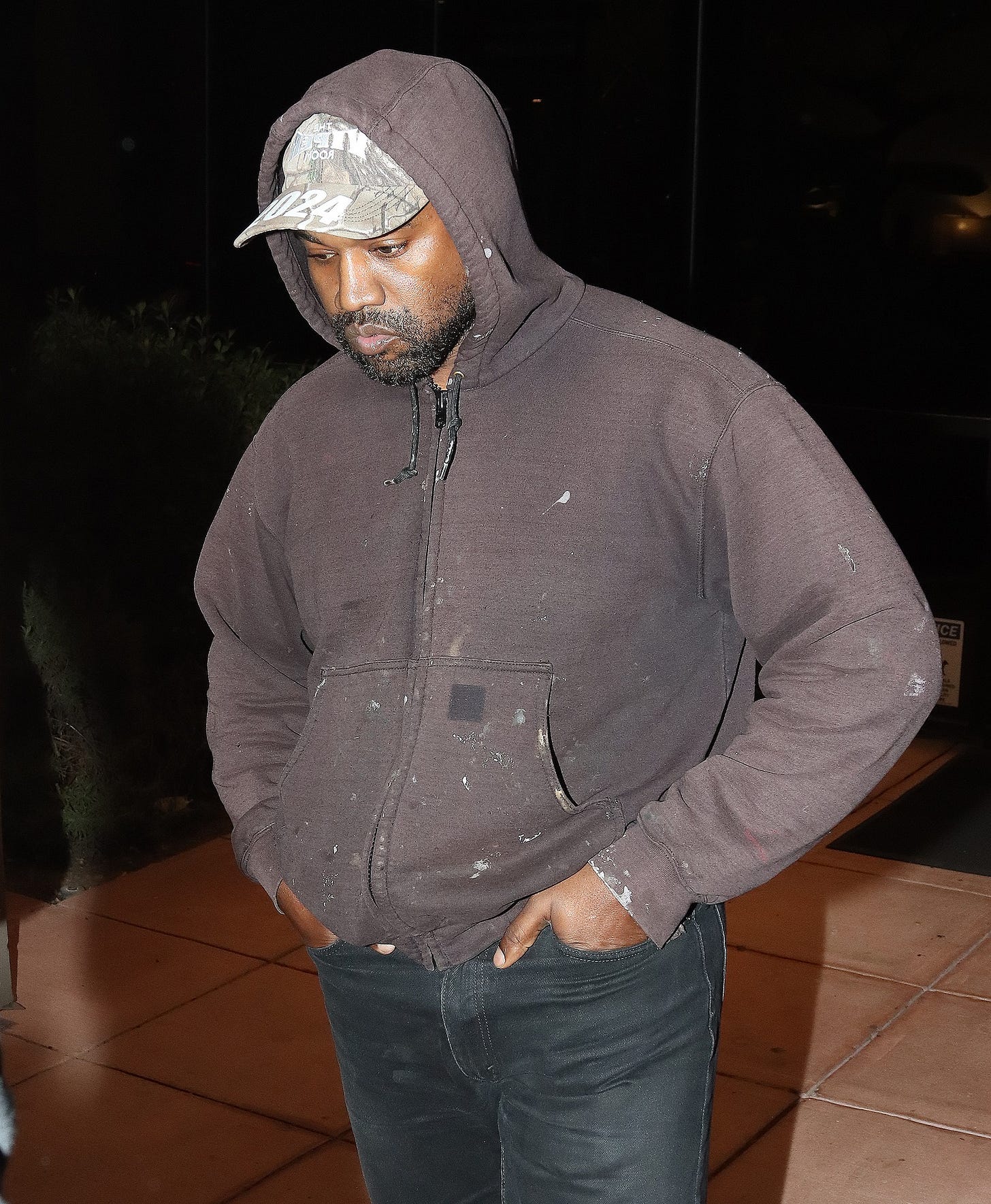 Ye (aka Kanye West)/MEGA/Getty Images
Ye, the artist formerly known as Kanye West, is no longer on the Forbes' billionaire list. He cut off his deal with Gap, and after he unleashed several racist rants, everyone else cut him off... even pro athletes don't want to be associated with his Donda marketing firm.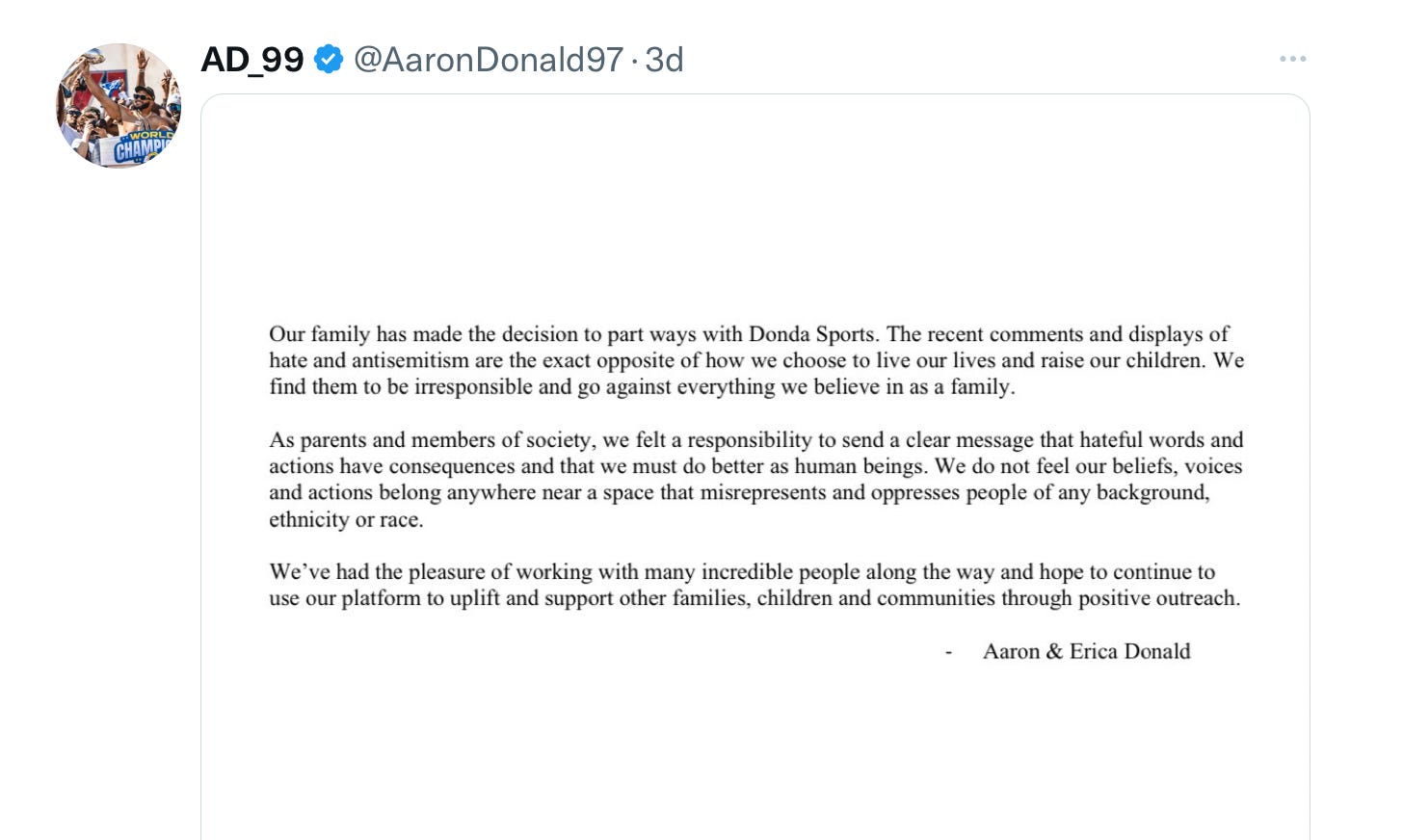 It was pretty dumb for anyone to stay in business with Ye this long, considering things have been going south for quite some time. But Adidas' initial response to Kanye's antisemitic rants was especially ridiculous. The athletic apparel giant stated it was merely putting its business relationship with the rapper/shoe designer "under review," which was not a good look, especially since the founders of Adidas were members of the Nazi party. #Awkward
The Anti-Defamation League wrote Adidas management, "What more do you need to review?" Well, I'll tell you what they prolly needed to review: SALES! Adidas says breaking up with Ye will cost the company about $250 million. (It'll be interesting to see what happens to the resale value of their Yeezy sneakers.)
I hesitate to say much about this, as we are talking about someone who is clearly unwell. Fellow artist Diddy tried to gently but firmly call out Ye for wearing a White Lives Matter shirt, but then Ye accused Diddy of being under control of the Jews. Ah yes, the Jews. Blamed for everything. For a group of people allegedly controlling the media, they've done a terrible job with PR.
Ye may be sick, but the consequences of his actions are real. His tirades have encouraged Jew-haters to come out of their hidey-holes and pile on, and many of the people now standing on overpasses with banners declaring "Kanye was right" would never let their daughters date someone who looks like Kanye.

DUMBERER — The Fake Billionaire
Arthur Cofield, Jr., isn't a billionaire. He just plays one in prison. The armed robber incarcerated in a maximum security penitentiary in Georgia is accused of using contraband cellphones to open a bank account in the name of Sidney Kimmel, a California movie mogul who helped finance films like "Crazy Rich Asians" and "Moneyball."
The feds claim Cofield became crazy rich himself after he managed to transfer $11 million from Kimmel's Charles Schwab account to the new fake bank account (Schwab? Really?). He then used that money to buy gold coins (okay, he was a genius up to that point).
Then prosecutors say the inmate had the coins flown by private jet to Atlanta to buy a $4.4 million house in Buckhead.
Something tells me he had help. Just a hunch. Good job, Georgia Department of Corrections.
Runner up: Brandy Iglesias, who worked at California's San Quentin prison, is charged with stealing the identities of convicted murderers, including Scott Peterson, to fraudulently collect $145,000 in unemployment benefits. I know I should be upset, but I kinda like her style.

DUMBERERER — City of Fallen Angels
The Los Angeles City Council could teach Chicago a thing or two. After three councilmembers attended a secretly taped meeting where council president Nury Martinez said some pretty nasty things about every ethnic group in Los Angeles — I dunno, maybe Armenians were spared (checks notes) oh wait, they weren't — she resigned. However, the two other guys who just sat there during the secret meeting and didn't say anything — councilmen Kevin de León and Gil Cedillo — are so far refusing to go.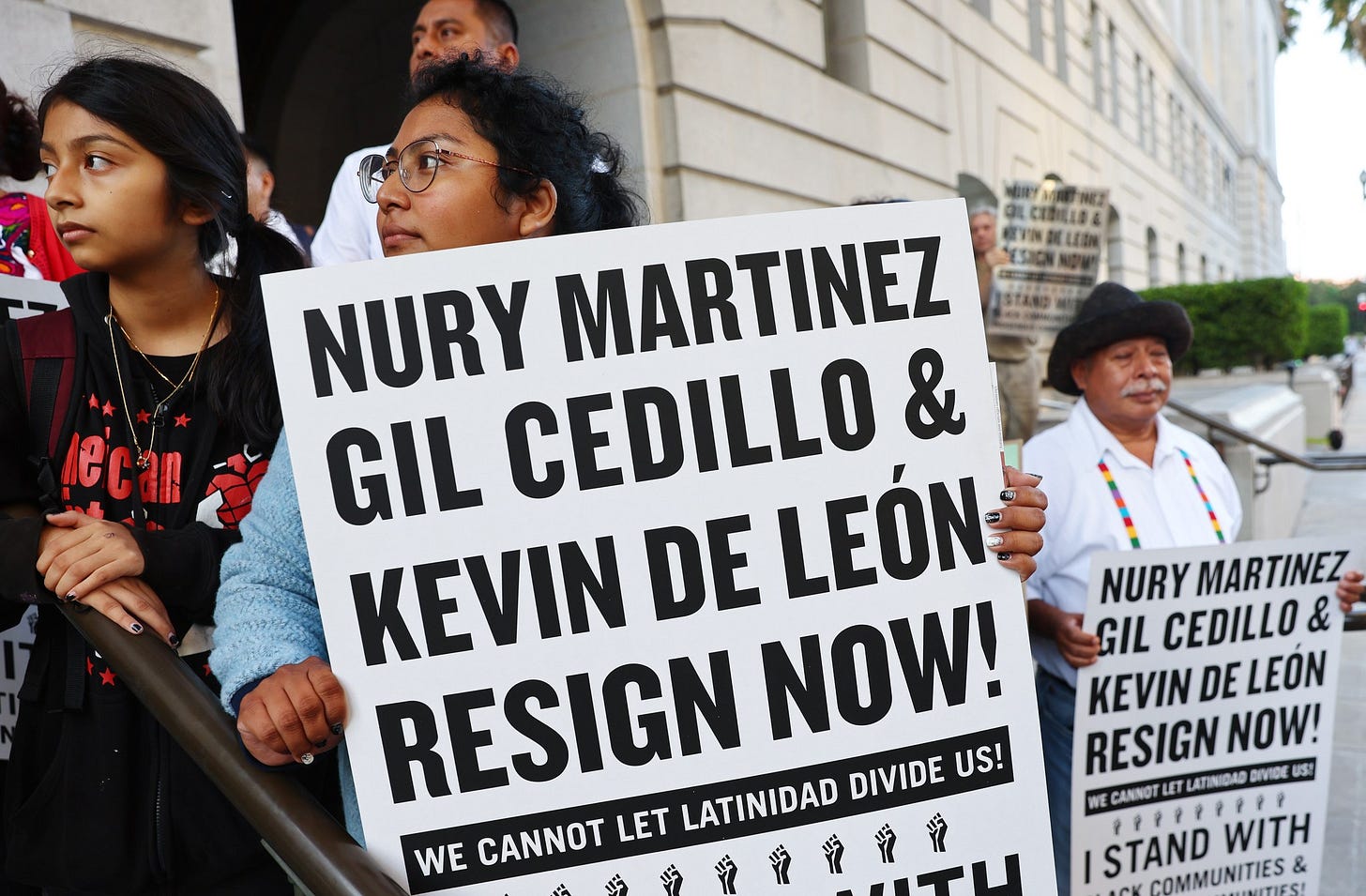 Protestors Outside L.A. City Hall/Mario Tama/Getty Images
Local council meetings are starting to resemble South Korean parliament brawls, and the LAPD was called in this week to clear the room. Believe me, you don't wanna be there when the LAPD clears the room.
But I don't think Cedillo and de León are staying on the job out of principle, despite what they may say. I think they need the paychecks. They weren't smart enough to line their pockets with the sort of LA-style corruption so many of their colleagues have enjoyed.

DUMBERERERER — Hot and Spicy Lawsuits
Phillip White spent $3 on a bottle of Texas Pete hot sauce in 2021 under the impression that it was made in Texas.
It's not. The popular hot sauce is manufactured in North Carolina, something the company admits on its website.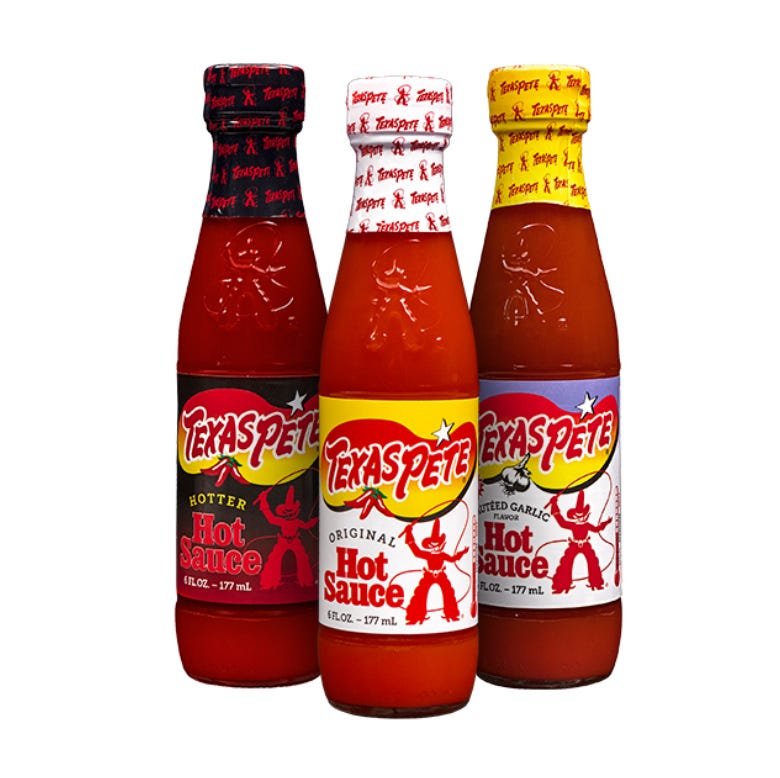 TexasPete.com
White — who's from California, naturally — became so enraged at being "duped" that he filed a 49-page complaint suing the company for false and misleading advertising. White is seeking class action status on behalf of everyone else who's been similarly fooled. "There is nothing 'Texas' about Texas Pete," his complaint states. I don't know what he says on the other 48 pages… because I don't care. A tree died for all the paper created by that filing.
Lawsuits like this are why everything costs so much. It's why years pass before legitimate cases have their day in court.
White is seeking monetary damages. I say give him back his $3 and then fine him $300,000 for court costs.

DUMBERERERERER — Dumbo About Jimbo
Wanna know how to stop getting the best performance out of someone? Give them a guaranteed, no-cut contract worth more money than a small country. Failure always follows (I'm looking at you, Russell Wilson).
In my last D&D, I called out the University of Nebraska for firing head football coach Scott Frost so fast they were forced to pay him an extra $7.5 million.
Well, Texas A&M says, #HoldMyBeer.
The Aggies gave coach Jimbo Fisher a 10-year extension in 2021 worth over $90 million, the biggest guaranteed extension in college football history.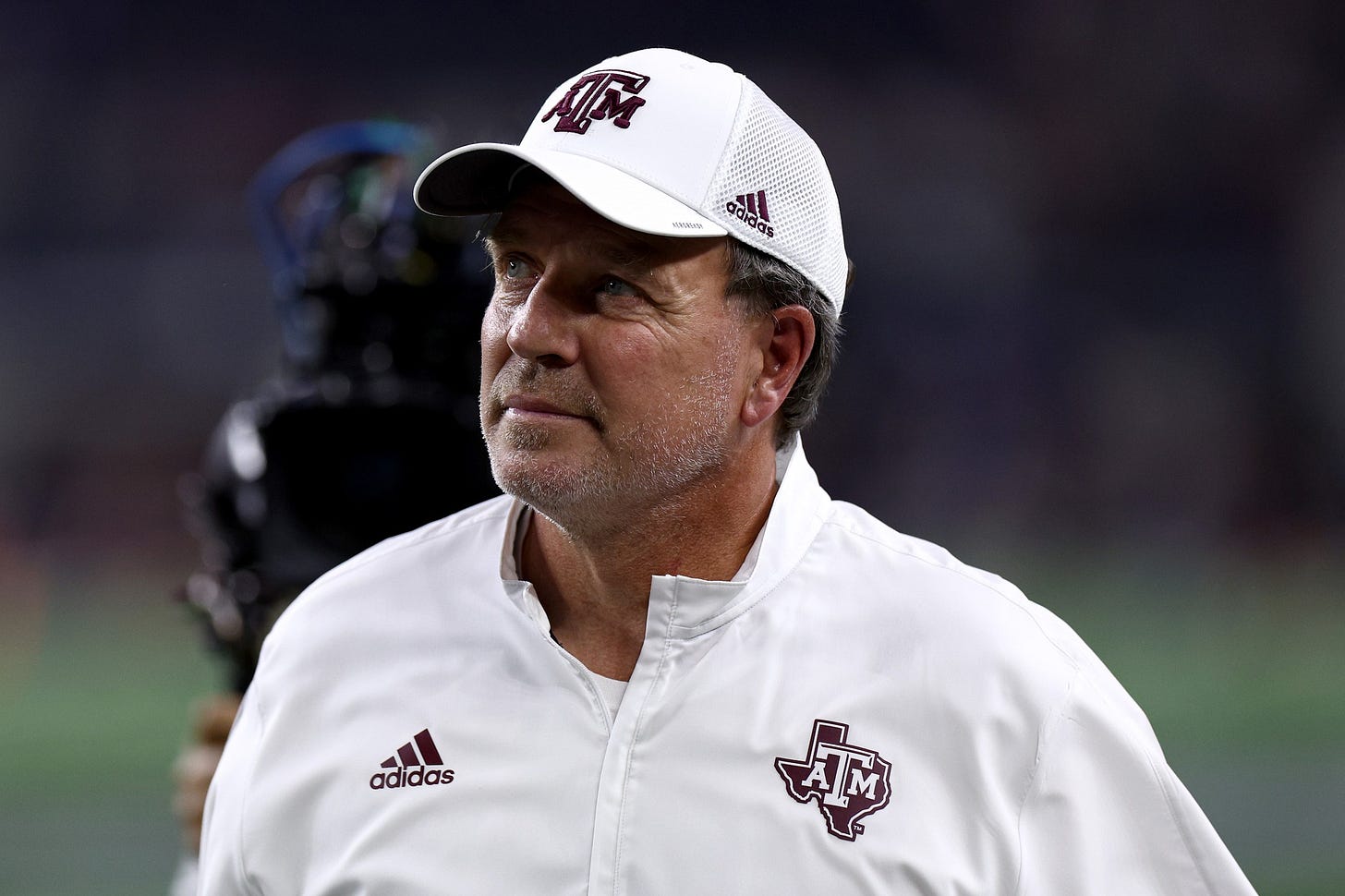 Jimbo Fisher/Tom Pennington/Getty Images
This year, the Aggies are a disaster, with a 3-4 record. But if the school fires Fisher, they'll owe him nearly $86 million, according to sportswriter John Talty.
If they wait until next year to fire him, it's $77 million. Then $68 million, $58 million… and so on. "A&M football is the worst investment in America," one fan wrote on a message board.
Keeping Fisher — instead of cutting its losses and paying a ginormous sum to some other coach — could harm A&M's recruiting prospects. But I fully expect the school to do that. It's Texas football. Money is irrelevant.
Fisher's reaction to all this? Don't ever expect the words "Jimbo" and "my fault" to be in the same sentence.
"It's not like we're getting run out of the stadium," he said after his latest loss to South Carolina. This guy is always glass-half-full!

DUMBEST — Protestors Must Be Sniffing Glue
A bunch of environmentalists in Germany glued themselves to the floor of the "Porsche Pavilion" in a Volkswagen factory, and their leader went on a hunger strike. They demanded that Volkswagen get more Wokes-wagen and "de-carbonize." Also, they wanted a speed limit imposed on the Autobahn.
First off, the protestors used glue, which is petroleum-based. #Ironic
Second, they glued themselves to the floor in front of a Porsche hybrid.
In a corporate response that should be taught as standard practice in business school, plant managers let the protestors stay, and when employees left at the end of the day, they turned off the lights and shut off the heat.
HAHAHAHAHAHAHAHAHAHAHAHA.
"After 24 hours of remaining glued to the floor and a nearly sleepless night, my hand got swollen," tweeted Gianluca Grimalda, the face (and hands) of the protest. He said the VW manager refused to let him have medical attention, but eventually a doctor was allowed in. "Doctors ascertained the possibility of life-threatening blood clots in my hand and recommended an immediate transfer to a hospital," Grimalda later tweeted. "My health is of course paramount. I accepted to leave this wonderful group and was taken to hospital, continuing my hunger strike."
No word on whether Grimalda is still fasting, but he's still tweeting. Eventually, after 24 hours, VW called the cops, who ordered the protestors to leave, probably to the joy of the protestors.
The best part of the whole social saga is the comments. This is when Twitter is worth $44 billion. (Warning: more salty language.)
A tweet from @OttoKurect summed it up best: "VW is playing it perfectly. Cut the lights, open the windows, turn off the heat, and let them freeze in their own bodily waste. Also, close early for the weekend and come by next Monday to see how it's going."
💰💰💰💰💰
Dumb Wonderful: Dead Guy Lands Hollywood Role
Bizarre, feel-good stories are the only way I can stop myself from banging my head against a wall after researching D&D candidates.
Josh Nalley was just what the doctor ordered.
Nalley is a 42-year-old restaurant manager outside Louisville, Kentucky, who dreamed big. He wanted to appear in a TV show or movie, but he didn't think he'd be very good with a speaking role.
There was one thing Nalley felt confident he could do: play dead. So he spent nearly a year on TikTok posing as a lifeless body every day. He admits that he wasn't very good at first — you could see him breathe, for example. But he got better, and now he'll be appearing as a corpse on a gurney in an episode of "CSI: Las Vegas" airing November 3rd.
Living_dead_josh on TikTok
"At first I didn't believe it," Nalley told a local reporter about receiving an email from CBS wanting to cast him in the show. But it was real, and CBS flew him to Hollywood, where he sat in makeup for a couple of hours and then laid lifeless as a background actor for three or four takes.
"We had to redo one take because I had my phone in my pocket and forgot to turn it off," Nalley said. "Of course, it was a telemarketer calling. That was kind of embarrassing."
💀💀💀💀💀
Finally, some fun eye candy. There is a beautiful contest called the Comedy Wildlife Photo Awards.
Here are some of my favorite finalists this year.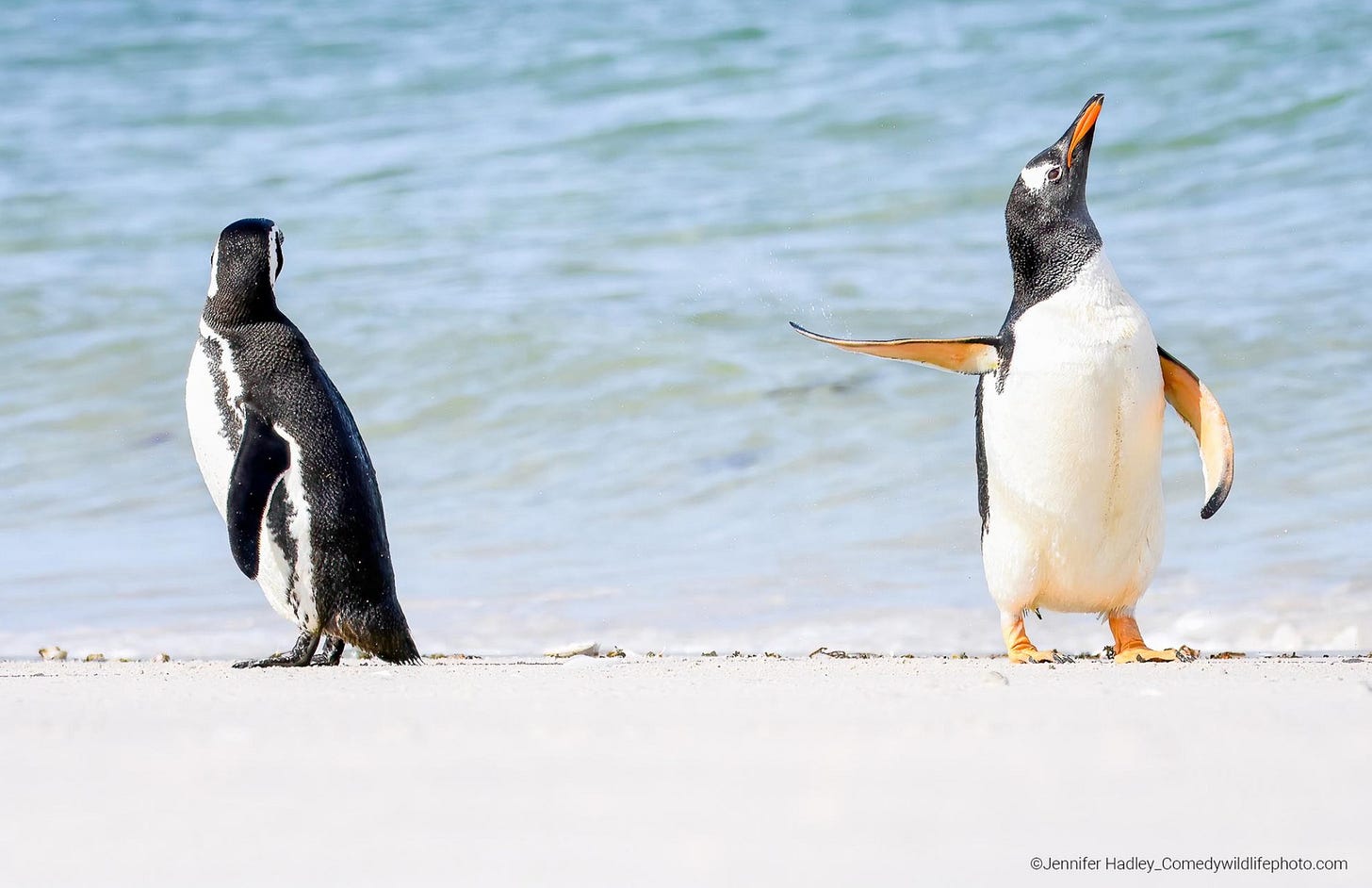 "Talk To the Fin!"/Jennifer Hadley/ComedyWildlifePhoto.com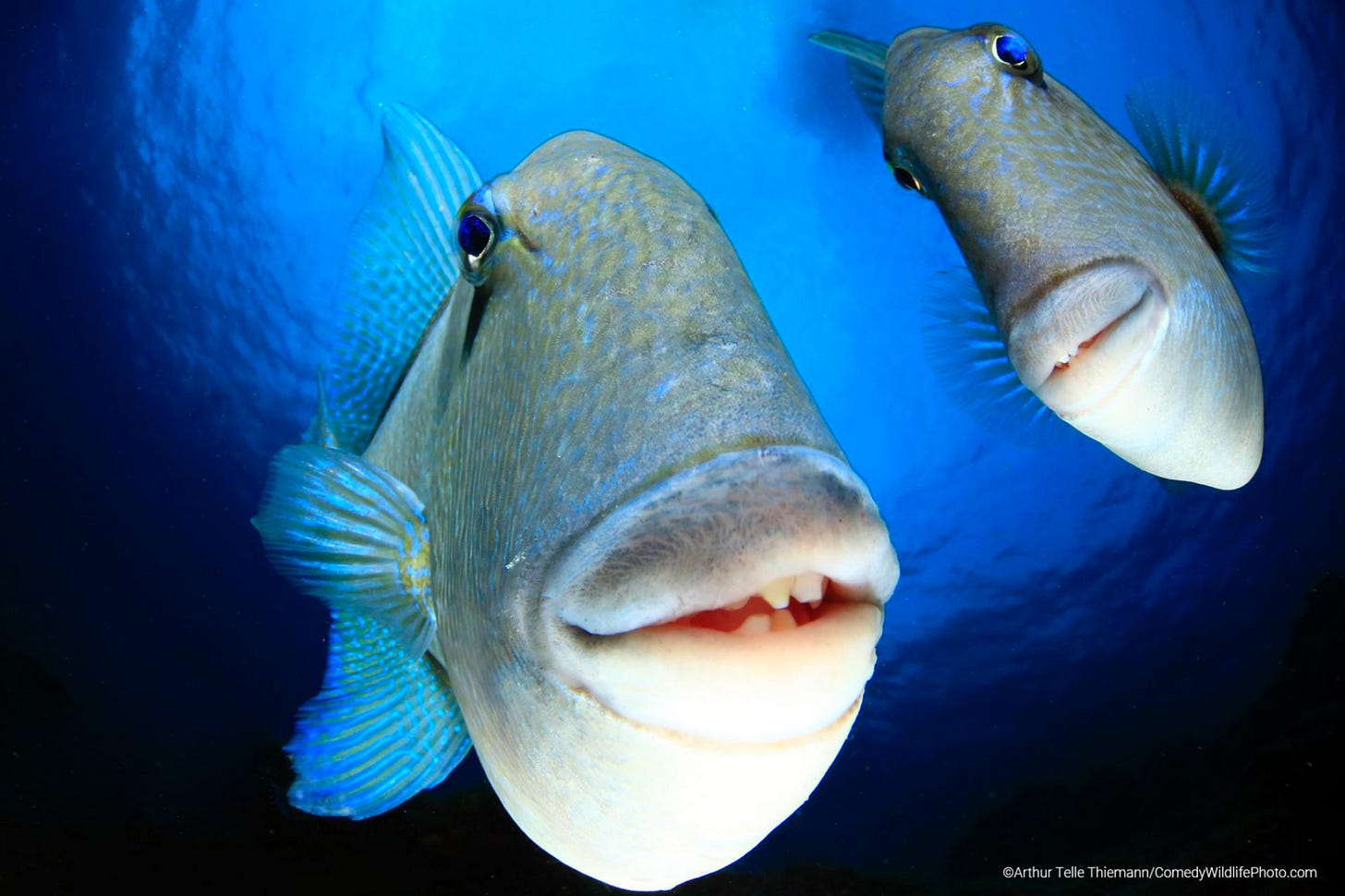 "Say Cheese"/Arturo Telle Thiemann/ComedyWildlifePhoto.com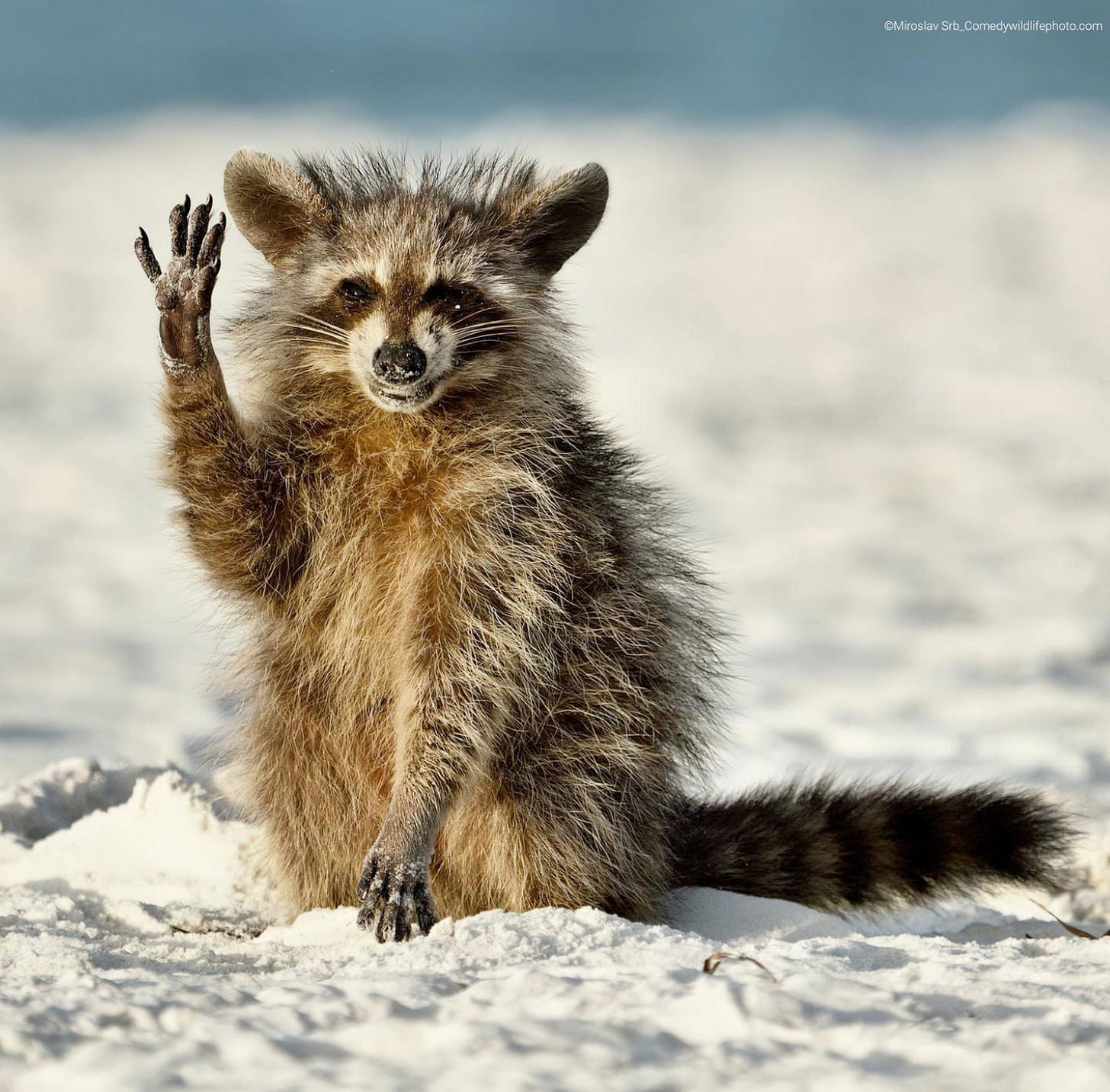 "Hello everyone"/Miroslav Srb/ComedyWildlifePhoto.com
Don't you feel better now? Thank God for animals. They know better than to invest in Shiba Inu coin and Burnt Hair Perfume.
Share D&D with those who need a laugh, and weigh in with your own D&D nominees by joining the conversation below.
📧 Email jane@janewells.com!
📤 Subscribe, it's free!
➡️ Follow me on Twitter, Facebook, Instagram, and LinkedIn!
Cover image: "Keep calm and keep your head"/Martin Grace/ComedyWildlifePhoto.com