How Crypto and a Marine Helped This Afghan Interpreter Survive the Fall of Kabul
The story of Zabi.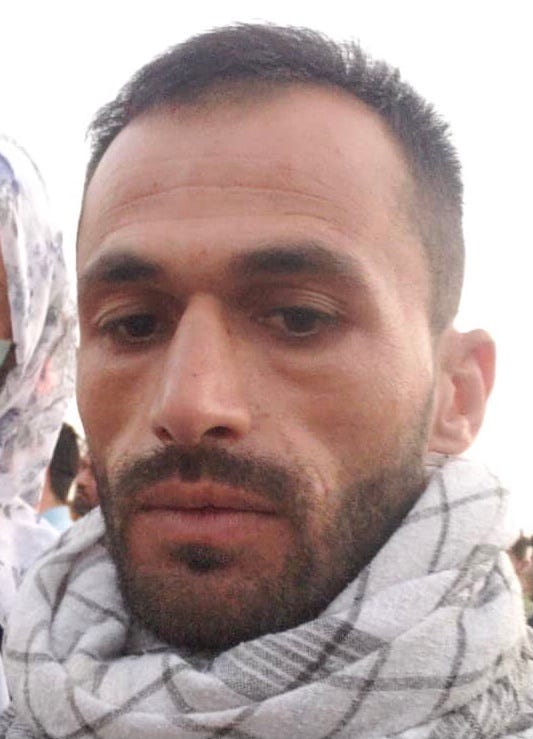 Welcome to Wells $treet! As we get closer to Veterans Day, I'm reposting my favorite story of the year, because thousands of my newer subscribers have never read it.
It's about an Afghan interpreter whose escape during the fall of Kabul was nothing short of a miracle. This is a two-parter worth the read, because later this week, I meet him in person as he reunites with the former Marine who orchestrated his flight to freedom. The question now is whether he'll be allowed to stay in America.
🇺🇸🇺🇸🇺🇸🇺🇸🇺🇸
Part One: "You can send me Dogecoin."
A warning: some of the texts and audio clips in this story contain expletives.
The best stories come out of the blue. They are wonderful, unexpected gifts. And while we've read many incredible stories of rescue operations during the collapse of Afghanistan in August, 2021, you haven't read one like this.
"I dont Know What is going on"
In October, 2021, I moderated an event with several local chief financial officers. It was our first in-person gathering since the previous February.
Corey Mazza was there. He's a Senior Vice President at UBS, one of the sponsors that evening.
I've known Corey for a few years. He grew up in my hometown and went on to play football at Harvard. After graduating, he joined the Marines and became a platoon commander in Afghanistan at the age of 26.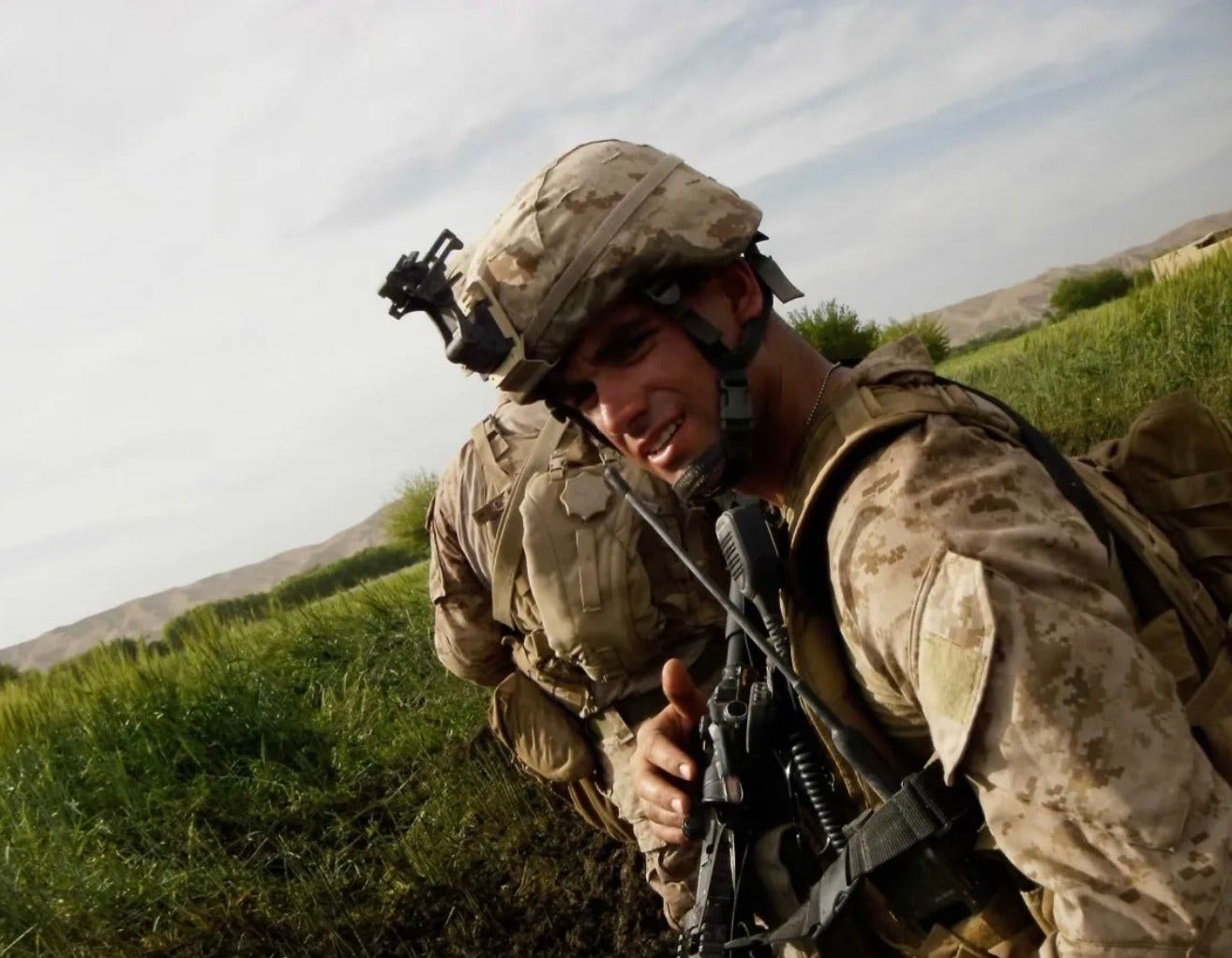 1st LT Corey Mazza in Afghanistan
Corey arrived in Helmand Province in 2011 as part of the surge.
"It was otherworldly," he told me. "The first time you walked out of the gates of the patrol base, there's nothing to really signify what year you're in. It could have been 280 or 2011."
Corey and his platoon were tasked with everything from keeping the Taliban out of the area to building trust with locals. Going on patrol without detonating an IED was a good day.
After his service, Corey returned to the U.S. and began his career in finance. As one chapter ended, another began.
That October evening when I saw Corey, I asked him something bland like, "What's new?"
I expected him to talk about the financial markets or Covid.
Instead, Corey told me he'd recently managed an improbable and extremely risky operation to get his former Afghan interpreter, a man nicknamed Zabi, out of Kabul. (I'm not using Zabi's real name, to protect his family in Afghanistan.)
Corey told me the local newspaper wrote a story about the rescue, but it left out one unusual element.
Corey used cryptocurrency to pull it off. Crypto also nearly derailed the effort.
That got my attention.
Over the following weeks, I interviewed Corey. I also interviewed Zabi and his immigration attorney, Darius Amiri. I then gathered the frantic text messages, videos, photos, and voice notes they exchanged from August 18–22.
It's quite a story.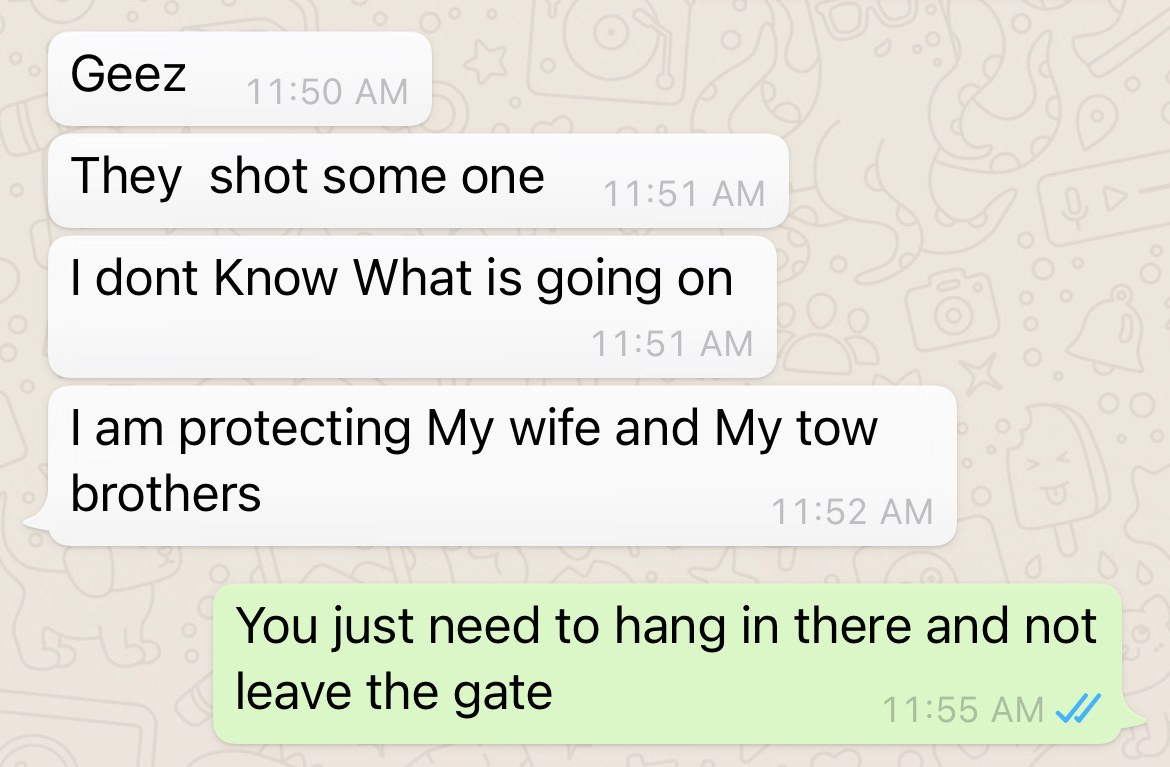 "Geez, they shot some one," Zabi texts Corey on August 18th as he's trying to get close to the gates of Hamid Karzai International Airport in Kabul. "I dont Know What is going on."
Meet "Mighty Mouse"
Zabi was 19 years old and a seasoned translator by the time he was paired up with Corey in 2011. The Marines called Zabi "Mighty Mouse" because of his slight stature and big personality. Corey found his services crucial to surviving, not just because Zabi could explain what the locals were saying, but because he could also tell Corey who was lying.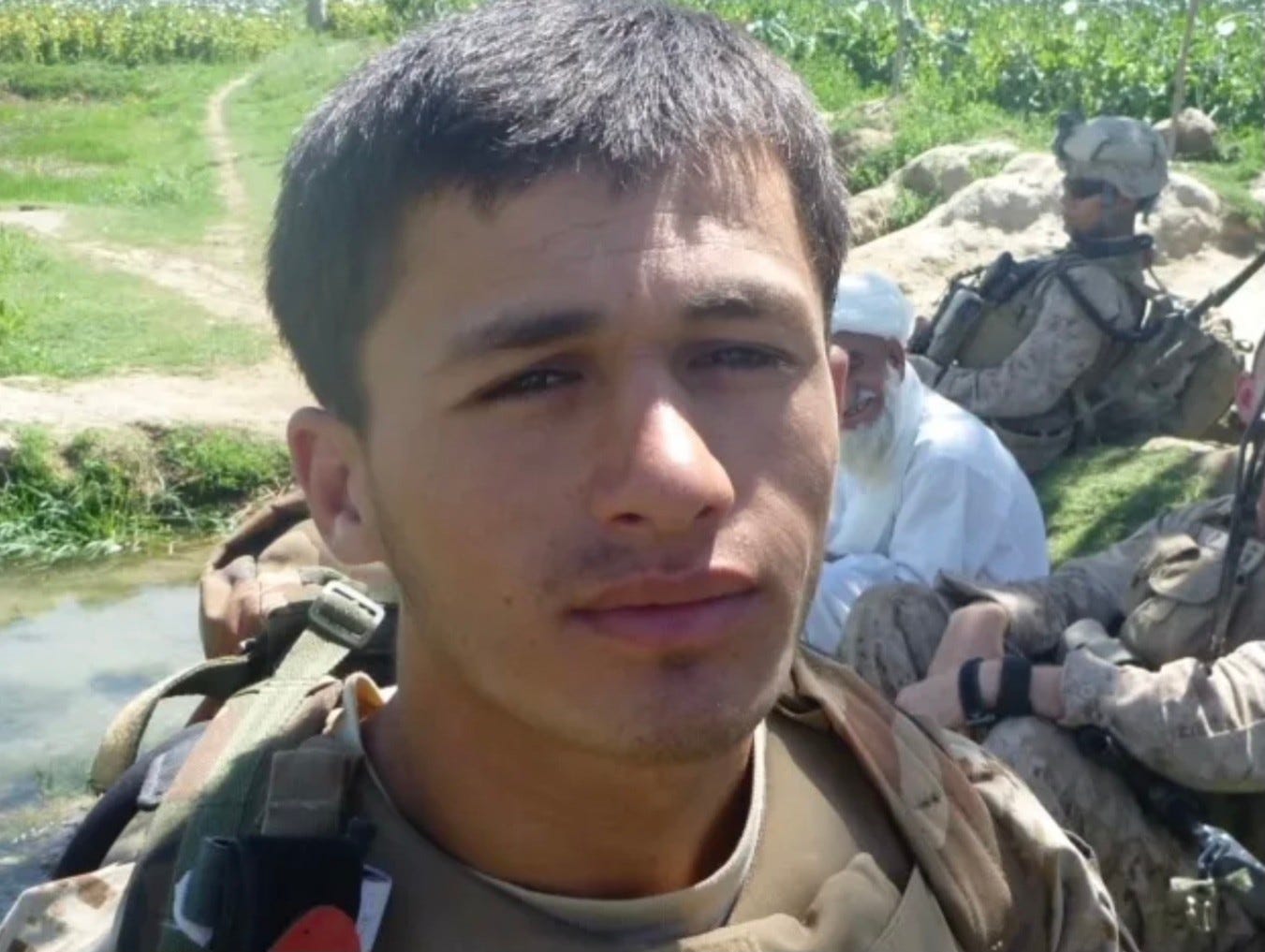 Zabi as a young interpreter.
Zabi tells me he became an interpreter for the U.S. military after one of his friends did. "We had tough times, I had to work," he says. To qualify for the job, "I studied English for six months, day and night." Before long he was hired by Mission Essential, a company recently profiled in the Wall Street Journal for collecting nearly $4 billion in U.S. government contracts.
It was a good job, and if you worked at it for two years, you could qualify for a Special Immigration Visa to the United States. That's assuming you survived. Zabi walked through minefields by Corey's side and was subjected to the same risks. They both saw Marines die.
After Corey returned to the U.S., he and Zabi stayed in occasional contact. Zabi eventually left his job with the Marines and went home to his family. He waited for his special visa, and looked for work.
"The Taliban came to my house today."
Then in mid-August, Zabi sent Corey an urgent message. "The Taliban came to my house today."
Not only was Zabi in danger, but so was his fiancée (or wife, it's a little unclear). The fiancée had been a lieutenant in the Afghan National Army (ANA). In the eyes of the Taliban, "She was on the short list of people that had to pay the price," Corey says.
When the Taliban soldiers arrived, they took Zabi's cell phone. On that phone was all kinds of incriminating evidence — photos and emails from various Marines, including Corey.
The soldiers beat Zabi on the head with his phone charger, but they did not kill him.
When I asked why he was spared from instant execution, Zabi says they couldn't find any proof he'd collaborated with Americans.
"The good thing was the person who was searching me, that Taliban, he didn't know how to use a cellphone."
Corey promised to help Zabi escape, telling him, "Just drop what you're doing and go to the airport now."
"It looked like a packed concert."
Corey didn't know what to do next. "I remember sitting at my desk at work and thinking, 'Okay, who can be useful here?'"
He reached out to former USMC colleagues. He made calls, sent emails, contacted people on WhatsApp and social media who were helping other Afghans escape. "It exploded to the point of thousands of different calls and email threads and whatnot, trying anything to get it to stick," he tells me.
Zabi headed to the airport with his fiancée and brothers and began sending Corey photos and videos over FaceTime. "It looked like a packed concert, like 30,000 people," recalls Corey. "People are crying, gunshots [are] being fired." At one point, Zabi sent him a photo of a young girl who died.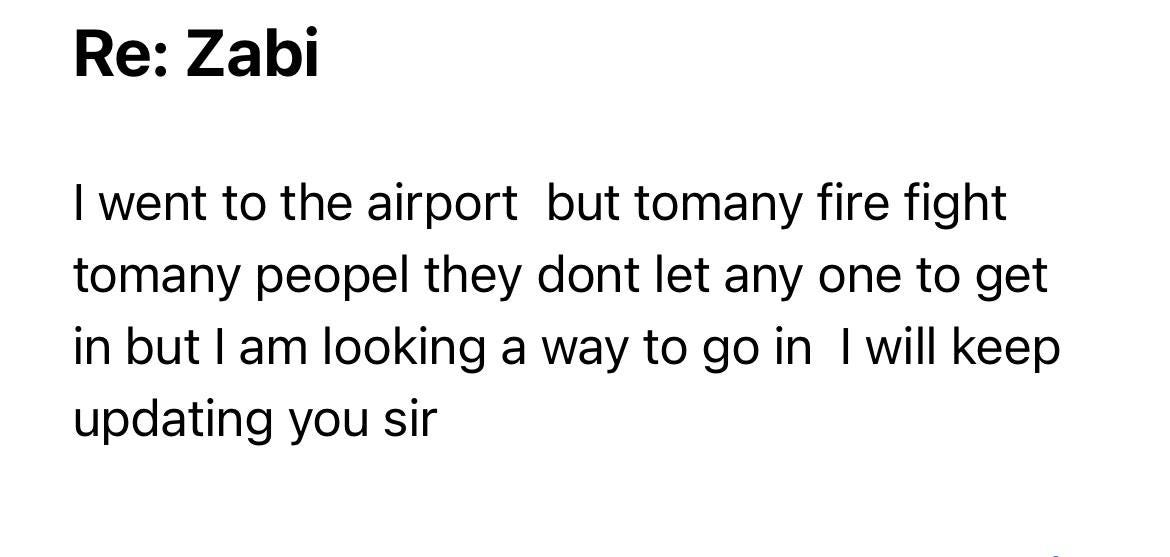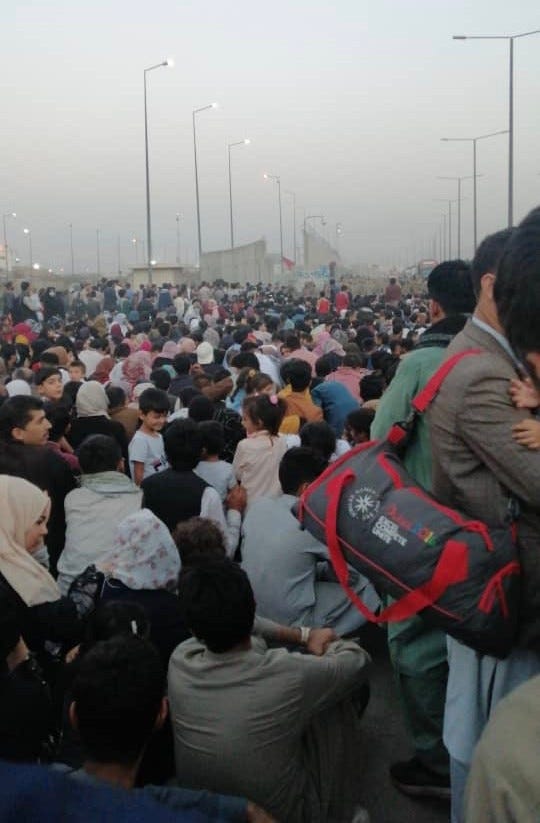 A photo from Zabi of the airport crowd.
Corey watched from his home in California, and the scene gave him strange flashbacks of being in Afghanistan. "It's almost like you could smell it."
As for Zabi, "It was impossible to get to the front," he tells me.
He texted Corey on August 18th: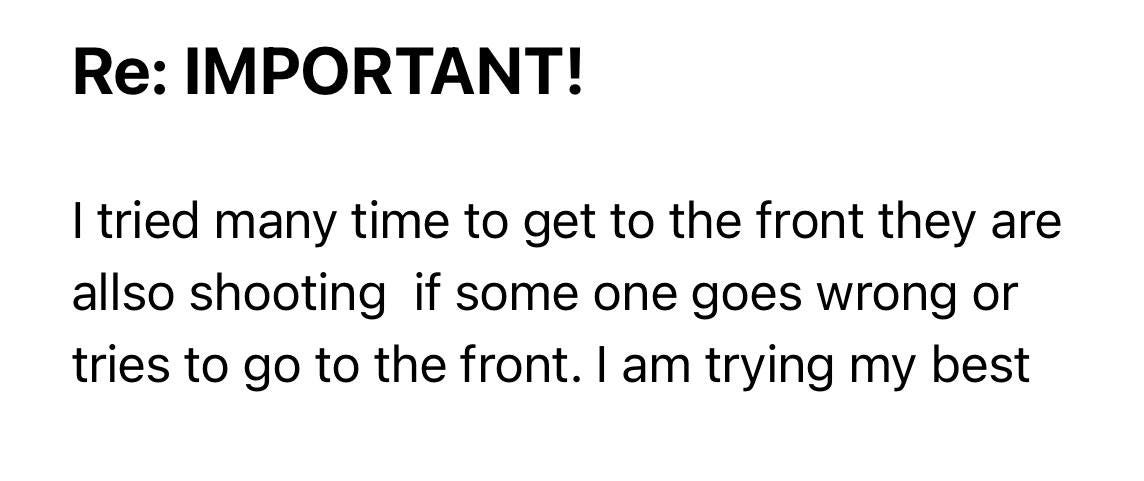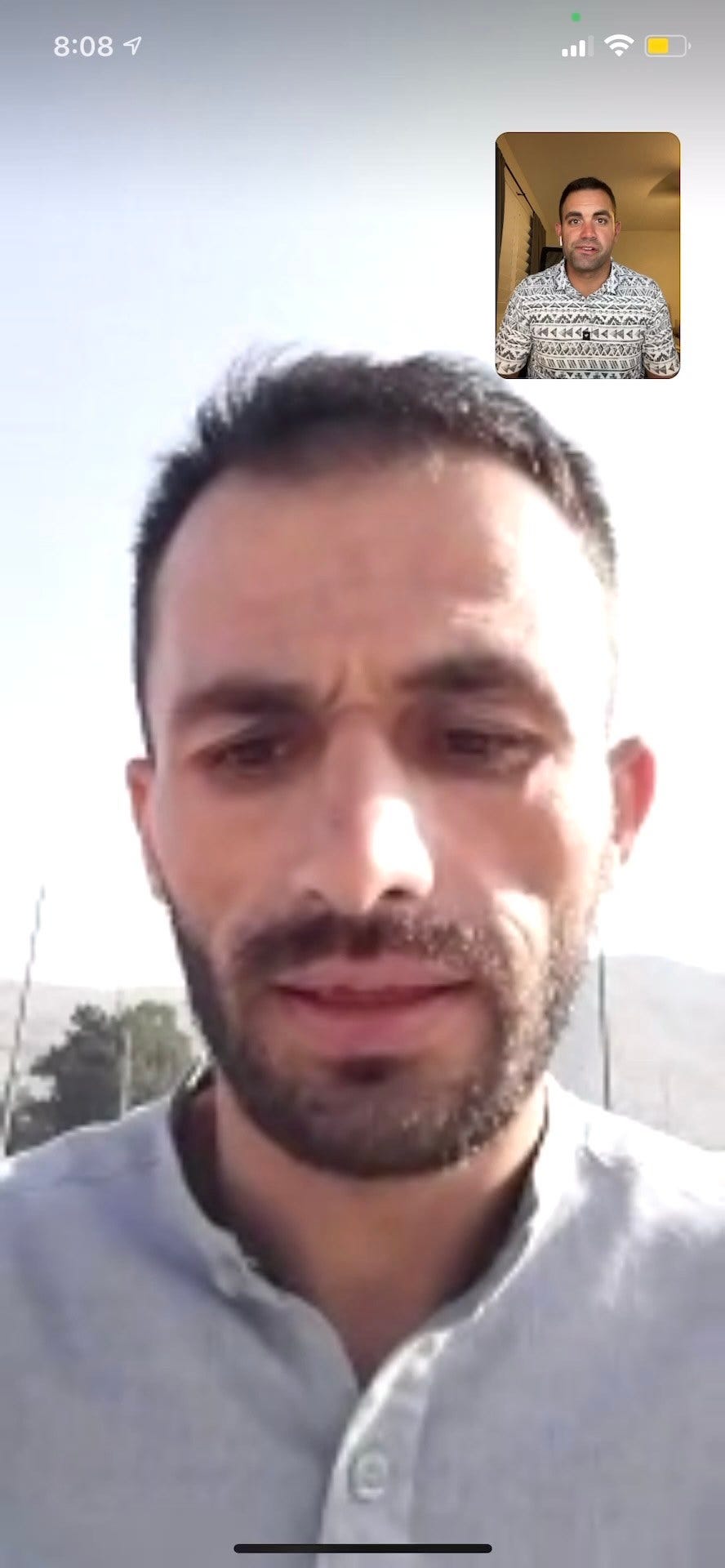 Zabi and Corey talk on FaceTime.
The odds weren't good, yet Zabi sounded remarkably calm on voice texts. ("Tough times make you stronger," he tells me later.)
He even showed flashes of humor. As Afghan soldiers pushed back crowds, Zabi texted Corey, "They tuch my ass," followed by laughing emojis. Then: "i am glad that they only tuch My ass. So i saved it by steping back."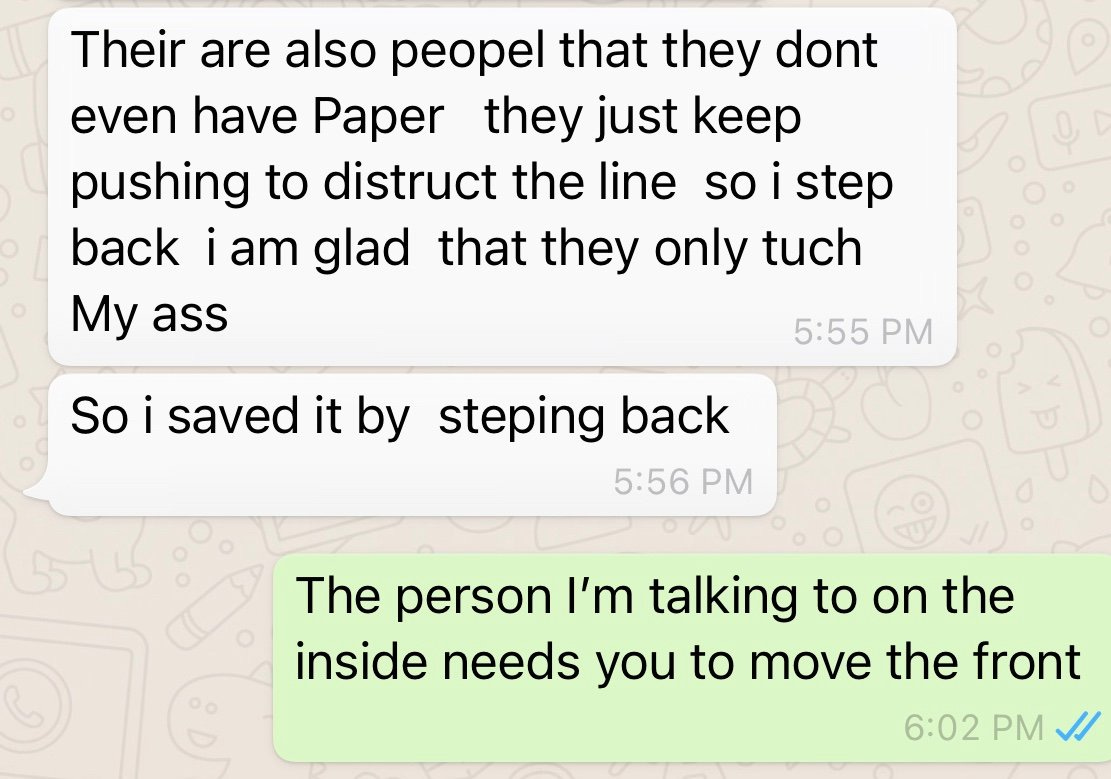 "I'm out of money."
For three days Zabi tried and failed to make his way to the Marines at the airport gate. He stayed with his fiancée and brothers by a wastewater canal, paying bribes ("tolls") to stay near the airport, spending exorbitant amounts of money on food and water, and renting a car to sleep in at night for better security.
It was cold at night. By the fourth day, Zabi's fiancée was sick. The couple was thinking of giving up and going home. "We are all out of money," he said in an audio clip to Corey. He'd tried to sell some jewelry for cash, but no one would buy.
Corey wondered if he could wire funds to Zabi, but the banks in Kabul had closed down.
He texted Zabi, "You don't have digital currency?" — something Corey later tells me he said half-jokingly.
Then Zabi gave him one of the biggest shocks of his life.
He sent Corey a voice text which says in part, "I used to [work] cryptocurrency sir." He told Corey that another Marine had already sent him crypto almost a week earlier, but that money was nearly gone.
Corey was stunned. "Can i send you crypto" he asked.
"Sir, please please please. Yes, you can send me crypto," Zabi replied.
Whiskey Tango Foxtrot...
It turns out that Zabi had been studying cryptocurrencies for months. He owned a Binance digital wallet. He favored a so-called "stablecoin" called USDT, which is traded on a blockchain called Tron. (Zabi likes Tron because of its lower fees — I mean, this guy knows his crypto.)
Zabi had become interested in technology after leaving the Marines and working for a Turkish-based multi-level marketing company selling luxury items. He spent a lot of time being trained online to spot scams. He learned to use the help desk.
He also discovered Bitcoin, and he started investing in cryptocurrencies in early 2021. "A lot of people, they make fun of you when you talk about cryptocurrency," Zabi told me.
But by August 22nd, no one was laughing outside Karzai Airport. Zabi needed crypto to survive.
However, Corey had very little idea what kind of crypto to buy or how to send it.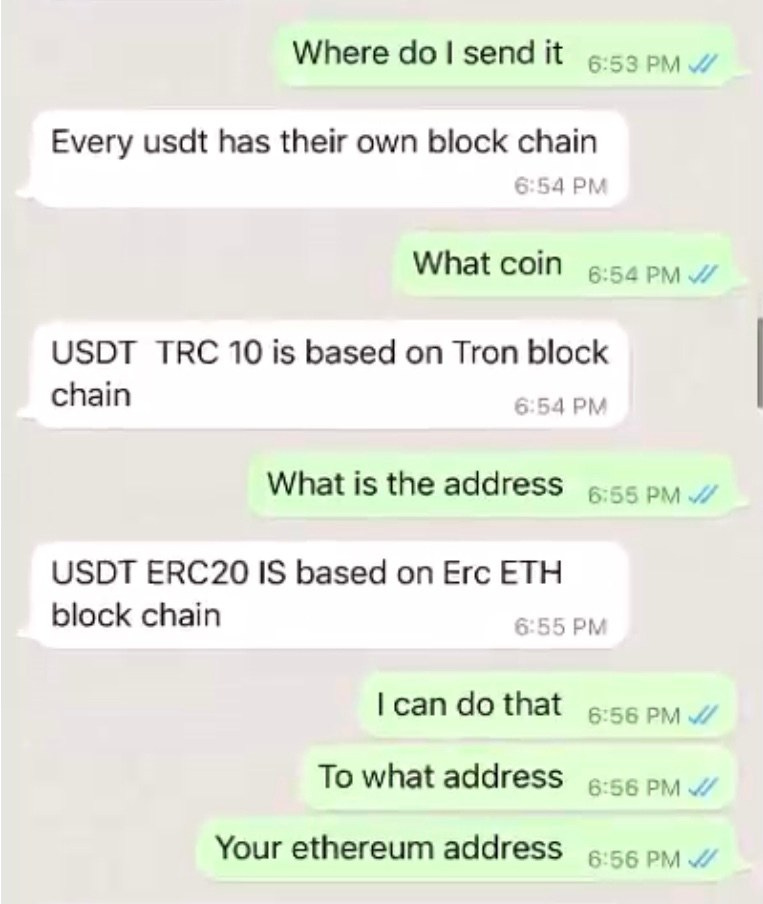 Zabi suggested Corey send USDT TRC10 — his preferred stablecoin on the low-fee Tron blockchain — or ESCT ERC20, a similar coin on the Ethereum blockchain.
"Or you can send me Dogecoin as well," Zabi told Corey in a voice text. "People usually use Coinbase or Robinhood."
Let's pause for a moment.
For all the talk of Afghanistan being stuck in a previous century, here was one Afghan using some of the top tech tools of 2021 — FaceTime and WhatsApp — to explain cryptocurrencies and the blockchain to an American financial advisor sitting in California.
Here is the entire incredible exchange which Corey captured on WhatsApp:
As Zabi waited, Corey called a friend who is chief investment officer of a crypto fund. He actually interrupted the guy at a dinner party, begging him to help send Zabi $200 out of a Coinbase account.
After the money was sent, Zabi replied, "I got it sir thank you appriciated sir."
"I got my first experience of the whole blockchain ledger," Corey told me. (That's quite a baptism by fire!)
He then sent another $250, and Zabi told him that was all he needed. "You and your friends are the best peopel that i have ever seen in my life."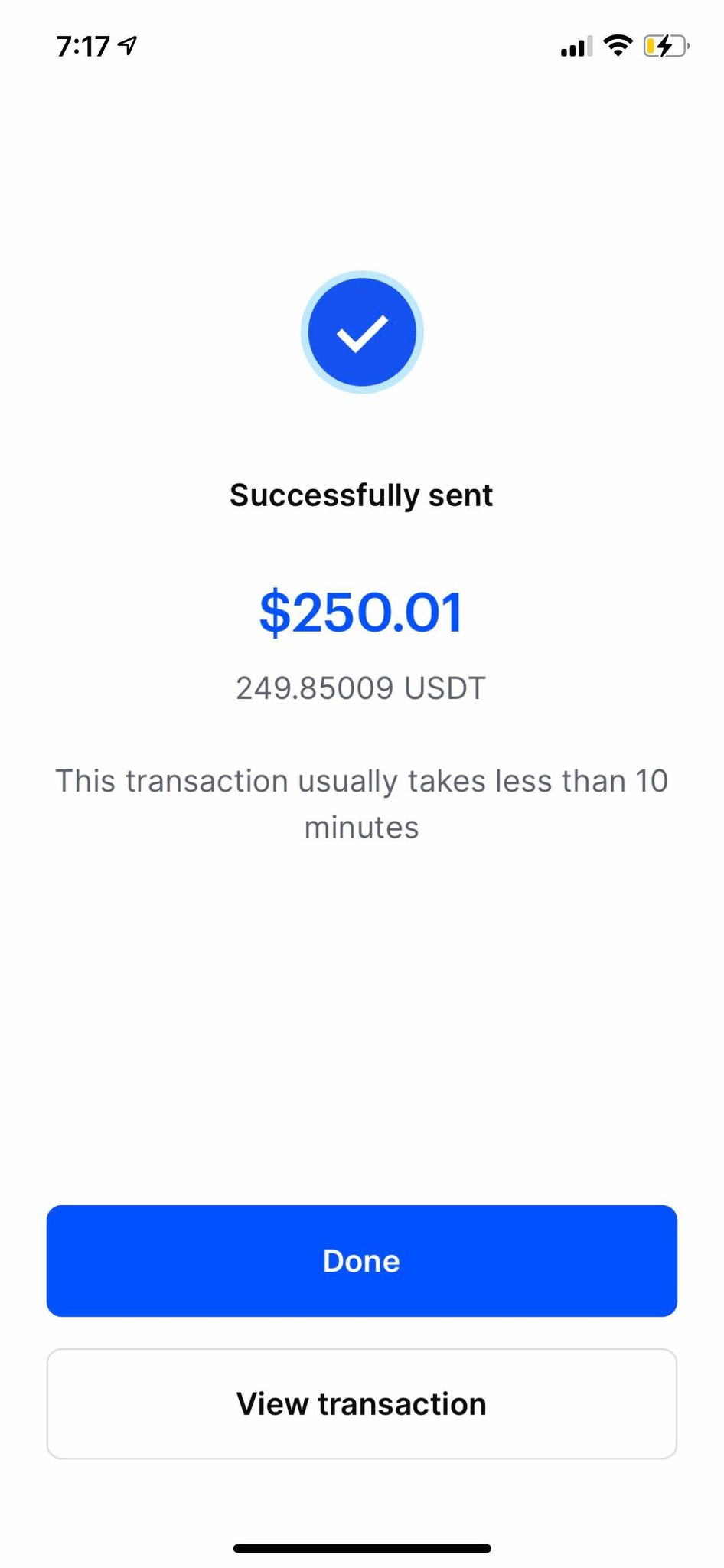 Then came the hard part.
###
In Part 2, the last U.S. planes are preparing to leave Afghanistan, but first Zabi has to leave the airport and head 15 miles through Taliban checkpoints to convert his crypto into cash. And — spoiler alert! — meet Zabi and Corey, and learn where the former interpreter is now.
If you like this story, please subscribe here to Wells $treet for free, and receive one to two stories a week via email. Follow me on Twitter, Facebook, Instagram, and LinkedIn.