I Tried to Navigate a Car Rally Without GPS
The Rebelle Rally is for women only.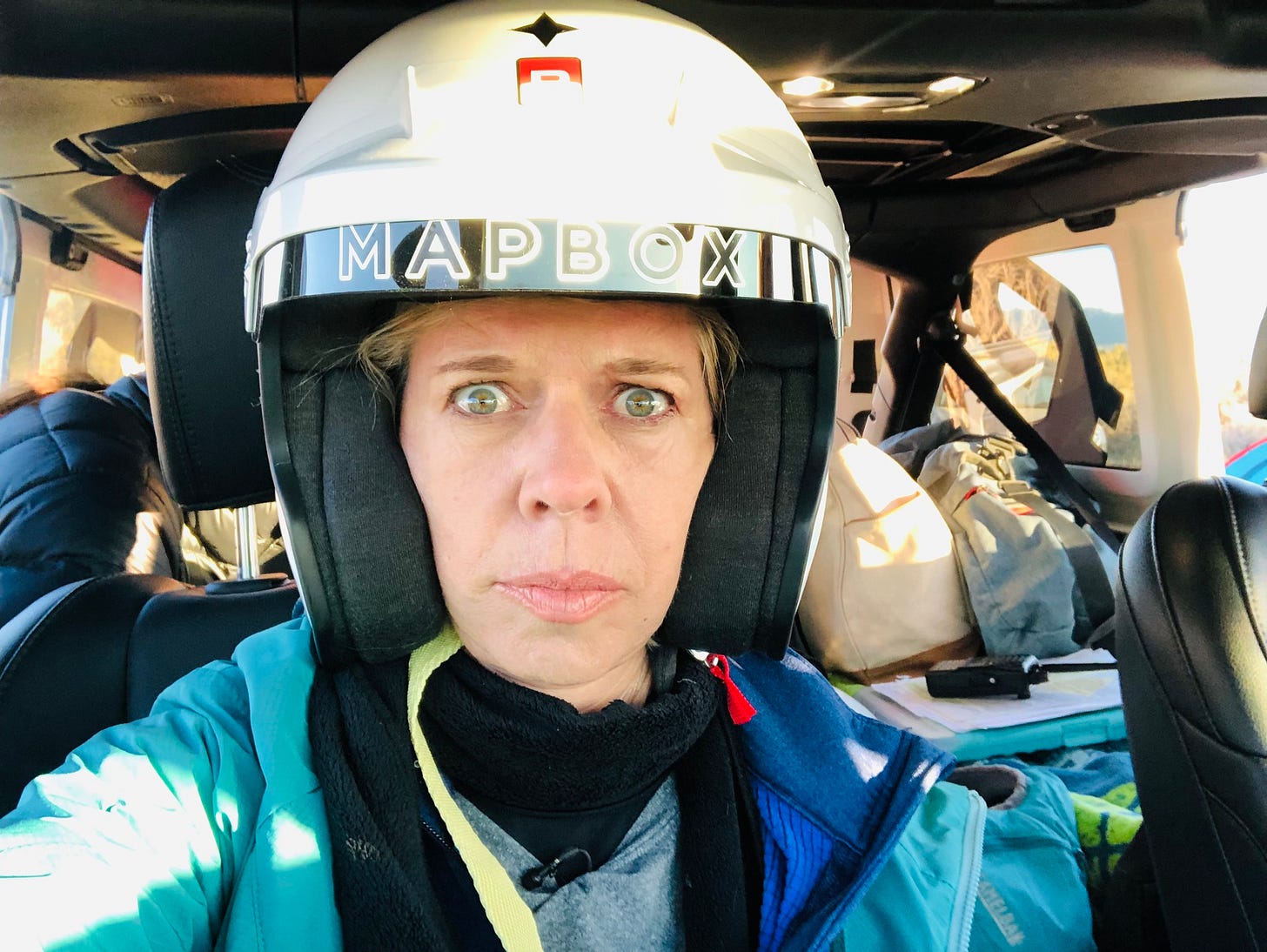 Thank you for stopping by Wells $treet, where I'm taking a detour this week to follow the money behind an off-road car rally for women. The story left me dusty, overwhelmed, and exhilarated.
Plus, an update on the saga of selling my house.
🛻🛻🛻🛻🛻
It's 5 A.M., and I hear a cowbell clanging outside my tent. "Good morning," whispers Emily Miller as she walks through camp, trying to wake everyone up.
I'm already awake. I never slept.
I spent the night off the grid in the Nevada desert. It's cold, and the 7,400-foot elevation gave me a headache. But it's not the chilly temperatures or the altitude that's made me sleepless. It's the anticipation of adventure.
I've been given the challenge — the burden! — of being a navigator for one day in the longest competitive off-road rally in America. It's called the Rebelle Rally, and this year the eight-day event began in Lake Tahoe and has been winding its way south for 1,400 miles toward the Mexican border.
Not only is the rally long, it holds one other distinction: All drivers and navigators are women.
But wait! There's more! Teams can't use digital aids like GPS to help them find their way. All electronic devices are handed over on day 1, and they won't be returned until the day 8.
"Driving and navigating is a metaphor for business and relationships," says Emily Miller, the woman who walked through camp with the cowbell ("More cowbell!" I thought). She founded the Rebelle Rally seven years ago. "Not only do you get the physical skills in a rally, you translate that to other parts of your life."
Miller is a veteran off-road racer who owns her own sports marketing business in Southern California. "When I was racing and competing," she says, "I was usually the only woman." She felt the sport wasn't very welcoming to females, so she created her own competition. "I wanted a world-class event."
Miller leveraged her professional relationships to find sponsors, and she fielded 36 teams the first year. This year there's 55 teams, a sellout crowd.
The rally is not a speed race, but more of a treasure hunt that tests both your driving and math skills. Teams receive maps every morning, along with a list of clues on where to find checkpoints of varying value. Strategies are quickly plotted with only a ruler and compass. There's also an "enduro" made up of timed segments, requiring its own set of calculations.
The stress is palpable as I walk into the breakfast tent. Teams are trying to keep their bison breakfast burritos from dripping onto maps. "Could you not bump the table?" one competitor gently but sternly asks my cameraman as he zooms in for a closeup. Thank goodness I used to crush it reading a Rand McNally map or Thomas Guide, or I'd be lost! (Kids, Google "Map guides of the 20th century.")
Teams score points in the Rebelle by finding the checkpoints, and by hitting exact times in the enduro. Much of the route is off-road, but vehicles can only have minimal modifications, like different tires or skid plates. These are regular stock cars, not racing cars.
I was paired with driver Emily Benzie, a molecular biologist who's driven in several Rebelles with her mom, Chris, an aerospace engineer. Yeah, I know. Brainpower.
Chris sold her company in 2018, and she discovered the Rebelle while surfing the internet. Emily was just about to graduate from college — with plans to buy a Jeep — and the rally sounded like a fun adventure they could share.
They signed up and paid the entry fee.
"We had a rough start," Emily admits. In their first Rebelle, they came in nearly last on the second day and realized they needed to work on their communication skills. "I was the navigator," says Chris, the mom, "and the navigator sort of tells the driver what to do… so there was a lot of telling her what to do." (I have a daughter. I can only imagine how that went over.)
But the Benzies made a quick U-turn communications-wise, and last year they came in second place. "I had to learn that she was capable, right?" Chris tells me of her daughter. "I no longer question what she does."
Emily Benzie believes that driving in the rally has built her confidence and helped her overcome "imposter syndrome" in the workplace, the feeling that she doesn't really belong. "I am capable of doing something that I put my mind to."
This year, Chris is navigating for another driver, while Emily decided to join the rally's staff for the week. That's why she's stuck with my navigational skills.
I had an inauspicious start.
"I've lost my ruler," I declare as we bump around off-road. Then we couldn't find the first checkpoint. I was feeling dejected. Suddenly, the rally staff radioed that the checkpoint flag had been stolen (probably by a disgruntled hunter). Maybe we weren't completely lost!
Soon my nerves began to settle, and our success improved.
We nailed the enduro, and I think we figured out where a secret, unmarked "Black Diamond" checkpoint was, though we had to pace it out.
Full disclosure: navigator Marena Smith from Mapbox was in the backseat with us in case I screwed up. Emily and I were glad to have her. She helped cover our tracks — literally!! — and create new ones around the hidden checkpoint to mislead other teams. #InItToWinIt
Rally founder Emily Miller creates a new route every year, and one of her biggest challenges has been convincing government agencies to let her run the event across their lands. "They thought it was a race," she says. Miller has told officials that she has no intention of tearing up the desert. "We had to prove to them that we would be true to our word."
By the way, it isn't cheap to enter the Rebelle. It costs over $13,000. That includes gourmet meals and access to a couple of fancy porta potties. Winners earn bragging rights and free entry into the Rebelle next year.
Many returning teams are now sponsored by carmakers who cover their entry fees. "This year we have 10 manufacturers," Miller tells me — everyone from Jeep to Toyota to BMW to Rivian, the electric truck maker (Miller's team figured out a way to recharge EVs remotely).
Automobile manufacturers have come to realize that women like these 4x4s and crossovers. "We know that we sell vehicles through this rally," Miller says. "We have people who call us and say, 'I bought a Jeep because I wanted to do the Rebelle.'"
Many non-automotive sponsors have also piled on: Yeti, Mapbox, Pirelli, and Iridium Satellite Communications. Those sponsors help defray the cost of paying a small army to host the event, and the Rebelle Rally will actually turn a profit this year.
As the rally winds down this weekend, Emily Miller will soon plot out next year's course. Even after spending a week living in the desert without a shower... she's glowing.
"I wanted to give women a platform to shine," she says, as the sun sets and the desert light turns to rose gold. "I have this desire to really give women an experience that is a confidence builder, for them to believe that they are the badasses I know they are."
🛻🛻🛻🛻🛻
Damn straight! Even though yours truly only spent a single day in the rally, it energized me.
Would you love to do the Rebelle? Could you live without a phone or a shower for a week? Join the conversation below.
HOUSING UPDATE: If you read my last newsletter, you know that I've chosen the worst possible time to sell a home. But we did it! We even got full asking price! Now my husband thinks we should've priced it higher...
And so, the real fun begins. Will escrow close? At the other end, will something cause the purchase of our new home to fall through, leaving us with no place to live? And now I really do have to go up into the attic (*shudder*).
✍️ Keep the comments coming!
📤 Share this Bulletin with the badass women in your life!
➡️ Follow me on Twitter, Facebook, Instagram, and LinkedIn!