I Write. You Write Back!
Amusing notes from the mailbag.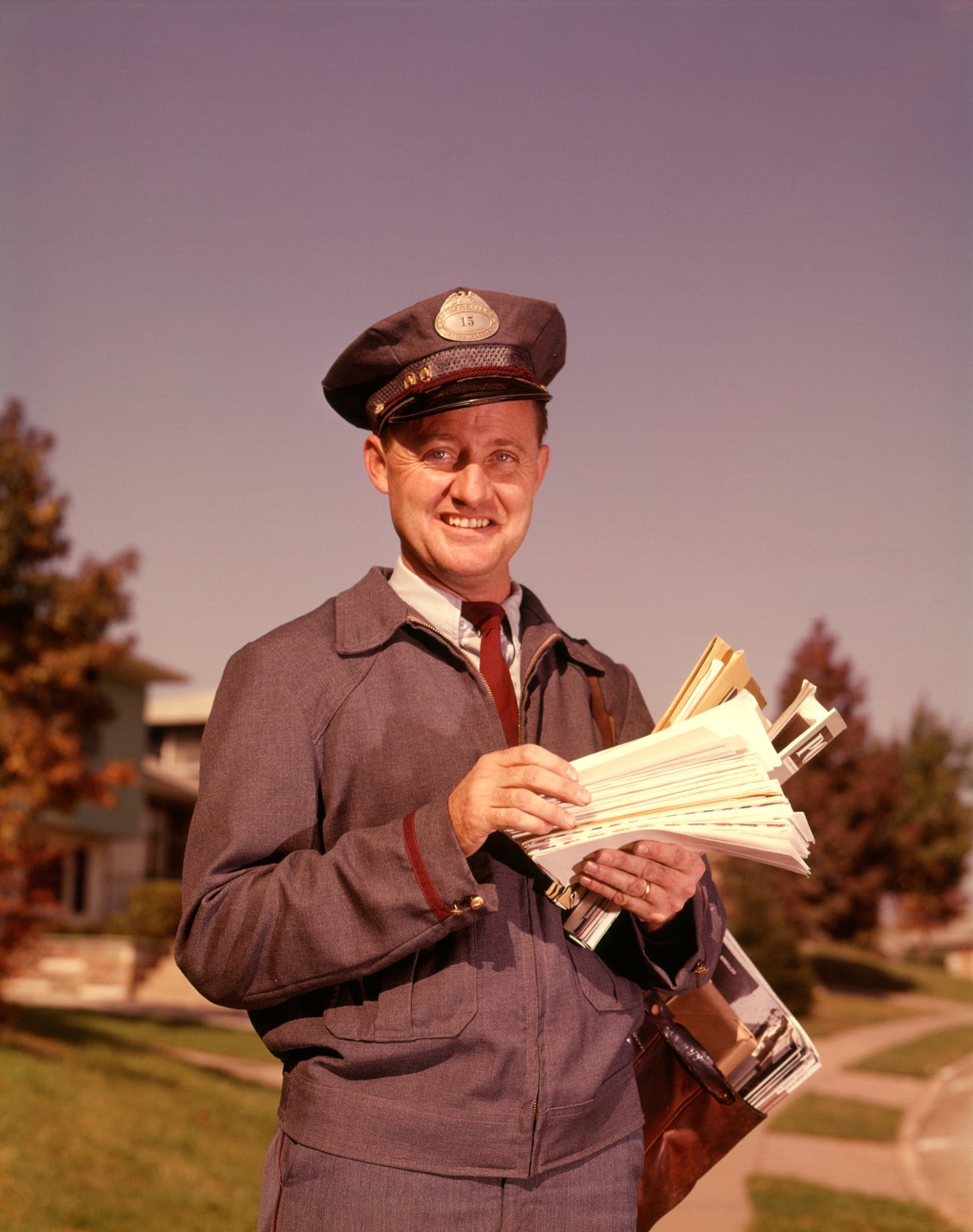 One of my favorite things about Wells $treet is how much smarter and funnier my readers are than I am. You have no idea how much I enjoy reading your responses. So I thought I'd share a few emails. The featured writers have given me permission to do so, and I'm keeping them anonymous in order to encourage more of you to write.
📬 📬 📬 📬 📬
About Online Dating…
As you can imagine, the best emails resulted from my story about the business of online dating. Some of you told me your success stories, like the widower who never thought he'd find love again… until he did.
That's wonderful.
But if you know me, you know I prefer the horror stories, because I'm a terrible person. I met one Wells $treet reader for coffee last weekend (he's a friend, don't get any ideas), and he told me that I should've interviewed him for the column. He had several jaw-dropping stories.
One woman he fell for turned out to be a very successful high-end "escort," and while he really liked her, getting past her career was, for him, "a bridge too far."
But the story that had me laughing involved a woman he actually hopped on an airplane to visit after they met online.
Before he left for the airport, she asked him, "Are there any dealbreakers?"
My friend answered that beyond the obvious — she can't be a criminal (or an escort) — there were two "quirky things" that would make him walk away. One dealbreaker would be a person who puts a service vest on her dog in order to board a plane with the pet, even though the dog isn't really a service animal. The other disqualifier is someone who's physically fine but who parks in a handicap spot. (Note from Jane: I never realized what my dealbreakers were until now! Yesssss.)
So my friend takes to the sky to meet his date, and she picks him up at the airport. They drive to a restaurant, but the parking lot is crowded.
You're not gonna believe what happened. Okay, you know what happened.
She parks in a handicap spot and pulls a placard out of her glove compartment. He thought she was joking, that she'd somehow borrowed a placard from a friend, that she had no intention of actually parking there, and that she just wanted to make him laugh, because he'd just told her this was a dealbreaker.
No.
This was no joke. When he asked her what she was doing, she explained that "her hip hurt" — even though she'd just taken a barre class that morning (and they would later walk over two miles after their meal).
He demanded she park somewhere else, and he spent the rest of the afternoon counting down the minutes until she took him back to the airport.
Needless to say, that was the end of that.
Here are a few more stories I received via email. (Warning: adult content. Shocker, I know.)
From KS, a female:
I just wanted to tell you that I loved this article. I felt like I wrote it myself reading the dating stories from these 3 women. I have tried most of the sites, and it is a very scary place out there!!! Thank you for sharing.
From a 49-year-old woman who dove into the dating pool after divorcing her husband of 24 years:
I went on 40 dates since I joined online dating last February. Yes I keep track (lol!) because some of my dates have been quite interesting! From having severe mental disorders, to even [pleasuring himself] while walking me to my car. Stalkers, scammers, creeps… you name it, I've been through it all, not to mention the gazillion d***pics/vids I have received. Even pics and vids of them having sex with other women!
Oh dear. Men, please stop this. You know who you are.
Finally, another woman's stories made me nearly choke with laughter on my afternoon margarita:
One time I had been casually dating a man for several months (yes, had seen him in "real life"), and we had decided to spend the weekend together. We stopped for dinner first, and during the dinner conversation he let it slip that while he loved talking to me (repeatedly said this!) he wasn't sure if I was his "type." I was a little confused and was waiting for a "but...," as we were about to leave for the weekend.
Apparently his type was either a pro golfer (actually on the LPGA tour, thank you very much!) or a professional bicyclist. I didn't quite know what to say, so I just said, "Wow, that was specific!" I thanked him for dinner and started to pack up… and his next question was, "So we're not going away for the weekend?" 😳 I was chuckling all the way home so apparently it was not much of a loss.
I also met a gentleman for a first in-person date who arrived dressed to match his convertible Porsche (warning bells - don't date someone who twins with his car!). I suggested we eat in the bar (easy escape) and "was not hungry," so I ordered a dinner salad. My date mentioned he had a confession to make — he was actually 20 years older than his profile, and he was not actually divorced! Fastest date ever - fifteen minutes, start to finish.
Jane: I'M STILL LAUGHING. She's so funny I'm thinking of dating her.
By the way, my interview with Cathy Hulse, a retired nurse who agreed to be in the original story, may be my favorite thing this year. I love her.
💔💔💔💔💔
On Working Smarter, Not Harder
People also reacted to my story about "The No Club," which focused on research showing that women say "yes" more often than men to nonessential work assignments that don't get them promoted.
GS says this resonated with him:
Great piece. I can see that happening all the time with my fiancée. She says yes to literally everything, and I have to sometimes remind her (gently, lolz) that it's perfectly acceptable to say no.
I just fear that the people who can enact the change aren't the ones reading your article. Hopefully the word starts to spread. I also have a teenage daughter (eeek), and sometimes it feels really helpless when I'm trying to guide her in the right direction and all I get back is a blank stare or apathy."
Jane: GS, my daughter is in her 30s and I still get a blank stare or apathy.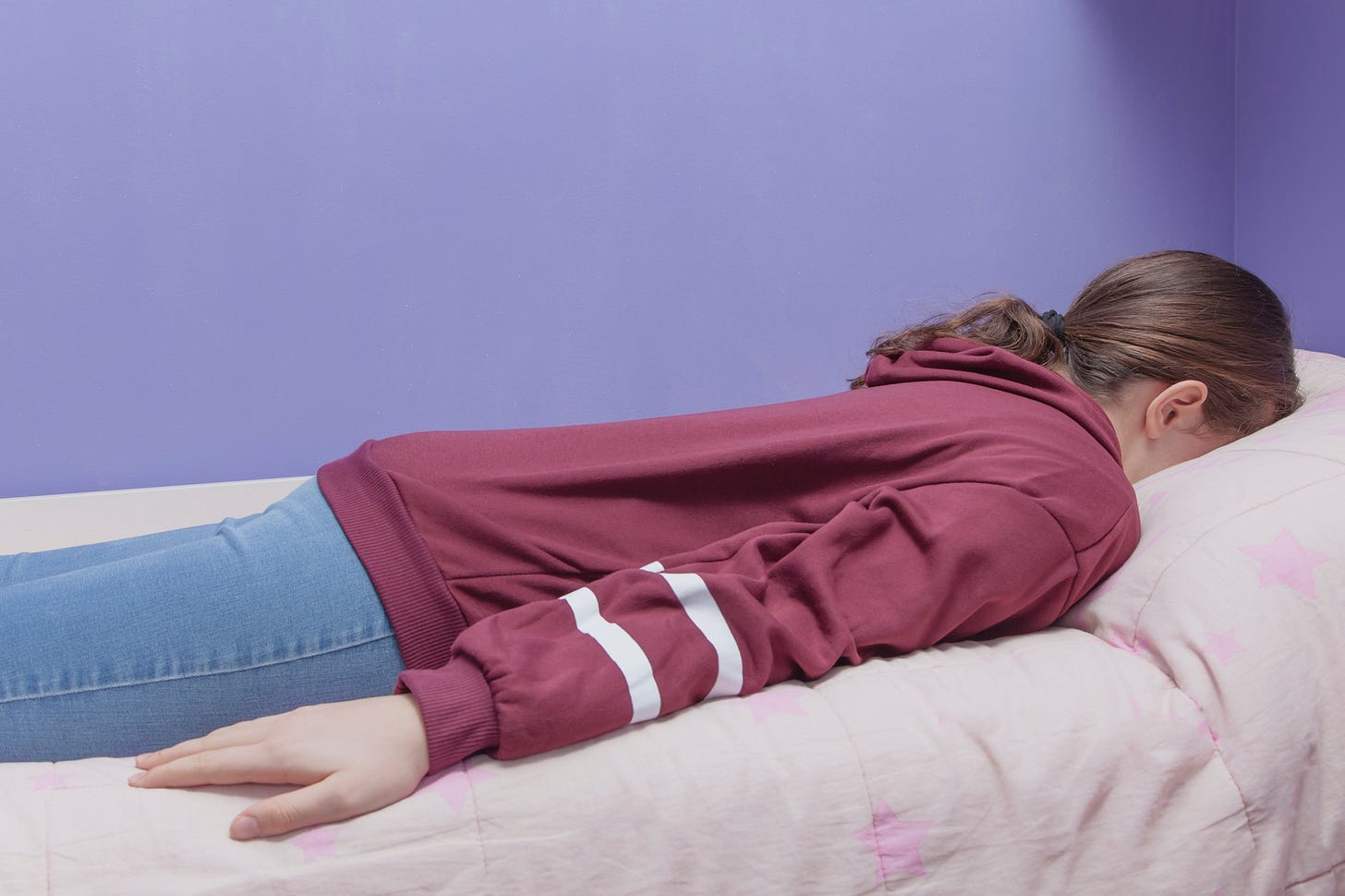 What it's like talking to a teenage girl/Massimo Ravera/Getty Images
ML writes:
My mother worked as a secretary for an insurance company, and she would bring home work every night. My father would get so upset with her for doing this. A guy would probably not have done it.
Agreed. I also enjoyed this email from DH, who works for a company where the chairman of the board is a woman:
Superb article and very true. The firm I currently work for has implemented Consequence Leadership (Harvard Business Mgmt), which is making a significant and noticeable difference. But there is a long way to go.
I continue to see a male legacy culture that is slow to change on a daily basis at elevated and higher management levels than the examples you have given.
But change is occurring. Several senior posts are filled with women. But it's not impacting lower levels of management. Yet. There are signs of change, but lipstick still covers problematic areas.
💰💰💰💰💰
On Being Smarter, Not Dumber
Many of you had a lot to say about the latest Dumb & Dumber.
MT (and others) pointed out the obvious pun I missed about WeWork and Flow founder Adam Neumann, who invested in a startup called Alfred:
A dude named 'Neumann' investing in something called 'Alfred'. I grew up with Alfred E. Neuman and MAD magazine. The joke is clearly on people piling money into Flow.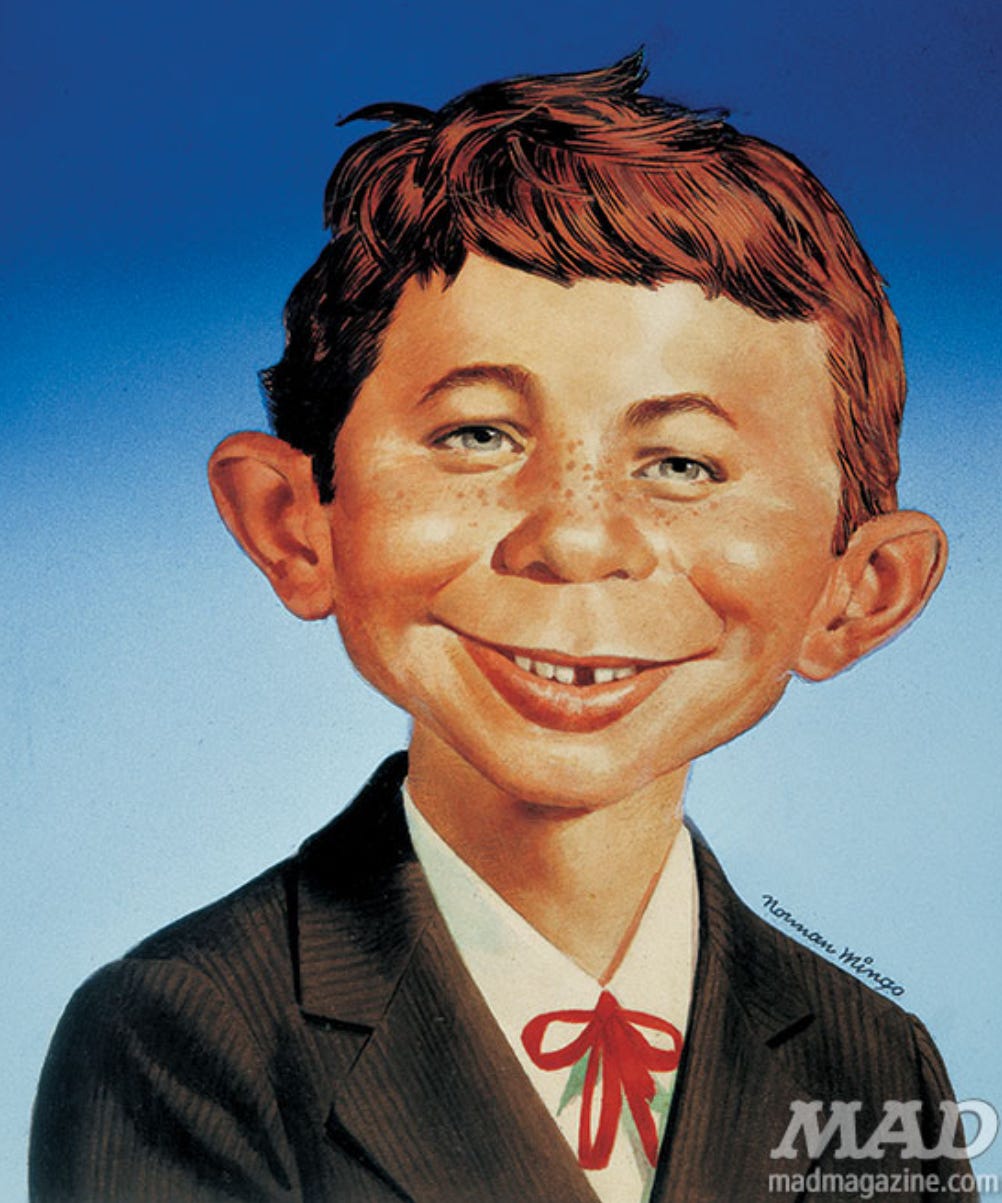 What, me worry?/MAD magazine
MT also made an interesting point about the billions of dollars New York is investing to update Penn Station, even as people are reluctant to return to the office in Manhattan:
There is a role for the office, but clearly not every day or even consistently. Productivity is generally perceived to be better and employees largely happier with [work from home] or elsewhere. Clearly there are middle-ground models — but never again the past. The modern office stems from the British tea trade in the 18th century. I think it's okay to look at change.
Jane: I love the tea trade tidbit.
JC weighed in on the student loan debacle, saying he'd put four kids through college after telling each of them they can't take on more total debt than would equal one year's salary in their future careers. This way they'd pay 10% a year over ten years:
How can a college charge $400,000 for a teaching degree, a [profession] that pays $40,000 a year? Colleges did not provide their students with proper financial planning advice, and they horribly overcharged their students for low-paying degrees.
As a parent I can tell you that not one of my four kids at age 18 was prepared to make financial decisions of this magnitude. They were barely able to manage money or their own budget. We have a generation of kids who were handed $250,000 in loans with little or no guidance.
One of my solutions would be to permit bankruptcy with student loans. Students will no longer be solely responsible for this financial mess. The schools and lenders will have to share responsibility and bear a share of the losses.
Jane: I agree that if schools faced severe financial pain when a student defaults, they would change the way they calculate tuition and aid.
🏦🏦🏦🏦🏦
Letters, We Get Letters: Thank you, everyone. Keep 'em coming. And subscribe to Wells $treet to receive these free columns straight to your inbox and hang with the cool kids.
➡️ Follow me on Twitter, Facebook, Instagram, and LinkedIn!
Cover photo by H. Armstrong Roberts/ClassicStock/Getty Images