Discover more from Wells $treet
Wall Street and business news from a snarky perspective.
Over 4,000 subscribers
Part 2: For an Afghan Interpreter Fleeing the Taliban, a Marine with Crypto was His "Help Line."
Zabi's escape continues, until it almost fails.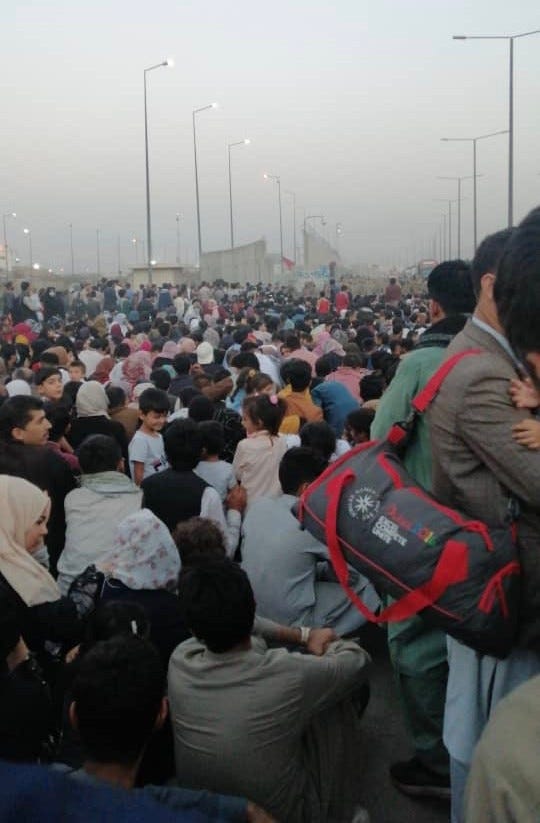 I'm reposting this series of stories from earlier this year because I have an update coming tomorrow. If you haven't read the first part of this incredible tale, start here for the backstory.
"Where do you get the cash?"
By August 22, 2021, Zabi, a former Afghan interpreter for the U.S. military, has been trying for four days to escape the Taliban. He is out of money. There is no way to pay for food, water, or the necessary bribes to stay near Hamid Karzai International Airport (now renamed Kabul International Airport).
His fiancée is sick. It's cold. They're thinking of giving up.
But thanks to one of his old Marine platoon commanders who lives in California, Zabi now has cryptocurrency in a digital wallet on his fiancée's cellphone.
The money came from Corey Mazza, a senior vice president at UBS who worked with Zabi in 2011 while stationed in Helmand Province as a 1st Lieutenant. Corey is desperately trying to get Zabi out of Afghanistan before the withdrawal of all U.S. troops.
But the crypto is no good in its current state. Zabi needs the digital money converted into cash.
"Where do you get the cash?" Corey asks over WhatsApp that day. The banks were shut down, and they wouldn't accept crypto anyhow.
Zabi replies that he'll have to leave the airport perimeter and travel 15 miles back into Kabul to a shop where he "knows a guy." The shop owner is one of the few people in town who will convert crypto into cash, for a fee.
Corey freaks out. The window to escape is closing. "If you aren't back at that bridge in 2 hours we are f*cked," he texts. He's worried that the crypto Zabi needs to survive will end up causing the rescue to fail.
Zabi assures Corey he'll be back in time. He uses his remaining cash to hire a car to drive to town.
Corey follows Zabi's progress by tracking the fiancée's phone. They stop communicating with each other as the car approaches Taliban checkpoints. Meanwhile, Zabi deletes anything incriminating on the phone, including his documents and passport.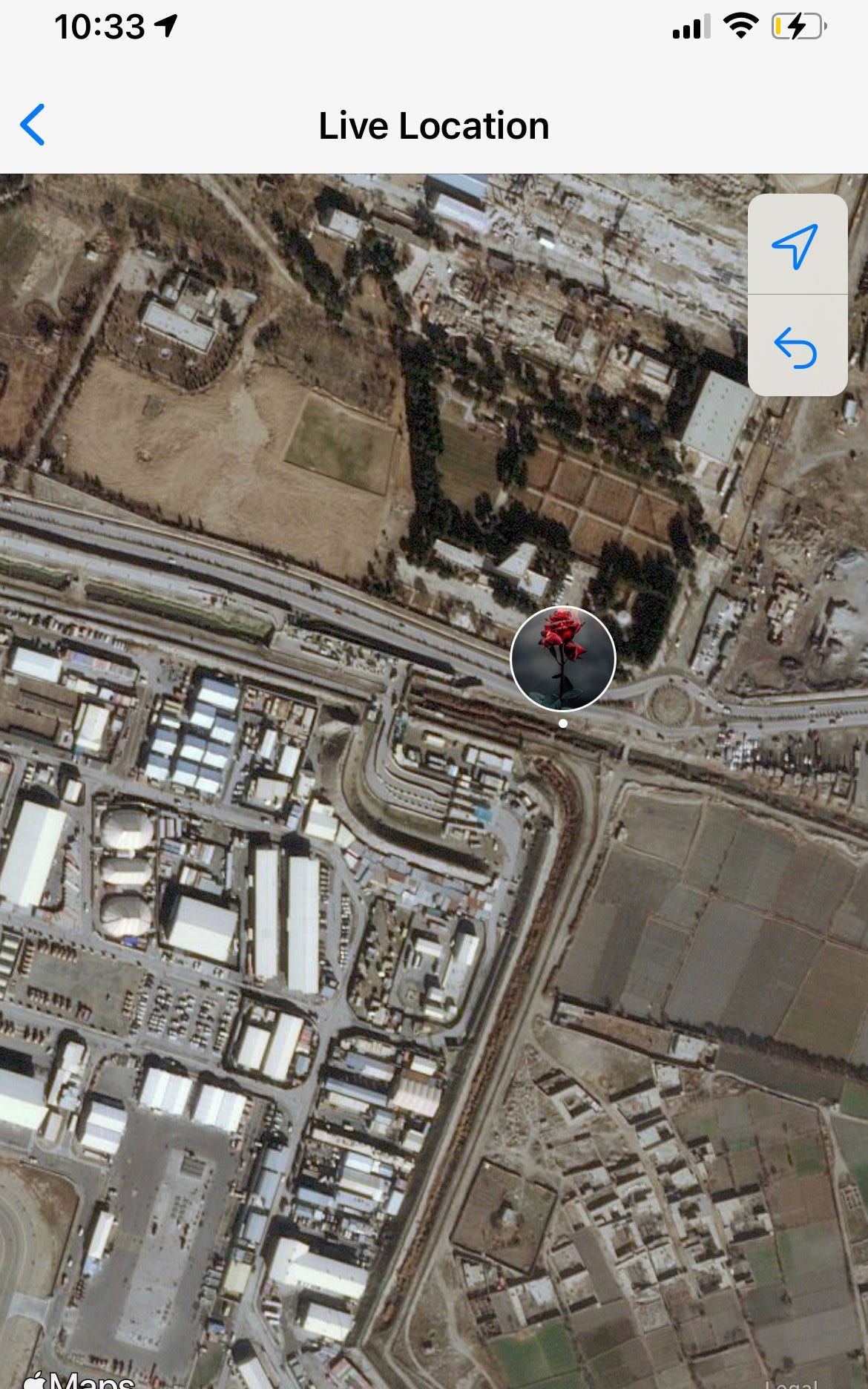 Corey tracks Zabi's phone.
At the same time, Corey's hard work trying to connect with Marines on the ground inside the airport is finally paying off.
Over the past couple of days he'd spoken over social media with the wife of a Marine in Kabul. "I think my husband's there," she told him, referring to the airport. "He'd be willing to help."
A stranger from Florida named Paul also helps; he takes over the day shift while Corey works through the night, "which is day in Afghanistan," trying to arrange Zabi's escape.
Corey eventually connects with one of the people responsible for perimeter security at the airport. This Marine contact tells Corey which gate Zabi needs to head to. It's a breakthrough moment, Corey later tells me. "Here's this person who doesn't know me and doesn't know my interpreter, but is helping us."
But there's bad news. The contact tells Corey that Zabi can bring his fiancée, but he cannot bring two brothers camping out with him. They have to stay in Kabul.
"Our last chance to get you out"
The tracker on Zabi's phone indicates he's on his way back to the airport, so Corey communicates with him when it's safe to do so. Zabi tells him he successfully converted the crypto into cash. Corey texts back, "THIS IS THE CHANCE if you don't do this now i dont know when we will be able to get you [out]."
Corey and Paul from Florida are now both communicating with Zabi. They tell him which gate to go to and direct him to raise his hand in a peace sign to be recognized by Corey's Marine contact.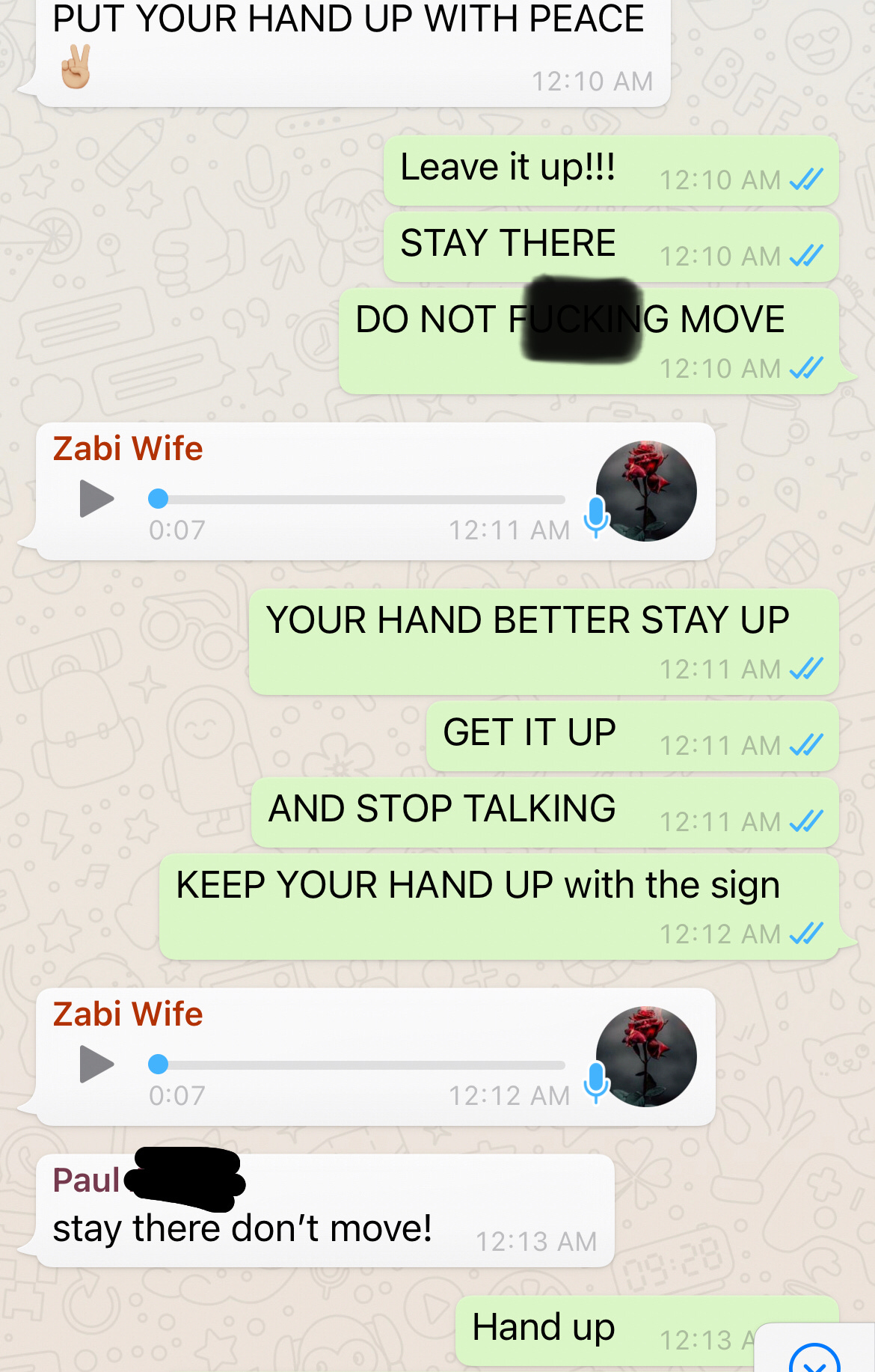 Finally, the contact at the perimeter tells Corey he has eyes on Zabi. The Marines are not allowed to leave the airport gate, so they send a couple of very reluctant Afghan National Army (ANA) soldiers to bring in Zabi and his fiancée.
Zabi is instructed to tell the ANA escorts that they need to get inside to see their sick child, "Fatima." This ruse was concocted by Corey's Marine contact to pressure the ANA soldiers to retrieve the couple.
But the escorts have no desire to help. In fact, "ANA just beat the sh*t out of one guy," Zabi tells Corey, and rather than helping Zabi enter the airport, the ANA escorts tell him he has to leave.
"I was like, 'Do not leave. You cannot leave,'" Corey recalls later. He told me that all communication from Zabi suddenly stopped for what seemed like an eternity.
Corey sat in his home in California and waited. It was the middle of the night. He was drained. This was it.
Finally, he says, "I got a WhatsApp message… and it goes, 'Hey sir, this is Mighty Mouse, I'm inside.'"
Zabi made it. Barely. Somehow Zabi negotiated (bought?) his way in.
Listen to the conversation here (warning — explicit language):
Later, Zabi told me how important it was to stay in contact with Corey during the chaos. "He was like my help line," he says, using a reference from his days working at an online marketing company. "You have to listen to your help line."
"It just feels so good," Corey tells me months later, reflecting on their success. He had not been able to identify "anything good and pure" accomplished after two decades of war, but on that day in August the Marines — helped by others — remained loyal to someone who deserved it. "We were able to help in a small way."
Mighty Mouse in America
When we first spoke earlier this year, Zabi was living in a room in a house in the American Southwest. "I feel really good, everything is fine," he told me.
His pro bono attorney, Darius Amiri, said Zabi received a government stipend to support himself as he goes through the immigration process. Zabi also qualified for a work permit and a social security number.
As Zabi waited for the permit to arrive, Corey stayed in touch with him. He says America's newest immigrant loves Mexican food. Zabi was also trying to make a little money breaking down rocks in the California desert, searching for gemstones.
Mighty Mouse hustles.
Sadly, the fiancée left him to reunite with family in Texas. Hey, no story is perfect.
Zabi's immigration status is also complicated (of course it is!). Though Afghan interpreters who provide two years of uninterrupted service qualify for a Special Immigrant Visa (SIV), there was a break in Zabi's employment. He got into an argument with a Marine and went home for a few days. The Marine put a letter in Zabi's file saying he'd abandoned his post.
But Zabi returned to his post. He says he didn't quit. Corey says other Marines who witnessed the event agree, and the military contractor who hired Zabi continued paying him. Still, the letter claims a break in service, so Corey and Darius are appealing to the Defense Department to restore Zabi's SIV eligibility. Corey believes Zabi risked everything for the Marines, and his skills saved American lives. He earned the SIV.
Meantime, Zabi is also pursuing a second, longer process to qualify for a visa as a refugee.
In between, Darius bought Zabi a bunch of clothes. Corey raised money for him on GoFundMe (there was a "cash drop" on Christmas Eve, though Zabi was hoping for Dogecoin). "We're really working on getting the rest of his family out," Corey says. "They supported the Americans for a long time."
When I asked Zabi if he still planned to trade crypto, his face broke into a smile. "Yeah," he said, before laughing and doubling down. "Honestly — my apologies — f*ck yeah."
His plan was to open an account on Robinhood once he found steady work, and then he'd study which coins to buy. "There's many things you should know about cryptocurrency," he warned me. "It's dangerous, but as much danger, it's also beneficial." Said the guy who's known actual danger.
One last thing.
Zabi told me he didn't convert all the crypto Corey sent him. What happened to the rest? He gave it to another interpreter and told him where to get it cashed.
"I said, 'I don't need this money. You need it more than me.'"
And now... let's meet Zabi and Corey.
Zabi recalls his scariest moment in the days before he fled Afghanistan:
In this video, Corey describes his surprise as he discovered Zabi was a cryptocurrency trader:
Zabi hopes that once he gets fully settled and has a job, he can return to investing in crypto (warning — language):
Finally, Corey reflects on being a young Marine in Afghanistan, and how crucial it was to have an interpreter like Zabi by his side:
Tomorrow: Corey and Zabi reunite for the first time since being together in a firefight more than 11 years ago, and they come to my house.
Thoughts? Join the conversation below, or email jane@janewells.com.