She Went Where Spanx Wouldn't Go
An Unlikely Entrepreneur Enters the "Schmatta Business"
Wells $treet loves entrepreneurs with crazy ideas. Nothing inspires me more than someone who solves a problem that no one's addressed, and then turns that solution into a million-dollar reality.
Please share this story with anyone you know who dreams big. No idea is too offbeat to soar.
💸💸💸💸💸
Chafing is real. We need to stop chafe-shaming.
Friction between inner thighs affects women of all sizes (and men, too).
#ChubRub.
Marnie Rabinovitch Consky couldn't take it anymore. She became weary of wearing bike shorts under her sundresses. Baby powder and gels didn't do the job — "I must sweat a lot." Shapewear was too constricting and uncomfortable.
So Marnie went looking for a solution. She wanted shorts that were comfortable, breathable, moisture-wicking, and felt invisible when you wore them. Maybe something like boxer briefs, except for women.
But she couldn't find them anywhere. Not even at Spanx (we'll get to Spanx in a minute).
So she did something unexpected. Marnie started an undergarment manufacturing company called Thigh Society. It's the first company to sell anti-chafing shorts in a wide variety of sizes.
Projected sales this year will hit $9 million.
"You can make a really good living from a niche business," Marnie tells me inside her distribution facility near Toronto. "Not everyone needs to be the next unicorn company that makes billions and billions of dollars."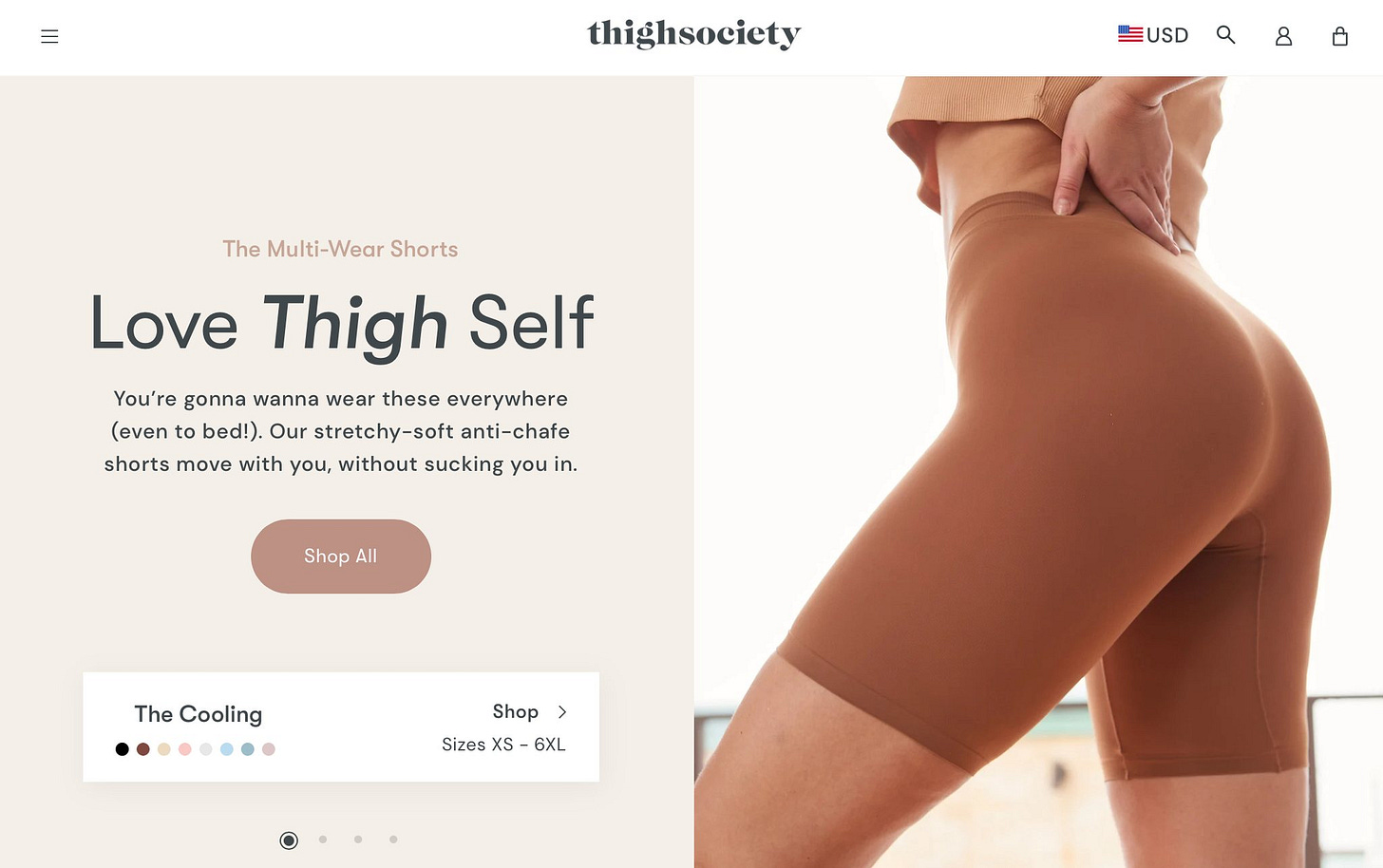 The Reluctant Entrepreneur
Marnie was fixated on dieting and weight loss as a kid in Montreal. "I grew up in that generation of Seventeen magazine and WeightWatchers and Nutrisystem." Her mother was "a chronic dieter." (Jane: If I had a dollar for every time I was going to lose five pounds via Paleo or Keto…)
Anywho…
Marnie thought she might become a dietician or nutritionist, but she ended up studying business in college and opening a tutoring company on the side. After graduation, Marnie worked for Accenture as a consultant. Her career eventually moved into HR, and then she worked for the Ontario government — a job she soon realized that she hated. "I had to move employees around who were, like, sleeping at their desks."
The Epiphany
In June, 2008, it was still chilly in Canada, and Marnie became excited when the weather turned warm one day. She could finally wear a dress bare-legged, without tights.
"At lunch I was walking around downtown [Toronto] near my office, and literally within minutes, I started to feel this all-too-familiar feeling of my thighs rubbing together," she recalls. "And I thought, 'Oh my god, crap.'"
Marnie "waddled" to the nearest pharmacy and bought some baby powder, then returned to work. She applied the powder to her inner thighs in the office bathroom. "I was wearing a black dress, of course, and made a mess with powder marks."
The experience infuriated her. "I was literally shaking my fist in the bathroom, like, 'There has to be a better way!'"
Marnie's first solution was to wear some old bike shorts, but she also began searching online for an anti-chafing product. "I refused to believe that it didn't exist."
It didn't exist.
Marnie began doing some market research, and she discovered that undergarments which might work were only available in plus sizes — starting at size 16 — as if smaller people didn't have chafing issues (they do). She went to local boutiques and queried owners whether women ever asked for anti-chafing shorts. The answer was yes. Did they have such a product? No.
One day, Marnie was looking for solutions in the men's underwear section of a large department store when a saleswoman approached her. The woman leaned in and quietly asked, "Excuse me, honey, are you shopping for someone else or for yourself?" Marnie explained that she was shopping for herself. It turns out the woman was a sales rep for Stanfield's, a large men's-underwear brand. The woman told her, "Every time I'm here, I always meet a woman in the men's underwear section looking for something to wear."
It stopped Marnie cold. "I still get chills thinking about that moment, because it was in that moment when I thought, 'You know what? I owe it to myself to explore this more.'" (Jane: I wonder where that sales rep is now… )
But Marnie wasn't ready to take on the hard work of starting an apparel company from nothing. "I would call myself a reluctant entrepreneur, a very risk-averse person by nature." Yet she quit her government job in August 2008 and lived off savings for a while so she could explore next steps.
The Spanx Email
One would think Spanx would be all over this market segment, right?
"Spanx is the elephant in the room," Marnie says when I ask her about the shapewear behemoth. ("I am not a shapewear lover," she admits. "You feel like a sausage in casing.")
As Marnie began researching her idea, she sent an email to a generic Spanx inbox. She wanted to monetize her idea, but she wasn't ready to take on the chore of starting her own apparel business. "It just seemed like a huge headache."
In the email, Marnie told Spanx that she had a great idea for a specialty undergarment that wasn't on the market, and that she'd already done some research. She was even willing to pay Spanx founder Sara Blakely her normal speaking fee in order to gain access to the self-made billionaire. "I know this is very naive," Marnie admits now.
She received an automatic reply that basically said "thank you," and she never heard from Spanx again.
THANK GOD!
Marnie is happy in hindsight that she was ignored, because she doesn't think her idea fit (pun!) with Spanx's "ethos." She didn't want to slim down a woman's profile, she just wanted to make her comfortable.
"No disrespect to Sara Blakely, she's made herself into one of the world's richest women," says Marnie. But "that wealth has come on the backs of a system that preys on women's insecurities."
Sooooo… back to square one.
Into the Dragons' Den
As Marnie was trying to get Thigh Society off the ground, she went to work at the local university as an MBA coach. "I missed my salary." She attended an event on campus about women's entrepreneurship, and one of the panelists was a judge on Canada's version of "Shark Tank" called "Dragons' Den."
During the Q&A, Marnie screwed up her courage to ask what the panel thought of her anti-chafing shorts idea. The woman from Dragons' Den told her, "This is a niche market. Who needs this product? There's Spanx."
Marnie smiles recalling that encounter. "I chose not to listen," she says. "I was so deeply committed to this idea, because I knew that other people needed it, and I knew that if you didn't need the product, you didn't understand the need for it."
Here's that story:
She then talked to friends in Montreal, "a hub for the 'schmatta' business." (Schmatta is Yiddish slang for the clothing industry.) They discouraged her. "You have to be crazy to get into this business." Yet Marnie wanted an anti-chafing short!
She bought a book called The Entrepreneur's Guide to Sewn Product Manufacturing. She began networking in Toronto and found a guy at her gym who worked for Nike. He introduced her to a local manufacturer willing to make Marnie a prototype and produce her first batch. By Christmas she was sending samples to friends.
Thigh Society was officially launched in March 2009, at a cost of $8,000.
First-year profits were $13,000.
Sales grew slowly. Marnie has changed her manufacturing over the years. She now makes her own fabric and weaves the shorts on circular machines to reduce the number of seams. She ultimately moved manufacturing to China because it allowed her to produce shorts in far more sizes — from XS to 6XL.
The turning point was in 2016, when Marnie agreed to pay an agency $5,000 a month to put ads on Facebook. "We saw the results almost immediately." Revenues jumped from $100,000 in 2015 to $300,000 by the end of 2016.
She then quit her MBA coaching job to work at Thigh Society full-time.
Marnie projects revenues of $9 million this year, tripling last year's income. "I can see us doubling to $20 million next year."
Nearly all of her sales come through Thigh Society's website. Marnie doesn't sell on Amazon (where most of her competition is). She believes it would cut into her margins, and Marnie isn't targeting a bargain shopper. Also, she wouldn't be able tell the brand's story on the platform. "Amazon, to me, feels like a very vanilla place."
Fear of Failure? No. Just Worried.
All along, Marnie has remained cautious. Thigh Society has been bootstrapped with only a couple of bank loans. This unlikely founder of an apparel company says she's not afraid of failure, but she is wary in general. "I'm always worried that a greedy competitor with deeper marketing pockets will steal our thunder and we'll go bankrupt."
So Marnie focuses on what she can control, and she reminds herself that Thigh Society isn't curing cancer. "We do PR, not ER," is how one team member describes it.
Most of all, Marnie wants to "normalize" chafing, so that people talk about it the way they talk about the need for deodorant. "I'm only in this because I'm deeply passionate that women — and everybody — should have options beyond what's out there now," she says. "Everybody should be given an underwear option that's comfortable."
💸💸💸💸💸
So what's your crazy idea? Maybe it could make you millions of dollars, but are you willing to put in all the hard work? Join the conversation below, or 📧 jane@janewells.com. Also, I'm always looking for unusual business ideas, so send those along.
➡️ Follow me on Twitter, Facebook, Instagram, and LinkedIn!
Cover photo from ThighSociety.com.