The Heroes on the Ground in Kabul
Staff Sergeant Zack O'Malley was at the airport gate looking for Zabi.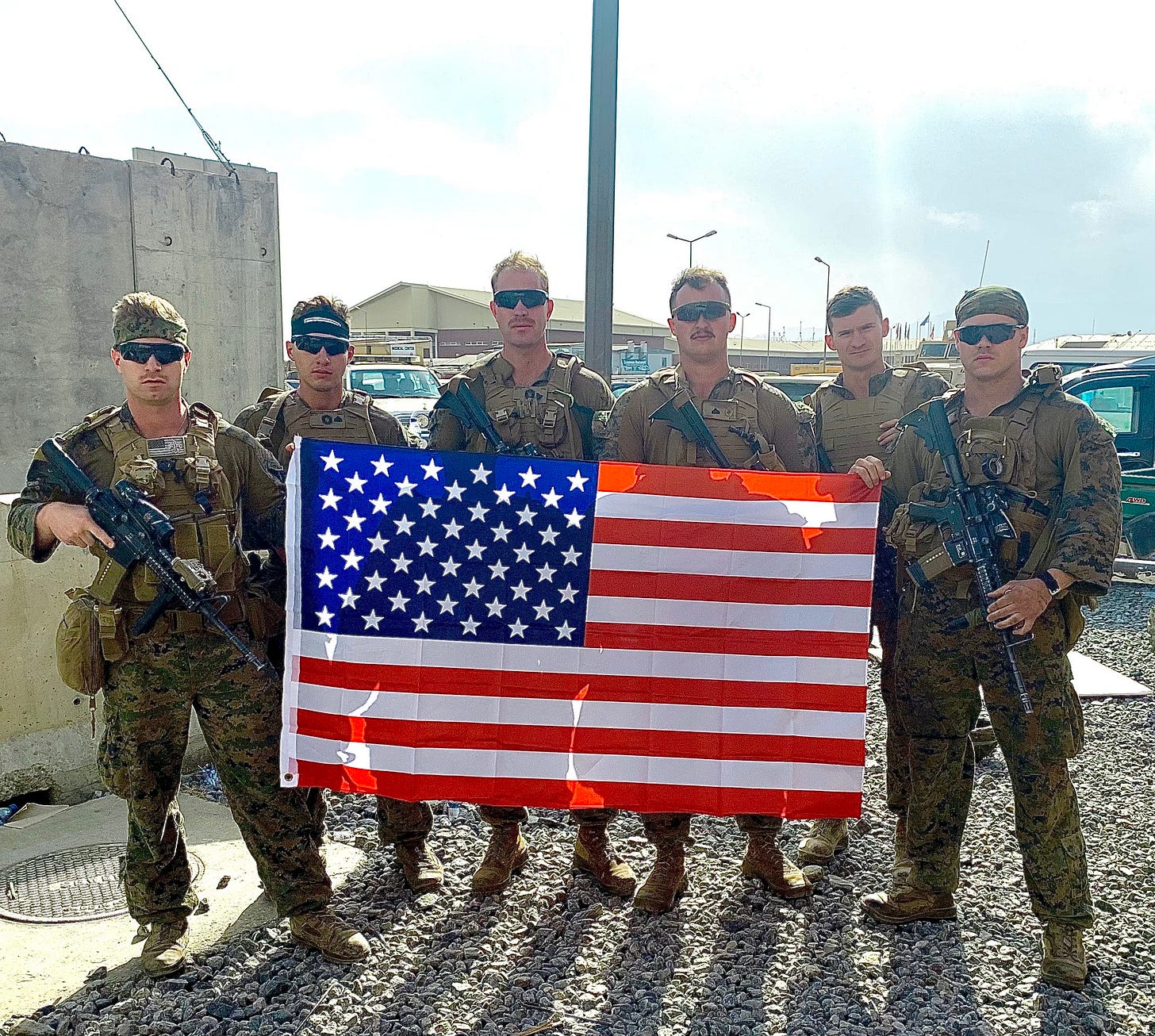 There is one last story to tell in the saga of Zabi, the Afghan interpreter who worked with U.S. Marines and whose life was threatened by the Taliban when Kabul fell in August, 2021.
It's the story of a Marine on the ground who insisted on helping, even as the situation dissolved into chaos. Without his heroism, Zabi would be dead.
See my previous columns about this incredible story on my homepage, and share them with others this Veterans Day.
🪖🪖🪖🪖🪖 (... this is the best combat emoji I could find... )
Corey Mazza told me about the amazing strangers who reached out to help him carry out a daring rescue in August, 2021. The former Marine lieutenant was working through the night from his home in California to locate troops on the ground who could facilitate his interpreter's escape 7,600 miles away.
That interpreter was "Zabi," and the Taliban was looking for him. (I'm not using Zabi's real name in order to protect his family still living in Afghanistan.)
Zabi had fought by Corey's side on the battlefield a decade earlier, when the Marines nicknamed the interpreter "Mighty Mouse" because of Zabi's small stature and great courage.
As Afghanistan was falling in 2021, the Taliban tracked Zabi to his home. By sheer luck, they didn't kill him — a Taliban soldier couldn't figure out how to access the list of contacts on Zabi's phone, a list that contained many American names.
Zabi was desperate, and Corey promised he would help, but both were starting to feel helpless.
Then a woman reached out to Corey on social media. She'd seen his pleas for information on how to reach Marines on the ground in Kabul. She told Corey that her husband, Staff Sergeant Zack O'Malley, was a section leader manning the gates at the airport there. She could connect them.
It was an answer to a prayer.
"My wife ends up getting ahold of me on my phone," Zack tells me, a year later. "I get a text [from her] that says, 'Hey, there's an interpreter that needs to come out of Afghanistan. I want to see if you can help.'"
She gave her husband the names and contact info for Zabi and Corey, and together they began coordinating how to get Zabi, his brothers, and his then-fiancée to the airport's north gate. "We had no idea what we were getting into," Zack says.
From "Mortarman" to Refugee Processing
Zack had flown into Kabul a few days earlier to help process Afghans and others seeking passage out of the country on U.S. planes. There were too many people and too few planes, creating gridlock for the military authorities operating the airport. "They weren't even allowing in the C-130s, or any sort of airplane, to try and get [people] out because they were flooding the airfield," he says.
Zack had been in the Marines since 2009, and his unit was made up of "mortarmen" whose job was to carry and fire explosives in combat. But they were now temporarily tasked with organizing the terminal at Hamid Karzai International Airport and registering evacuees. Americans and their families would be processed first, followed by those who had U.S. visas or green cards, along with their families. "And then from there it was, 'Hey, just start taking everyone.'"
It was crazy. "You had all of these people [and] the only thing that they're thinking of is survival," he recalls. "It's 'either I get on a plane or I die.'"
In the middle of this, he decides to help a former Marine who's begging for someone to find his interpreter.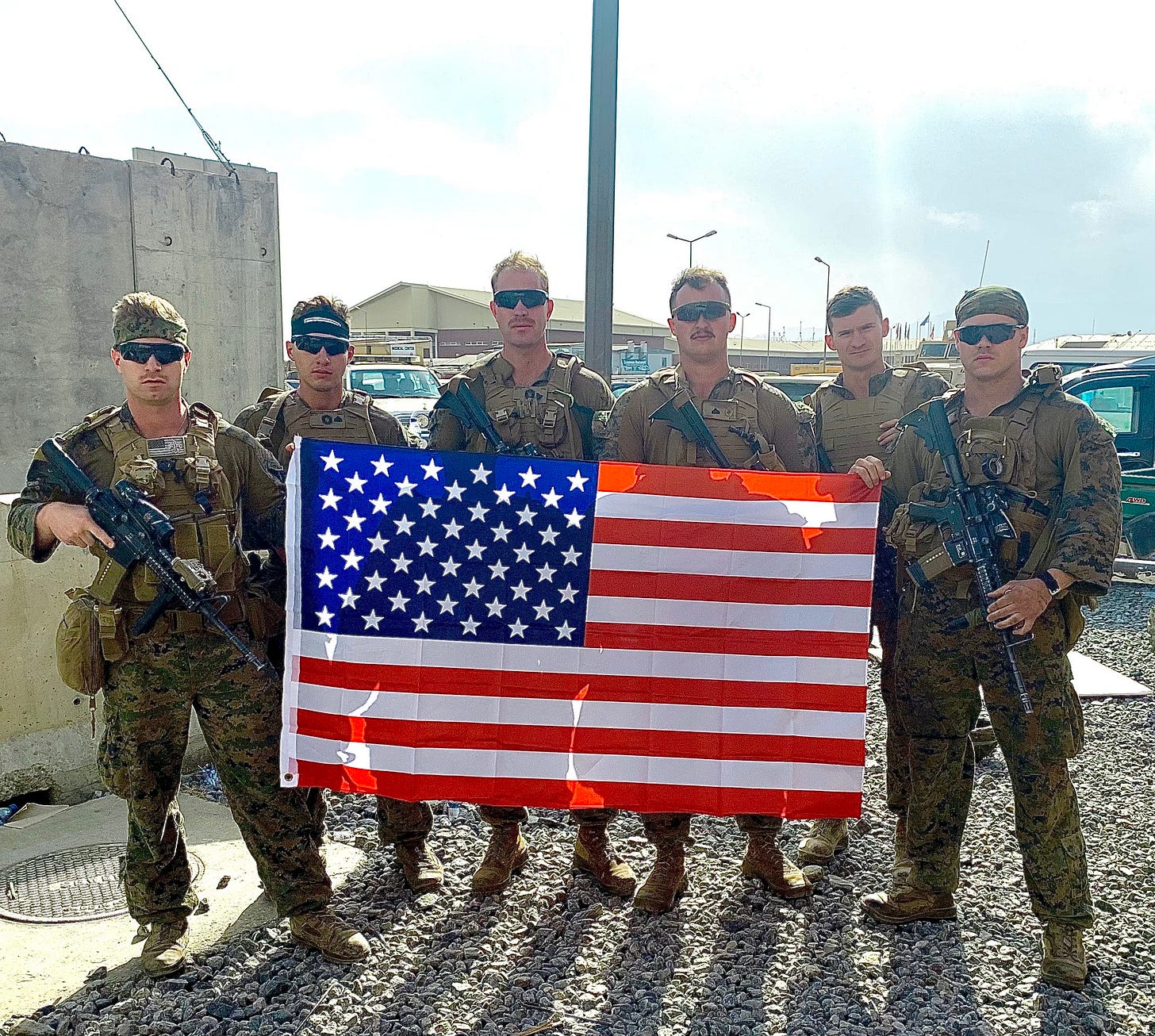 Hamid Karzai International Airport in August, 2021 (Zack is second from right)
"Wave Your Hands!"
Zack says it took two to three days to find and rescue Zabi. "We had a bunch of issues at the gate at the time," he says, in the biggest understatement of 2021.
During this period, Zabi, his fiancée (or wife; it's a little confusing, and anyway, they're not together anymore), were stuck in the massive throng outside the airport gates, along with two of his brothers. They were cold, hungry, and running out of money. Corey sent Zabi some crypto from the U.S., and Zabi left the airport to go cash it.
It was nuts.
Meantime, Zack, the staff sergeant, was looking for help on his end. ("Zack" and "Zabi" look confusingly similar, so follow me here… ). Anyhow, Zack convinced some guys in another company at the airport gate to keep an eye out for Zabi, and they agreed to do so, particularly Lt. Dylan Wall.
The plan was for Zack to lay eyes on Zabi and point him out to the lieutenant, who would then send out a couple members of the Afghan National Army (ANA) to retrieve him. (Zabi says he and his fiancée were supposed to claim they had a child inside the airport, a ruse which unfortunately meant that Zabi's brothers would have to stay behind.)
"I'm standing on top [of the wall] doing this number" — Zack demonstrates to me by waving his arms as if to get someone's attention. Zabi was expected to be on a bridge hundreds of yards away on the other side of a river, waving a flashlight. "I'm just waving my hands as much as I can, and he's doing the same thing," Zack says. "Finally, we found him."
Lt. Wall sent out the ANA to grab Zabi. You may recall from my earlier column that the Afghan soldiers were disinclined to leave the safety of the airport. Zack couldn't blame them. The crowd was desperate. "Now you have thousands of people wondering, 'Why am I not getting escorted in with these people? Why am I not special?'"
But the ANA followed orders, waded through the crowd, and reluctantly brought in Zabi and his fiancée with a group of other evacuees lucky enough to be chosen.
Then something unexpected happened.
Zack recognized Zabi. He knew him.
A Familiar Face
In a coincidence that defies logic, Zack and Zabi had met a dozen years earlier in the Sangin Valley, site of the bloodiest battle of the Afghan war. Zabi was then a 17-year-old interpreter for another USMC company where Zack had a couple of friends. "They were talking about their interpreter and how awesome he was, and that's when I first met Zabi."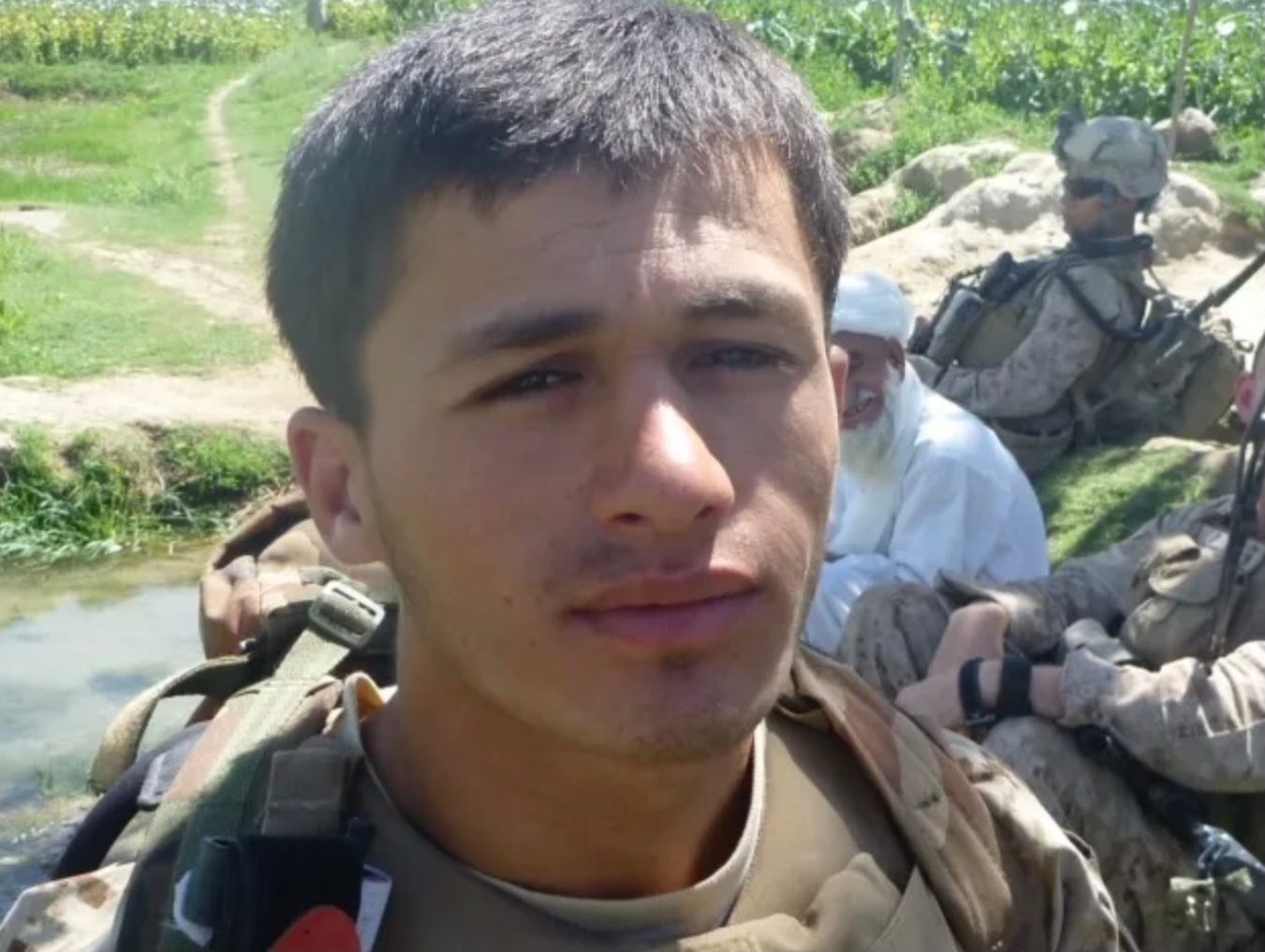 Zabi as a young interpreter for the Marines/photo courtesy of Corey Mazza
Fast forward to 2021, and there they were, together again. "I finally saw his face," Zack says, "and I definitely remembered him from that time long ago." The two men were exhausted but elated. "I couldn't stop smiling. Zabi was the same way."
"Packed Full of People"
By now it was the middle of the night. The airport was "packed full of people," according to Zack. It would be another 18 hours before Zabi could get on an airplane out of the country.
Zack believes Zabi was fortunate to make it past the heavily guarded gate while the rules for choosing who got to evacuate were still a little vague. "If he hadn't gotten into [the airport] by the time I left… I'm not sure if he would have survived."
Zack and his Marines, meanwhile, had to stay.
A couple days later, a suicide bomber killed 13 Marines and at least 170 Afghans. "We were all at the terminal, processing individuals through," Zack tells me, "and then the next thing we heard on the radio was that the suicide bomb went off at Abbey Gate."
Shortly after that, Zack left Afghanistan for good.
He recalls looking down on Kabul as he flew away with a mixture of emotions — "Sadness that I couldn't save more people; anger that this was happening at all; happiness that I was out of there."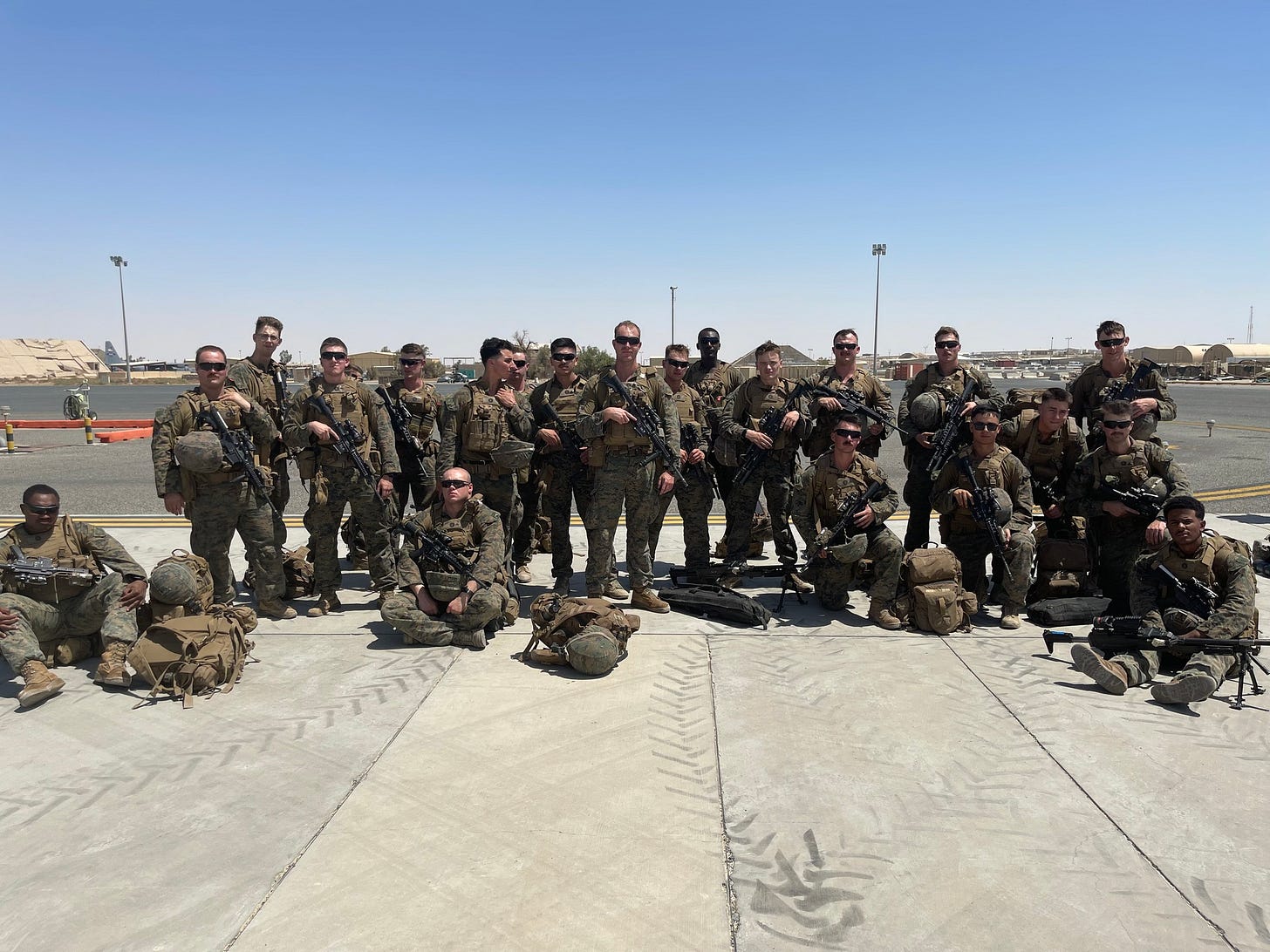 Zack's Marines after they departed Kabul.
"They're One of Us"
Zack retired from the Marine Corps in June, and he now lives in Florida, where he works in the financial industry. He's grown a beard.
Like all of the people who helped Zabi, Zack doesn't feel particularly heroic. At best, he feels like he was part of an incredible team working to save someone they consider their own.
"What people don't get about interpreters is, they're one of us," he tells me. "They do all the hikes. They walk with us. They fight with us."
Interpreters did more than translate language in Afghanistan. They helped Marines negotiate with locals and advised them about who was telling the truth and who wasn't. Zabi, and others like him, saved American lives.
"Being able to flip the role and save him was definitely different," Zack says. "I enjoyed it."
🇺🇸 🇺🇸 🇺🇸 🇺🇸 🇺🇸
I don't know about you, but I *almost* feel like I was there. I'm so glad I wasn't.
Please join the conversation below with a comment, or 📧 jane@janewells.com.
Share this story, and subscribe to this free newsletter.
To all our veterans, even those who aren't U.S. citizens (yet), thank you.