Was the Sriracha Shortage Avoidable?
BLAME A LAWSUIT, NOT CLIMATE CHANGE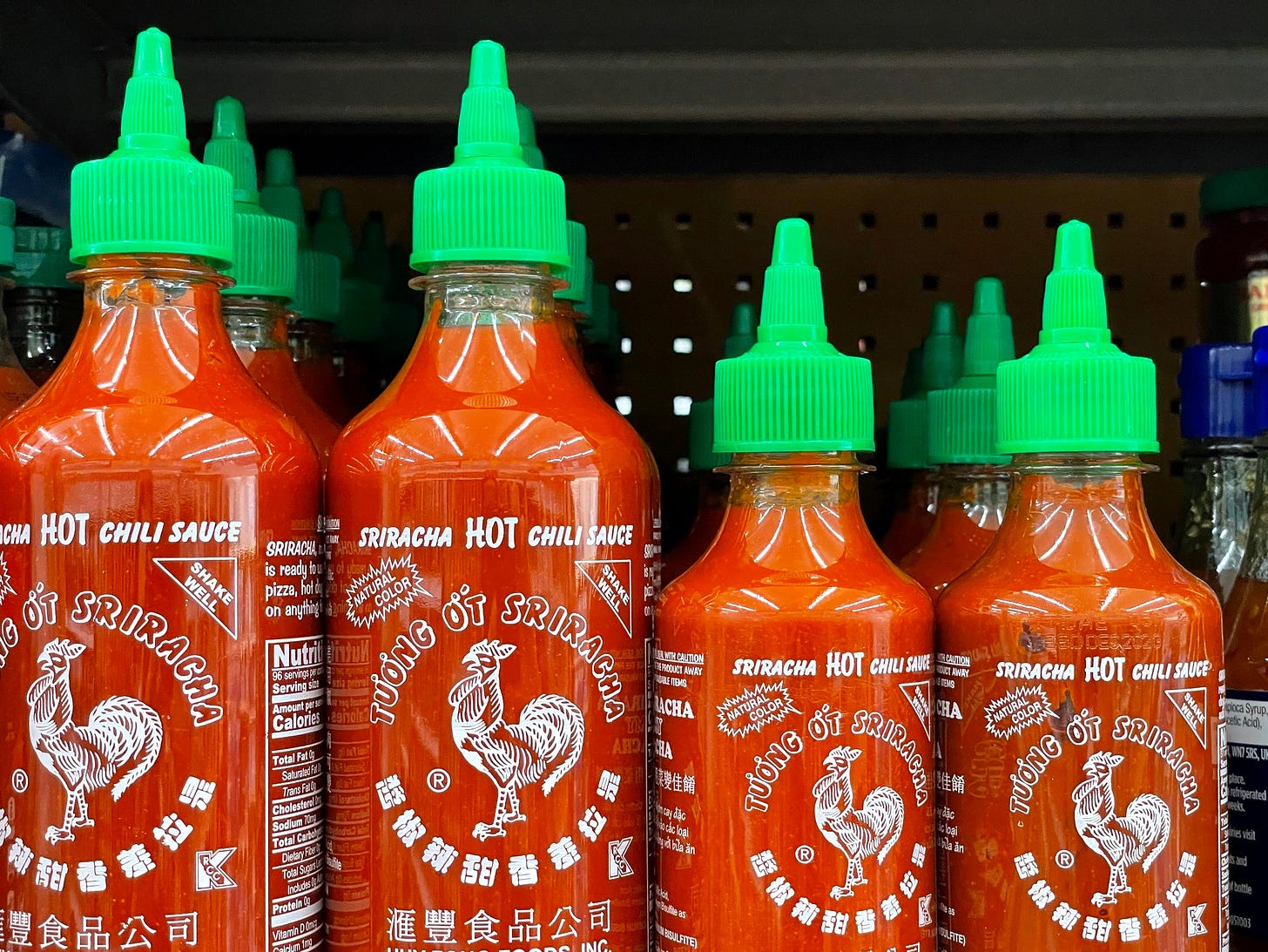 Welcome to Wells $treet, where I look behind the headlines to follow the finance. Often, the money trail leads somewhere unexpected, as in today's story.
Also, my story about new mammogram technology was one of my most widely read yet, and I have updates below, including my favorite reader email ever — which is saying something, as the bar has always been high. You people should be writing this column for me.
If you like offbeat stories about success (and sometimes failure), subscribe to Wells $treet for free, and catch up on past stories here.
🌶️🌶️🌶️🌶️🌶️
In a world where Russia is trying to destroy Ukraine, where China covetously eyes Taiwan, where monkeypox needs a name change, and where polio may be making a comeback… I prefer to focus on the condiment crisis. It's a wonderful distraction, especially since things are not what they seem.
Hot sauce lovers this summer have been grappling with shortages of their beloved Sriracha from California-based Huy Fong Foods. That's the super-spicy red concoction made from mature jalapeño peppers that comes in a bottle with a rooster logo and a lime-green top.
"Sriracha Shortage is Taking Some Spice Out of Life" was the saucy headline hot off the presses from the New York Times.
"Sriracha Shortage: What You Need to Know," CNN warned, as if we were talking about monkeypox vaccines.
NPR posted a tweet suggesting people were panic-buying.
Huy Fong management sent out a letter in April to big commercial buyers informing them that a poor crop in Mexico meant it could not fill any orders for almost six months. HF told customers to rely on inventory they may have fortuitously stocked, and the company hoped to start replenishing supplies in September.
"We are still endeavoring to resolve this issue that has been caused by several spiraling events, including unexpected crop failure from the spring chili harvest," the company told CNN. Climate change took most of the blame.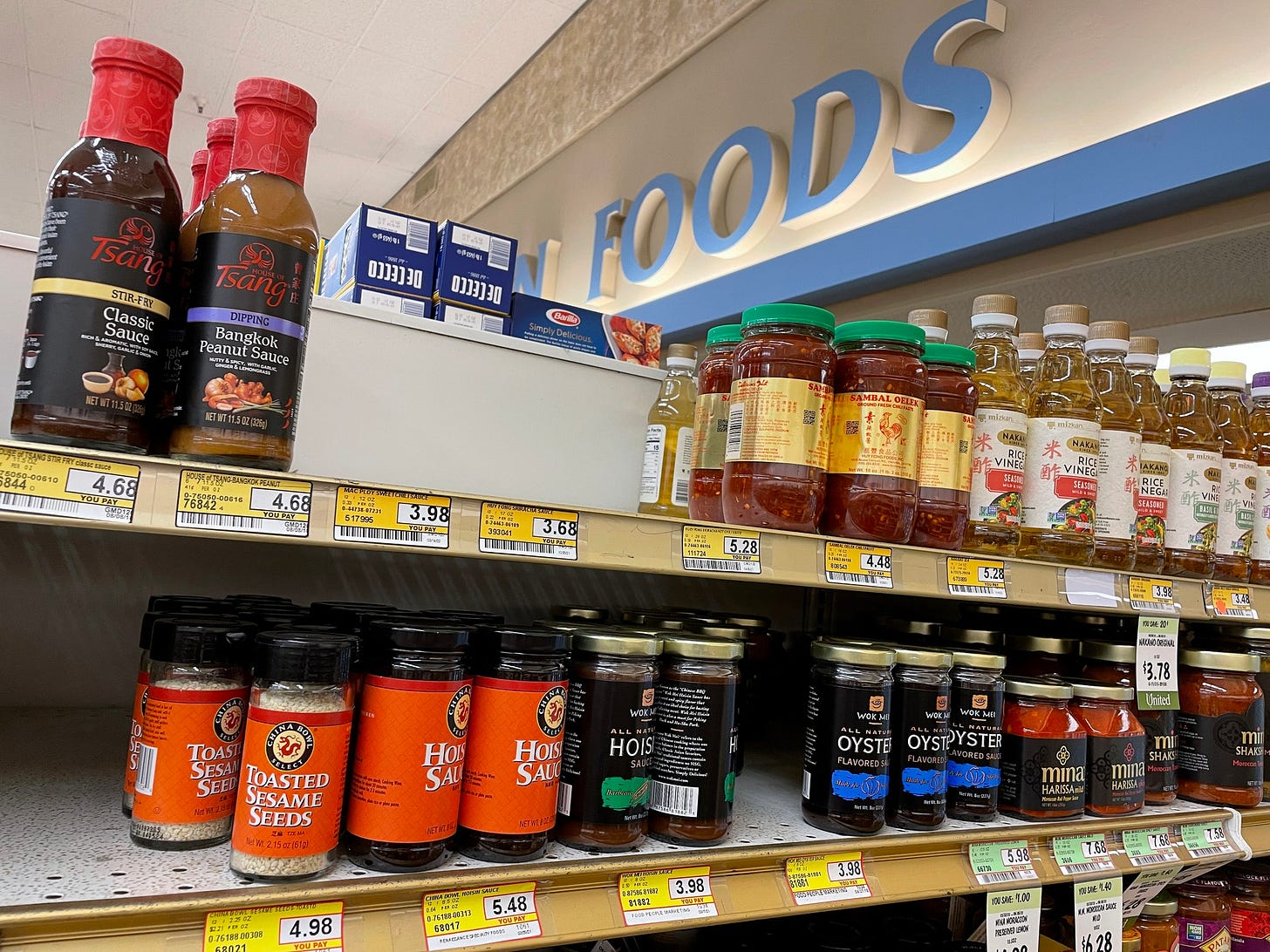 Where's my Sriracha?/Justin Sullivan/Getty Images
Wellllllllll, it didn't have to be this way.
"I don't want to gloat," says Craig Underwood with a mirthless laugh. Craig owns Underwood Ranches, and he's a long-time farmer in California's Ventura County. His ranch grew Huy Fong's jalapeños for decades, but not anymore. "If we were still growing for them," Craig tells me, "they would still have supplies."
(Full disclosure: I've known Craig for almost 30 years, and he's a valuable resource on Ventura County agriculture. I consider him a friend. But all friends whom I've made via my reporting career know the reporting always comes first.)
So what happened to the business relationship between Craig and Huy Fong's owner, David Tran? What went wrong? It seemed to be going so well.
It all came down to money. As most things do.
About 15 years ago, as the popularity of Sriracha exploded, Craig began acquiring thousands of acres with plans to plant more peppers. His team developed a way to harvest jalapeños mechanically to save money and stay competitive with the price of peppers grown in Mexico. Underwood Ranches became Huy Fong's exclusive supplier, and the Sriracha maker accounted for 80% of the ranch's revenues.
In 2017, the relationship began to deteriorate. Huy Fong claimed it overpaid for Underwood's 2016 pepper crop and wanted almost $1.5 million back. Around the same time, the company agreed to buy Craig's entire 2017 crop — which convinced him to lease more land — but then reneged on the deal. Underwood Ranches claimed it lost as much as $20 million and was forced to lay off dozens of employees.
During the trial — which took place in Craig's backyard, Ventura County — the jury saw evidence indicating that Huy Fong never intended to buy the '17 crop. Instead, the hot sauce company switched its business to Mexico. Underwood Ranches further accused Huy Fong of trying to lure away one of Craig's top lieutenants and sharing drone footage of his ranch operations with other growers.
In the end, the jury unanimously agreed with Craig, and jurors awarded the ranch $23 million. Huy Fong appealed and lost.
Craig finally received the money from the judgment a year ago. "I wouldn't say we're whole, but we're back on a stable ship again."
Huy Fong management told me the company has contracted for more peppers in the future to avoid any shortages. "We will be starting our fall season, and hopefully that will be fruitful." The NBC station in Los Angeles visited the Sriracha factory recently and reported that production is down nearly 90%.
When I asked company management if they would be willing to work with Craig again, they replied:
"We had worked with Underwood Ranches for almost 30 years as our sole chili pepper supplier, but suddenly in 2017 they decided that they did not want to be our supplier, and because of the lawsuit with them — which we don't know why we lost — it would be difficult to re-establish a relationship with them."
Craig claims some feelers were put out by Huy Fong to his ranch a few months ago, "in a back-door way." But he agrees it's unlikely they'd ever work together again. "It's just so hard to imagine."
So that's the other side of the Sriracha shortage. What could have been a win-win for everyone has become a lose-lose.
The thousands of acres Craig originally planned for pecks of peppers is now fully planted with other crops, including Brussels sprouts, canning tomatoes, cotton, potatoes, carrots and onions. "There's actually more demand for what we're growing than there's supply for," he tells me.
He still grows some jalapeños, and his company spent about $5 million developing a recipe and then manufacturing, marketing, and getting regulatory approval to sell its own sriracha. But that's different than farming. "Getting into retail is hard," Craig admits. "We're not making money on it yet."
He's hopeful that demand will pick up because of the current Sriracha shortage. "We're getting a lot of calls."
🌶️🌶️🌶️🌶️🌶️
FLASHBACK EXTRA: Here's a story I did for CNBC in 2013 when the city of Irwindale, CA, took Huy Fong to court over fumes from its factory. I still have that coat and that scarf and I still wear them. OMG THE NASDAQ WAS UNDER 4,000.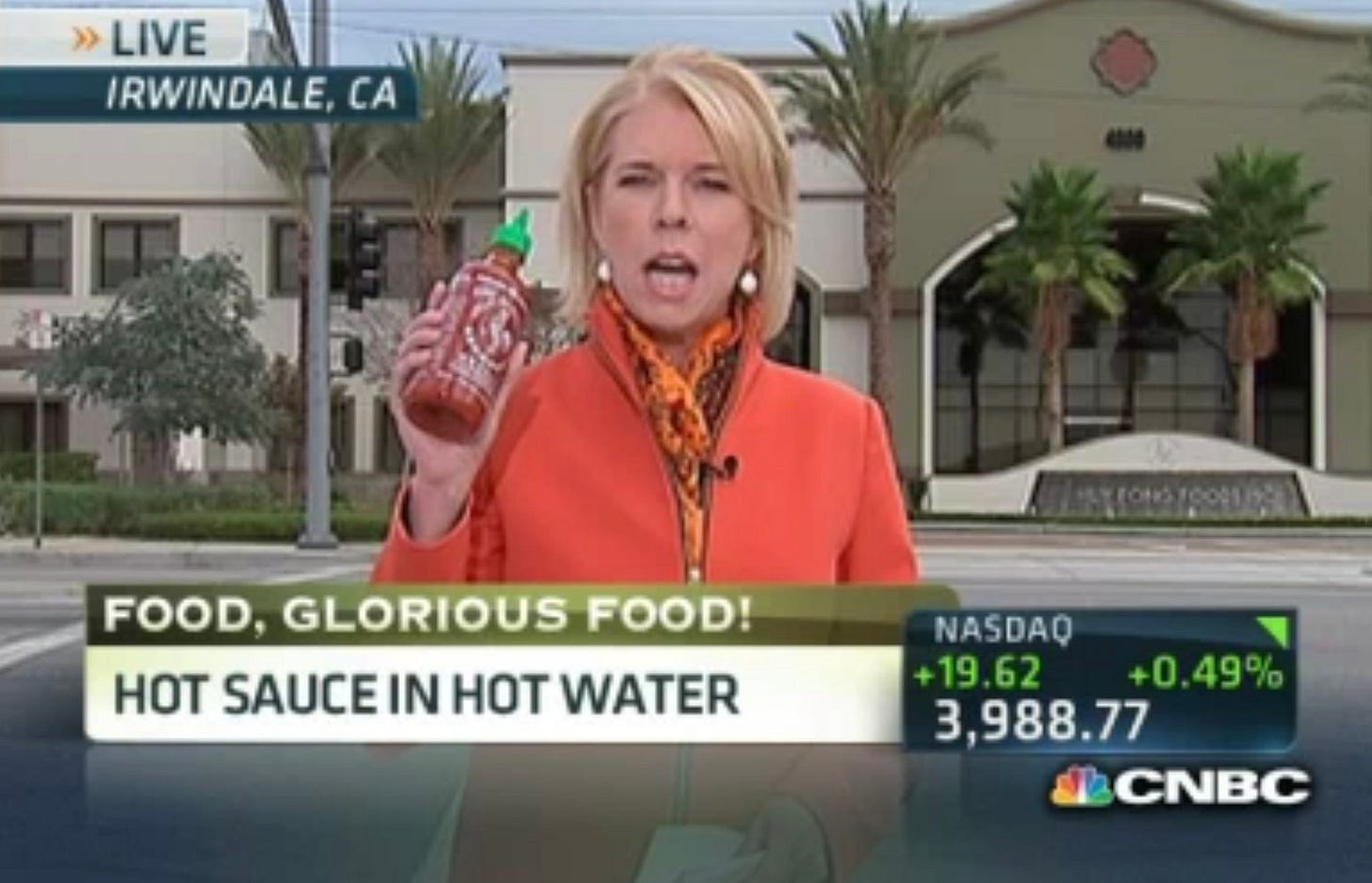 Meantime, I've received loads of feedback on the story I posted last month about better and more comfortable mammograms. One radiologist privately wrote me that he stopped using the Hologic SmartCurve paddle I'd highlighted because his technicians believe they get better images with traditional paddles. "Sometimes going to the doctor just hurts," he wrote. But he's a huge fan of 3D imaging machines. "3D mammograms are the key and the new breakthrough." (If there's a doctor in the house reading this, what say you?)
A few of you also sent me leads on other technologies that don't replace the mammogram (yet), but can be used as additional care.
One is a 3D CT breast scanner that requires no compression, made by Koning Health, a medical device startup.
With the Koning Breast CT, a woman lays facedown on a table and is lowered into the scanner, as seen in this video.
Koning reports its device received premarket approval from the FDA and is now being used in trials in Daytona Beach, FL, and Knoxville, TN.
Another device that's received FDA premarket approval is SoftVue by Delphinus. It provides a new type of ultrasound with the aid of water. Similar to the Koning device, the SoftVue allows women to lay on their stomachs for imaging. There's no compression and, in this case, no radiation.
Finally, at the end of the mammogram story, I asked readers to weigh in on their least favorite medical procedure. I even joked about colonoscopy prep. One reader wrote me a hilarious story. I'm keeping him anonymous... for obvious reasons. Also, his note seems a fitting end to a story about hot sauce.
He writes:
This message will include the word "colonoscopy." You were warned.
About two weeks ago, I received (unsolicited) from my health insurance company, an "at-home test kit."
Covid! It must be Covid! Or maybe Monkeypox! (At this point, all my monkeys were coughing all day and all night and I was really worried… but that's another story for another day.)
I open the kit. It's for colon cancer, with detailed instructions for sending in what we will (in polite company) refer to as "the sample."
One of the instructions was to send in "the sample" the same day that it is "taken" so that it is… umm… well… fresh.
It's not a colonoscopy! But it plays one on TV!
We're retired, and it looked like a great "retirement activity" for the day: taking the sample and then, visiting the post office... both, on the same day! Postage pre-paid!
Moving ahead: Today, the company, which goes by the name "Everlywell" — which is as about as folksy as you can get nowadays without calling into question their actual medical credentials — sent me some mail.
To be specific, six envelopes.
That looked pretty scary. I was pretty sure my goose (so to speak) was cooked.
I open the first envelope.
"Result: negative Flag: NORMAL Reference Range: Negative."
Hmm. But why did then send six? They wouldn't send six if they all had the same result. This looks bad.
Second envelope: "Negative/Normal."
Hmm. Time to have a glass of red wine, although it's pretty early in day.
Envelope three: "Negative/Normal."
Yes, you guessed it. Envelopes 4, 5 and 6 all "Negative/Normal."
Although, I have to say, there was a certain element of Hitchcockian suspense.
💰💰💰💰💰
✍️ Keep the comments coming!
📤 Share this Bulletin with friends and family!
➡️ Follow me on Twitter, Facebook, Instagram, and LinkedIn!
Cover image of Huy Fong Sriracha bottles by Justin Sullivan/Getty Images